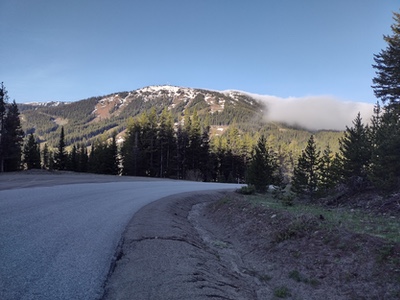 Okanagan Ski Touring Super 600
Permanent Brevet #602, 606 km
Ride Date: June 20, 2022
by Bob Goodison
There were a few reasons I wanted to do this ride again. One was the poor quality of my post-midnight photos of the Mt. Baldy control. Also, since retiring I've found that my endurance has improved, and I wondered if it was possible to do a Super 600 in the time allowed for a "normal" 600.
I planned my ride for the longest day of the year, for maximum daylight. I considered a 4AM start, but just couldn't make myself set the alarm for 1:50 AM to get up and drive to Vernon for the start. All week I watched weather forecasts get better, worse, better and worse. On the planned two days, it was supposed to be a 30% chance of afternoon rain in Vernon for day one (I would be well south of Vernon before then), and a mix of sun and cloud on day two.
It started well. There was a detour on Silver Star Road that is much better than the original route, so I will have to update the route sheet. Not too far up, it started to rain lightly. Fortunately, it didn't last. Near the top there was a bit more drizzle- more of a mist, really. About 6C at the top. The descent was slower than expected, as I was cold and wet and too stubborn to stop and put on my jacket. VERY cold by the time I hit Vernon, and I didn't stop shivering until the climb up Commonage Rd. This time around, I did not ride right past the Kopje Park control, so at this point I was an hour ahead of 2019.
This route is mostly on quiet roads and secondary highways, so the next section on Highway 97 from Oyama to Rutland was noisy torture, but over quickly. Another detour form the original route- there is now a designated, safe bike route from the Kelowna Airport to Reid's corner. Another route sheet amendment will be needed. It was a beautiful but uneventful (also long and steep) ride up to Big White, with lots of new pavement. I only stayed at the top long enough to fill my bottles from a creek, as the deer flies were biting fiercely. Now about 2 hrs ahead of 2019.
The ride down Highway 33 to Rock Creek is easy, so I rode at an easy pace, trying to cram as much food and liquids into me as possible. It's hard to eat enough on the steep climbs, and sometimes on the descents, especially if you're cold and/or the road is rough. It was looking good for getting to Baldy before dark, I rode strongly until a few kms after the Mt. Baldy turnoff. The road turned to gravel, but this time it was in good condition- recently graded, but not too recently. Good thing, as I was running 32mm tires, unlike the last time, where I had 50mm. My food intake and processing was not keeping up, and I bonked. It took several rest stops, but I got to the Baldy control in daylight, close to 3 hours ahead of 2019. Unfortunately, Camp McKinney Rd. was nowhere near as good as Mt. Baldy Rd., with potholes, rain ruts, lumps and bumps where tracks from equipment had hardened into the mud. Still easily rideable, I just had to go slower. Getting cold and sleepy just before Oliver, it was time for a nap. This was where I had hoped to make up my time, using a bivvy sack in a field for a couple of hours instead of a motel. It was a good choice- the stars were spectacular!!
In Oliver at 1:30 AM, I didn't expect the coffee to be drinkable, so I got a chai latte and filled my bottles before heading up the Fairview-White Lake area. This is one of my all-time favourite sections to ride- quiet farms, smooth roads. At this time of night, there was not ONE car. Perfect! I stopped at the rest area at Yellow Lake to take advantage of the heated washrooms, fill bottles, have a snack and warm up a bit before the descent to Green Lake Rd. Then- DISASTER!!!
The first bit of Green Lake Rd. is downhill, but I wasn't going very fast- maybe 30 KMH. It was about 4AM, just getting daylight. There was a herd of the famous South Okanagan wild horses in the field to my left. I never saw the dark coloured horse coming from the right until I heard myself saying OH NO! as I was flying through the air. OK. Assess the damage. A few scuffs, some pain in my right wrist and forearm, shredded left knee warmer (and knee). Some scuffs on the back of my left hand. Massaging my right arm, I felt something pop and it started to feel better. It was still too dark to see the cracks in my helmet. OK- now the bike. Front wheel doesn't turn. Mirror broken off. My brake levers have quick release built in, so I did that. Still no good. Ok. Obviously my ride is done, but I still have to get somewhere for Susan to pick me up. Keremeos is closer, but in the wrong direction. Completely disconnect the front brake. STILL won't clear. Remove wheel, a couple of hard overhead smashes onto the road surface and viola! A wheel that wobbles, but turns. Now I can ride to Penticton for a rescue. Except that now I had no excuse- it was easier to continue than wait for a ride.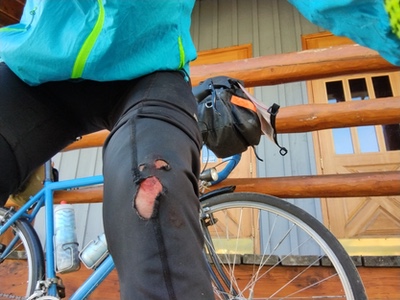 Up Green Mountain Rd., the temp dropped to +3C, but I started to loosen up and feel less pain from the crash. Once onto Apex Mountain Rd things went a bit sideways. Absolutely no power. There were long sections of 12% grade and I found myself frequently walking, and cursing my decision not to install SPD pedals instead of the SPD-R. Oh well, those cleats are history. I finally got to the top and the control on the aptly named Stray Horse Road. I had planned to true my wheel before the descent, but did not as it was only +4C. Even with the crash, I was now 5 1/2 hours ahead of 2019, with one mountain to go.
I managed to pick up some time with a tailwind from Penticton to Westbank, while cursing the traffic noise after the quiet roads I had been on. Drought Hill seemed easy but once onto Glenrosa for the 12 km climb up to Crystal, I was in direct sun, which we have had none of this year. The temperature was only about 25C, but I was cooked. My left knee was extremely unhappy, and once again I was walking- this time anything over 10%. Finally, the summit, and still ahead of schedule, but not as much.
Another detour in West Kelowna took me back out to the highway for a bit, before the last major climb up Westlake Road, before dropping down the relentless up and down of Westside Rd. About 20 km before the finish, it began to rain, but there was no way I was going to stop and put on rain gear. I just didn't have the energy. I rolled into the finish at 5:44 PM, for a 36:44 time.
Can a Super 600 be done in under 40 hours? Yes. SHOULD it be? NO! NO! NO!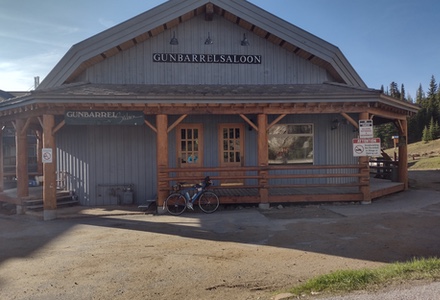 ---
Go to: Event Page (Database)
Go to: Permanent Results (Database)
Go to: 2022 Okanagan Ski Touring Super 600 Photos (Flickr - 16 Images)
Go to: Bob's 2019 Okanagan Ski Touring Super 600 Report (Newsletter)

June 29, 2022