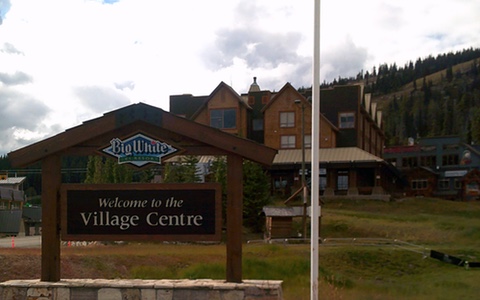 Okanagan Ski Touring Super Randonnée 600 - Report
Permanent #602, 606 km
Ride date: September 13, 2019
by Bob Goodison
I had been playing with the idea of a more accessible, easier alternative to Bob Koen's Heart of the Kootenays Super 600 for a while. I came up with a route that starts in Vernon, and hits five different ski hills in the Okanagan (one of which is closed, though rumoured to be re-opening). Hence the name of the route "Okanagan Ski Touring". All the approvals were in place, except for getting photos of the control locations. Sophie said that I could get those on my test ride and get credit for the ride. Google earth and Google Street View were helpful in choosing photo locations for controls, but only to a point. There was no Google Street View of Mt Baldy, or the roads to and from it. From what I could tell, the climb should be paved, while the descent looked to be gravel. I decided on the weekend of September 13 to attempt my ride. Friday the 13th and a full moon for an adventurous, unproven ride? What could go wrong? Lets start with Mistake # 1- I really, really wanted to finish the ride in under 40 hours, the time limit for a "normal" 600. Mistake # 2- I had not sufficiently recovered from PBP.
I parked my truck at Jill's in Vernon and rode to the 7/11 that was the start of the ride. I got there a little early, so while waiting for my 05:00 start I got to see them trying to get rid of a homeless girl who was sleeping on the sidewalk in front of the store. I took my photo and started up Silver Star Mountain. The road was mostly deserted until I got near the top. It was a cold, misty morning, but I was soaked with sweat. The pitch of Silver Star Road diminishes occasionally, but it never really levels out until the top, at roughly 1600m. Mr Garmin said the temperature was 3C. I took my photo, and, after putting on my jacket and warm gloves enjoyed? a frigid descent.
At the bottom, riding through Vernon on Hwy97 with horrible traffic, I made a mental note to move the route over a few blocks in this section (now done). Away from the traffic onto Mission Road and Commonage Road, I wondered why people had complained about how steep this section is. It's a beautiful, quiet, section and once past Predator Ridge there is an amazing descent towards Okanagan Lake. OK, time now for Mistake #3! I missed the turn onto Carr's Landing Road, and added at least 3 km (including the return) before I figured it out. That's one of the hazards using roads only previously seen on a map. My mileage was now out, which leads us to, you guessed it, Mistake #4-. While riding along Carr's Landing road, I started to wonder where control #2 (Kopje Regional Park) was. I turned around and backtracked a bit, but it was nowhere to be found, so I continued on my way. Eventually I found someone walking along the road and asked "Is Kopje Park up ahead, or have I missed it?" "You missed it, it's about six km back. Have a nice ride." Hmmmm. Not a good start, but it was a beautiful day, and I was still feeling good.
From there it was an uneventful ride to Hwy 33 in Kelowna, and the start of the climb to Big White. I re-supplied at the 7/11 at the junction, and started up the hill. That was when the wheels came off (me, not the bike). Not too far up the climb, I was exhausted, soaked with sweat, and seriously wondering if I could do this. Several rest stops were required, just to get my heart rate down to a manageable level. And then, I got to the Big White turnoff. The sign indicated it was another 24 km to the village, and I was fading badly. I had a triple crankset on my Trek, but it would only rarely drop down to the granny gear. I found it necessary to hold the bike up with one hand, while pedaling with the other hand, while nudging the chain over with the other other hand. I did this at least once on each of the ski hills. I considered abandoning the ride, and had to have "THE TALK" with myself. You know the one. "Ok Bob. You can quit if you are completely out of time. You can quit if you are injured. You can quit if you are very sick. You CAN NOT quit because it is too hard." Unlike Silver Star, the Big White climb includes several downhill rests, and I eventually made it to the top and took my photos. The descent was chilly, but wonderful.
Eventually I made it to Beaverdell, and a much-needed sit down mealof a ham, turkey and cheese sandwich, banana bread and coffee. I phoned my motel in Oliver and arranged to have them leave the room open for me, as I would be arriving MUCH later than my 10:30 PM estimate. (note: when there are two motels in a town that share a name, make sure you know which on you have booked. Booking the one closest to the route would also have been good, and reduce my overall distance by six km, possibly worth the extra $15 ). I also phoned Susan with a progress report. Once the pressure of getting to the motel at a reasonable time was off, I felt better and enjoyed the ride more. I had an easy downhill ride to Rock Creek, watching the full moon rise and outline the burned treetops, then turned up the Anarchist. Oh goody, the rubbery legs are back!. A few rest stops later, I made it over the big bridge and made the turn onto Mt. Baldy Rd. Unfortunately, I was not far up it when it turned to gravel. Even worse, it had been graded that day. It was horrible. It was worse than horrible. Soft gravel and golf ball sized rocks. I am sure there are only a handful of days when it is like this, as it is a road that people are expected to drive to go skiing, but, on this day, it was horrible. Did I mention that it was horrible? It was also very dark and lonely, which I carefully kept in mind. In the event of a fall or anything else, it was extremely unlikely anyone else would be along before daylight. I walked some of the steeper sections of it, but I'm sure they would have been rideable if not for the fresh grading, the darkness, or my extreme fatigue. This went on for about 17 km, but I finally got to the Mt. Baldy "Village". My original control plan was the lift ticket office, just because I had no idea what was up there and I assumed there would be one. There was, but it was in a mobile building, very dark, and impossible to get a good photo. Then I saw the Ski Patrol building, which had a lighted, roofed boardwalk in front of it. Just the thing to get out of the rain (did I mention it had started to rain?) and put on more clothes for the descent. Thankfully the road down had NOT been graded, and once past a few washboard sections, it was easy to ride. I thought it would be gravel all the way to Oliver, but less than halfway down it turned to perfect pavement. Coming around one high speed corner I surprised both myself and a herd of wild horses! I got into Oliver at 1:30, got some "food" at the 7/11, and went 3 km south of town to my motel, setting my alarm for 06:30.
After a decent breakfast at A&W (randonneurs really know how to live), I started up Fairview Road. This section, through White Lake Road and Twin Lakes is such a beautiful ride, on smooth, quiet, rolling roads. Next came Green Mountain Road, rated as one of the best climbs in Canada. It is, and I was feeling soooo much stronger than yesterday. And then came Apex Mountain Road. And away went the legs. About this time I acquired a dog. He came out of a driveway, and ran along with me, waiting for me anytime I stopped to rest, which was often. Nothing I could do would make him go back, and outsprinting him was not an option. Eventually his person came along in a car and collected him, and I found myself missing the company. I finally made it to the top, took the required photo of the Gunbarrel Saloon (closed, naturally), and enjoyed another chilly ride down. I stopped to fill bottles in Penticton, and met former BC Randonneur Ian Faris, who had noticed my club patch on my Carradice.
Highway 97 from Penticton to West Kelowna was more fun than expected due to a strong tailwind. Turning off at the top of the Summerland hill I got onto the climb to the last ski hill- Crystal Mountain (closed). Not as high as the others, this climb is not to be underestimated, hitting 15% several times. The road is good, and once away from West Kelowna it is very quiet. I took my photo at the closed gat and cruised back down. Using side streets to avoid most of the traffic, I refueled, and started the last leg. Westside Road always seems so difficult, but NOT THIS TIME!! The short, steep hills seemed so easy, after everything I had already done, and my overall average speed actually went UP! My planned control at the Fintry Park sign proved all but impossible to get a photo of in the dark, so I have now moved the control to the fire hall about one km further. A few more short climbs brought me back to Vernon in 41:42, not as quick as I wanted, but good enough.
So, the obvious question. How does it compare to the Heart of the Kootenays? Well, it's.......different. It is more easily accessible from the coast or Interior. Easier? Maybe not. There are more easy sections, but the major climbs are steeper. The descents are on quiet, winding secondary roads, and are an absolute blast to ride. The gravel section is longer, but possibly more easily rideable. Scenery is comparable between the two rides. It's been three years since my Heart of the Kootenays ride, so Randonesia is clouding my memory. I think this ride would be a lot more fun done as a three day ride rather than two. The new 60 hour limit would make this possible, with overnights in Rock Creek and Summerland. It's been three years since my Heart of the Kootenays ride, so Randonesia is clouding my memory. Guess I'll just have to ride them both again so I can draw a conclusion.
---
Go to: Bob Photos - The Controls (flickr - 9 Images)
Go to: Permanent Results
Go to: Event Page (Database)


September 25, 2019