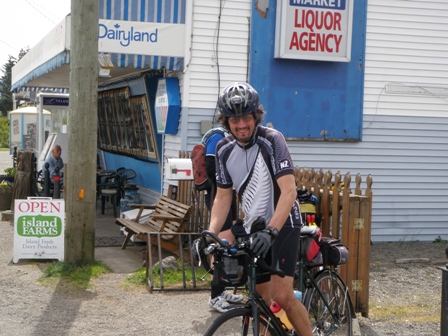 Steve at Union Bay
Photos: Melissa
H2H2010
"Highway to Hell" 400km Brevet
by Steve Mahovlic
This story was originally on Steve's own web space, now off line. In June 2012 he transferred the story here. [EF]
I would like to acknowledge that Melissa was instrumental in my completion of my first 400 km Brevet. She did an awesome job of providing support for me at the controls. Inspirational from the day I met her, she is my rock.

Saturday, 15 May, 2010, The Highway to Hell brevet:
The day started like most days, DARK! Whose idea was it to start this brevet before dawn? It did make for an enlightening cycle through Fernwood on the way to the start. Arriving in time to hand off my waiver and entry fee, listen to the brevet preamble, we were off. The weather was predicted to be warm (10 C) There were a few more riders than in the "Hills are Alive" brevet forming a line of taillights blinking in the dark. Keeping up was my goal, at least to the Malahat as getting lost in the first 7 km of the ride would be embarrassing. Having somehow ended up just behind Ken as we approached the Exit # 14 "bike route" we were confronted by the glass we had been warned of in the preamble. Ken and I rode through the glass, to the sounds of wiser men unclipping from their bikes as they carried their bikes the 22 (or so) paces to protect their tires. The pace picked up as we dropped down to Goldstream.
With the start of the Malahat climb, in a moment of delusion, I took over the lead from Ken. One bike length, then another and another; this would be the high point of the ride for me. A short lived illusion as Ken soon spun past followed by a couple more riders. Then my tempo steadied and I would not be passed again until I stopped to adjust clothing. My lighting choice was acceptable for the speed I chose to descend the 'hat. A brighter light would only have gotten me in trouble faster.
As the sun came up, the temperature dropped and I was soon checking my toes to see if they were still attached. This would sort itself out shortly after Duncan. In the quiet of the early morning, one could easily forget the traffic jam the Duncan strip becomes during the day. There are few things in life better than greeting the dawn on a bicycle. One of them is doing so when you can still feel all of your body parts. Ladysmith slipped by quickly. Transfer beach already littered with kayaks for the Kayakfest being held this weekend. Stopping once more to change to dryer clothing a few more riders spun past. Third place was definitely out of reach now. Yes, I know randonneur brevets are not races, however I like the incentive #;o). Stopping at Cassidy to use the washroom, I was informed they would not be open for 7 minutes. 7 minutes! I am glad we have so many trees in BC that need nitrogen.
Entering Nanaimo before most sane people were travelling gave one the impression it had well thought out infrastructure. My father used to say there were all sorts of roads into Nanaimo, but very few that would take you back out. Arriving at the first checkpoint way too soon I was a little dismayed that my support vehicle was nowhere in sight. A couple of minutes later Melissa was there. After brevet card formalities and refreshments, I was back on the road. Ross Nichol and I played a slow game of leapfrog along the old Island Highway, a wonderful coastal ride I would recommend to everyone. Parksville and Qualicum would soon succumb to the steady rhythm of my pedals. There is a point in most of my rides, usually before the halfway point, when reason surfaces and I seriously question what I am up to. Normally it passes quickly, reasonable thoughts are like that. This was different; this was a 400 km brevet. Am I insane! Before I could start processing, Ken was there. Albeit he was on his return trip; that meant Union Bay could not possibly be that far. Wrong! Man that guy is fast!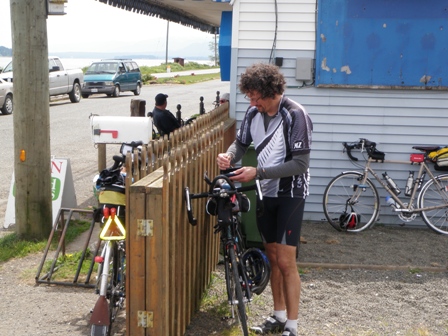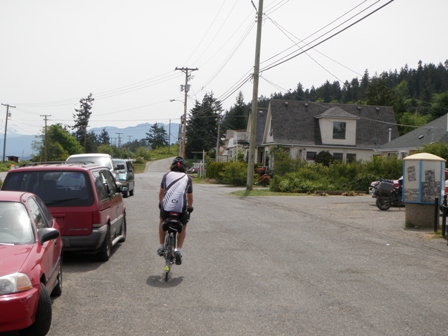 Rolling up to the Union Bay Market there was, once more, no support vehicle in sight. Before I could deal with the brevet card formalities Melissa arrived, along with my mother, a pleasant and encouraging surprise. Ross was back on the road ASAP, I however relaxed for a meal including hot soup, and 20 minutes for a nap before I was heading back down island, the sanity question temporarily averted. Jim Runkel and Philip Lennox arrived and indulged in a meal as well. On the ride South the temperature was 18 C and the winds light and fickle. I met Renata, a friend from the Friday ride group, who had cycled up from Victoria to watch her son play at the Parksville Arena. A brief chat and I was spinning along.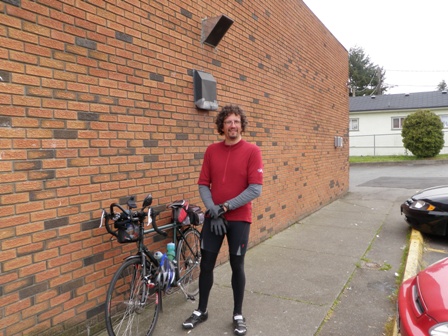 Nanaimo was busy, the traffic showing the flaws in infrastructure. Three for three, I arrived ahead of support. This stop not having the amenities of most control sites, I was delighted to discover the hold up this time was the wait for a hot bowl of "Timmy's" chicken noodle soup and a double espresso. (Note to organizer - there is a Timmy's on the RHS of the highway as you leave the Nanaimo area.) Fresh batteries in the lights, additional warm clothes for the, hopefully short, night ride and I was off, alone into the evening, with a little over 100 km to go. The wind held off, the temperature hovered around 20 C.
A quick stop in Duncan at Timmy's (no, I do not have shares #;o) for more espresso and a doughnut, I was set. Jim and Philip would arrive as I was leaving. Philip expressing concerns about the Shawnigan Lake leg of the brevet. After reading Keith Nichol's "Eau de Hell 400 Brevet" report this was a reasonable concern. I was under the impression that club membership freed of us of the requirement to be reasonable in our thought patterns; part of the allure.
Though the climb through Cobble Hill and Shawnigan Lake was very dark there was plenty of traffic on the road due to an accident on the 'hat. I would change tops twice before finally bundling up for the ride down the Malahat. Unbundling after climbing out of Goldstream, the adrenaline rush kicked in with the realization I was almost finished. The road disappeared beneath my tires and soon I was shaking hands with Jim Fidler, in third place no less. Well third from the last. Jim and Philip arrived shortly. Back to back third place finishes, I was giddy (it might have been the lack of sleep). As for Hell, though Nanaimo came close, I never did locate it. Spinning home I began formulating a plan for the "Pacific Rim Red Eye" 600; quickly before sanity prevailed.
Epilogue
Sunday, I slipped out for a hair of the dog that bit me. Who knew that you could bonk after 10 km on a recovery ride! Must be my body informing me that frozen yogurt and licorice did not actually constitute lunch. Luckily the corner store had Snickers to round out my nutritional needs. After 15 km I decided it was soak time. I could easily have done twice that if not for the sandpaper in my shorts, the lead in my shoes and the amazingly rough roads in our neighborhood. Yeah, I could possibly ride the upcoming "pacific rim red eye" 600km brevet; with a balanced approach to support, nutrition and sanity.
Official Brevet distance and time 405 km 21:15
Total 420 km 17:54 Riding Time (23.4 kph average on the pedals)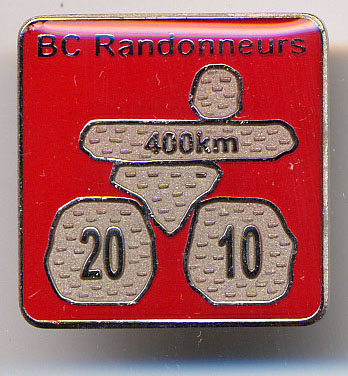 Pin Concept - Ron Penner
Graphic Art - Ali Holt
May 16, 2010