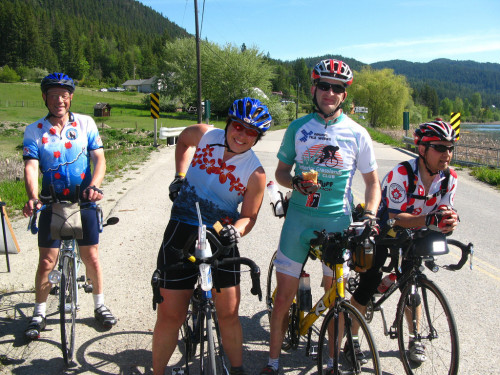 Shuswap Highlands 300 Randonnée
by Bob Boonstra
This Interior 300 randonnée was pre-ridden by the organizer two days prior to the event. Fourteen participants presented themselves with eager anticipation of what was rumoured to be a scenic but challenging new course set among the hills and backroads of the Shuswap and Thompson-Okanagan region. It proved to be both.

The weather for the event was ideal with gloves being required only for the 6:00 am start. Afternoon highs were in the upper 20 degree range with sunshine and light winds of no consequence. The evening was dry and warm.

This very strong group consisted of senior randonneurs as well as younger and more competitive riders. All individuals rode with determination and completed the course in good individual times. Ian Fillinger set a world class pace around the course - completing the official 303 km (but reported by riders as 310 km) in just 9 hours and 52 minutes. This is just 3 weeks prior to his attempt at the RAAM, so it certainly looks like he is well prepared in terms of strength and speed. I believe this Audax time is equal to some of the fastest club times set on a 300 km brevet. Ian was very excited with his performance and took delight in the route, including the "backroad unpaved" (hardpack) section of 3.8 km.

I was impressed with the delightful manner in which each person presented themselves throughout the day. There was a rather sudden breakup of a tightly knit group of 4 riders when a turn was missed while descending into Salmon Arm, scattering riders over a distance of about 4 blocks. Chris Wenger passed this turn to descend all the way to the bottom but cheefully chose to ride back up the hill to rejoin the others. Daren Inouye was a few moments late to start the event but had all his things in order and made a relaxed and easy start to the day for the organizer.

There was a secret control at White Lake where nesting birds and turtles crossing the road kept the organizer entertained for a few hours.

Most of the participants commented on my measurement skills but were certainly most accomodating as they pedalled their way to what was actually a course of about 310 km in length. Some struggled a bit in the latter sections as the hills continued but all completed the route safely with only a few riders in the dark for a few hours.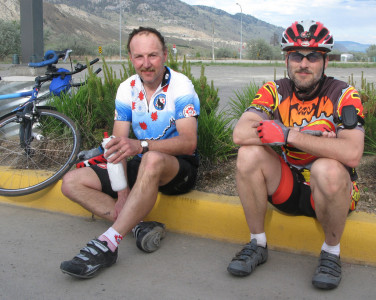 ---
Ride date: May 15, 2010
May 18, 2010