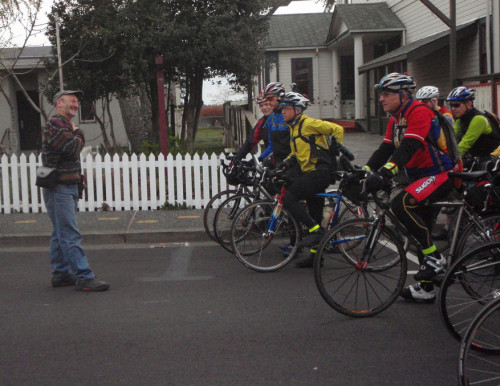 Eau de Hell 400km Brevet
by Keith Nichol
And then there were seventeen. A slightly more subdued bunch gathered at the Utopia Cafe for the start of the 400. Lots of warnings from Graham about the road and some of its users, especially around Qualicum Beach. As usual Ken took off like a retro rocket and the rest of us followed at a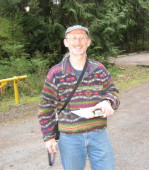 more pedestrian pace, survival uppermost. The wander through the Yellow Point area started off with one of my favourite roads, Code road, really peaceful and scenic. The first sound of bird life was the screech of what we suspected was a peacock, a bit incongruous in the middle of nowhere. Cedar and Yellow Point road are always fun especially as it seemed most of the locals are late risers and there wasn't much traffic. Graham was manning the secret control at the Provincial Park with lots of home baking, delicious. The bike route around Nanaimo kept us out of traffic's way and then it was the long climb up to the first control and then on to Parksville. Mike agreed to a quick detour so we could say hi to Torro at Cheryl's parent's house. He was a bit baffled at the sudden appearance of people but enjoyed the attention and the treat. On to the turn around control and Graham with more of his yummy treats.
On the way down to Qualicum we took advantage of the third control's close proximity to the Courtyard Cafe and based on Ken's recommendations of their pies had some, strawberry rhubarb with ice-cream, highly recommended. On to the Buckley Bay turn around with our first sighting of a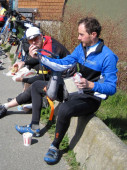 rather moth eaten looking deer in it's spring moult. Mike was the official raptor spotter and from now on we started seeing solo or pairs of large eagles and hawks circling the road at fairly regular intervals.
Buckley Bay was major refuel time with a delicious feet long veggie sub and the ubiquitous chocolate milk and then back on the bike for the return to Parksville. The wind had been hinting at being behind us going back, but no such luck. It was a little all over the compass but not very strong, so not an issue. I finally saw the first heron of the series at Fanny Bay. We made another dog leg to see Torro to give him his second treat and to say hi to Jo Anne and Bill. We had the perfect greeting, do you want pumpkin pie and ice-cream and a beer? Torro was a bit sceptical about the treat, it wasn't meaty enough, but he ate it. Suitably fuelled and relaxed we were soon on our way, thanks Jo Anne and Bill.
I had my first scare heading down to Nanaimo when a young woman driver with a N plate decided to turn right directly in front of me, luckily my brakes worked well. I wished her a flat tire and also her spare. This was starting to be a typical Island ride as the next control was at Tim Hortons, a coffee and a blueberry fritter later we were back on the road to Chemainus to get some warm gear for the night. We made sure not to take the Bob B short cut to the hotel. Suitably covered up for the night we set off back on the Highway to retrace our route from the 200 in reverse around Shawnigan Lake. Near Cobble Hill we had our last unpleasantness of the ride, a van went passed us the other way and they yelled something unintelligible. The next moment they were behind us hooting and roaring by fairly close with no lights on. The cup they threw at me missed. In total contrast we were checking our route sheets a short while later and a truck stopped and they asked us if we were all right. Mike forgot he was wearing his searchlight on his helmet and proceeded to burn the poor guy's eyeballs out.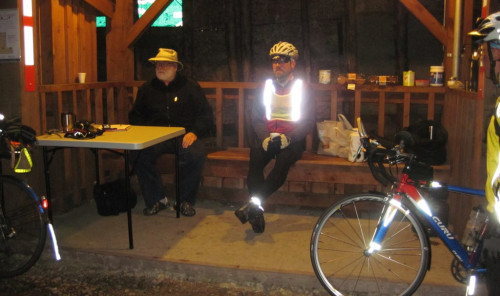 Soon after this there was the last secret control with Dave comfortably ensconced in this picture perfect bus stop in the arse end of nowhere with more scrumptious stuff, it was bordering on the surreal. Several riders arrived and we were comparing notes trying to find out who was where. The next bit along West Shawnigan lake road took forever and we were really glad to get to the turn. Mike was pretty sure we should go right but we went left which was right. I was double checking my route sheet and nearly went into a rather watery ditch, luckily the loose gravel alerted me. Once we got onto Miller road we were soon back at the Highway and yet another Tim Hortons, the full soup combo was required for warmth and fuel back to the finish. There was a bit of a gathering of rando zombies, except for Jeff who looked as fresh as a daisy. He proved this by towing their group back to the finish. Soon the silver Westphalia was in sight with the ever cheerful Graham. Cards signed and a finishing beer drunk we were off to bed.
---
Go To: Keith's 400 km Flickr Photos
Go To: Eau de Hell week home
April 14, 2010