2011 Season Review
In BC, as everywhere, Paris Brest Paris was top-of-mind for randonneurs in 2011. The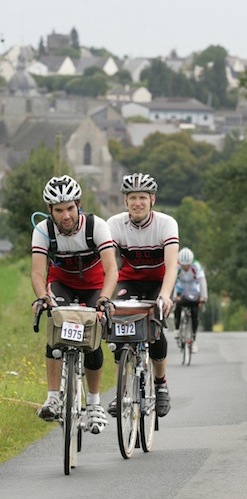 registration squeeze that was feared, and had sparked the 2010 preregistration frenzy, did not materialize - everyone who wanted to go to PBP was welcomed. We can take some pride in BC's participation at PBP this time around. We had the highest number of finishers ever (35) and despite some crummy weather in western France we had our highest finishing ratio since 1995.
Despite our PBP stats, and a record number of Super Randonneurs (58), our club distance total of 282,987 km was slightly down from 2010. Trends include a huge drop in out-of-province riding, except for PBP, and a big drop in the number of 1000 km brevets. A curious shift was the leveling of distance amongst BC riders. If you compare the 2010 and 2011 rider totals (the iron butt lists), the big-distance riders did much less distance in 2011, while other riders' distance totals on average rose significantly.
As always there were some outstanding individual performances and some noteworthy club milestones. Let's take a look at some of them.
Iron butt:

For the ninth time in 10 years Ken Bonner earned the John Hathaway trophy for the most event distance (ACP or RM sanctioned events only), with a total of 13,300 km. Further to the leveling trend mentioned above, the next rider on the list (in-coming club president Jeff Mudrakoff at 7370 km) would have been only 9th on the 2010 iron butt list. There were a total of 63 riders on

the 2011 Hathaway list, i.e. riders with over 1500 km, and that ties last year's record number.
Iron Buttress:

For the 13th time since 1986, when she rode her first brevet, Deirdre Arscott has the highest event distance total for a woman. Her 4960 km in 2011 is her second highest total ever. (She rode 5364 km in 1995.) Next on the woman's list was Ali Holt at 4204, closely followed by Cheryl Lynch at 4200 km.
There were five first-time super randonneurs in 2011: Mark Beynon, Will Danicek, Andrew Hartline, Shiro Ogawa and Connie Van der Rae. Connie ends the drought for new woman super randonneurs - the last one was Julie Scott-Ashe in 2008. Nice going Connie! Congratulations also to our top distance rookie Will Danisek who with 3600 km wins the coveted (though unofficial) award as 2011 "Rookie of the Year".
Paris-Brest-Paris:

As mentioned above, our club result at PBP was definitely something to write home about this time around. Our completion rate was 35 out of 39 starters (90%), including 100% of our women

(Deirdre and Ali). It's by far our best completion rate since 1995.
A few other PBP facts... The BC finishers list features 15 first timers, and 20 repeat PBPers. Most of you will know that Deirdre Arscott has become the Canadian with the most PBP finishes. Her seven PBPs also ties her with five other women for the most PBPs by a woman from anywhere. Keith Fraser's time of 56:31 is the second fast solo Canadian time ever (though it's over six hours slower than Keith's own Canadian PBP record from 1995.) BC riders had both ends of this event covered for Canada in 2011 with Keith out front, and Andy Reimer sweeping up the lantern rouge with 89:37.
Randonneur 5000:

As mentioned above our 58 super randonneurs in 2011 is a new club record. So too is our tally of Randonneur 5000 recipients. 20 riders have already earned 5000 pins (already bettering our 2003 total of 18), with the potential of 15 more riders completing the multi-distance requirements over the next 3 seasons. (To earn an R5000 a rider must complete 5000 km made up of

specified distances including Paris Brest Paris, within four years.)
The class of 2006 came good in a big way this past season. Nigel Press and Jeff Mudrakoff both passed the 40,000 km event distance marker in 2011 earning them our penultimate lifetime distance award. The class of 1986 also came good in 2011 with interior brevets founder Bob Boonstra finishing off his 40,000. (Why 40,000? ...40,000 km is the approximate distance of the earth's circumference.)
Hell Weeks:

There were two hell weeks this year - the 5th Eau de Hell week series on Vancouver Island in April (200-300-400-600 km series over seven days), and White Rock Hell mini-week in early August (300-200-300-200 over four days). EdH saw some rough weather, especially on the 300 and 600s, but still managed 10 series finishers. Ryan Golbeck became the youngest series finisher (at 29), and Ian Fillinger became the fastest (61:01), snipping over six hours off the previous lowest cumulative time from Ken Bonner in 2010. (Later in the season Ian became the 2011 UCI 24-hour world time-trial champion.)

White Rock Hell Week had only three series finishers despite strong participation for the individual rides - many riders were using these rides as PBP prep. On third ride in the series, the "Chilliwack Lake 300", Nigel Press and Ryan Golbeck on tandem broke a long-standing club distance speed record - 300 km in 9:28. It's 12 minutes faster than Keith Fraser's (solo) 1994 record.
Permanents:

Ken Bonner was once again on top of the distance list for permanent riders in 2011 - we're calling it the permanabutt award. (No award, just glory.) There was a significant trend shift in 2011. The distance ridden by riders below Ken on the list was up dramatically. 18 riders rode over 1000 km in permanents compared with earlier high mark of 10 riders in both 2009 and 2010. The total distance of 40,617 km is also a program record and so is the 14 BC-12 awards for year-round participation.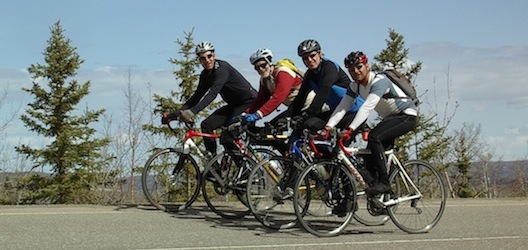 A few other 2011 notables:

Peter Stary becomes first BC rider to reach 25 super randonneur seasons. He has done them consecutively. On the theme of 25s... there were 25 "new randonneurs" in 2011 - 1st time 200 km finishers. Peace Region participation saw a substantial jump in 2011- 6 riders, 24 brevets. The 300s weren't only fast this year, there were a lot of them. 171 x 300 km brevets is a club record. And finally, we seem to have a lot to say. There was a record number of newsletter submissions in 2011 (144), and that's not counting the many contributions on the club discussion forum.

Volunteers and Organizers

There were 109 volunteer pins awarded in 2011. There was also an especially big turnover on the club executive this year - 7 off, 7 on. Thanks to out going members Richard, Barry, Eric, Ali,

Roger, Cheryl and Patrick for their many contributions. All remain active volunteers. And good luck to the new team that now includes Dug, Gary, Chris, Bob, Stephen, Malcolm and Andy.
Special congratulations to pins coordinator Karen Smith who received the Roger Street Award for exceptional club service. She's been on the pins file since 1997 and was on the randonneur committee going back to 1993. Our member-designed pins have been a distinctive feature of this club going back to the mid 1980s, and it is Karen who has made this happen for over half those years. Many thanks to Karen, and also to the other 108 club volunteers who helped make 2011 a memorable season.
Eric Fergusson
February 17, 2012