A Tale of Two Cyclists:
2000 Season Review
The world of randonneur cycling (often referred to as Marathon Cycling) can be mystifying at times to cyclists on the outside. Are the riders trying to go as fast as possible, are they trying to go as far as possible...or are we merely touring cyclists in search of a something out there on the open road?
Although it will always be difficult to encapsulate in words that "search for something out there on the open road" aspect of the sport, there were two striking examples this year of speed and distance achievement in randonneur cycling. In different ways Ken Bonner and Manfred Kuchenmuller had exceptional seasons - let's take a closer look...
Keith Fraser had a good ride at Boston Montréal Boston (1200 km) this year, North America's most prestigious randonneur event. Although he rode unsupported, he rode a personal best and
ended up as co-fourth finisher with American finisher Ed Kross in an impressive 58:19 (hrs./mins.). Keith Fraser is the Canadian record holder at Paris Brest Paris (PBP).
Ken Bonner stole the spotlight from Fraser by actually 'winning' BMB 2000. (All finishers are 'winners' in a randonneur cycling event - the first rider back is more commonly called the 'first finisher'. Riders who finish together typically do so in a spirit of cooperation rather than competition.) Bonner was co-first finisher with Australian Oliver Portway in 54:26. Bonner's time is a new Canadian record, bettering Ted Milner's 1992 mark of just over 55 hours. Bonner's performance caps a string of achievements unrivalled in the history of distance cycling in Canada.
Bonner is, of course, the 1000 km world record holder, and was the first Canadian finisher at PBP '99. In June of this year he took a run at his own Vancouver to Calgary record but this time did it the hard way this time: Calgary to Vancouver...into the prevailing winds. His 40:01 fell just short of his 1997 time (39:47) for the mountainous 989.4 km route, but this is a new record for east to west version of this course.
At the Rocky Mountain 1200 in July, Bonner knocked the bottom out of Glenn Smith's 1998 course record of 59:25. Bonner's time of 55:36 trims almost four hours off Smith's mark on one of the world's most challenging 1200 km routes. But most astonishing of all, is the fact that all these remarkable achievements, these remarkable times, are being logged by a man in his fifties...yes, Ken Bonner is fifty-seven years old.
What Ken Bonner says with speed, Manfred Kuchenmuller says with distance. Although the season won't be over until late September, Kuchenmuller has already easily clinched the coveted John Hathaway distance trophy, more commonly referred to as the Iron Butt award.
John Hathaway, 1925 - 1997, was the time trialist originally from Britain who among many cycling achievements trimmed over five days off the cross Canada record in 1957. Hathaway's record of 24 day, 13 hours stood for over 20 years. The John Hathaway Trophy is awarded to the BC Randonneur (who must also be resident in BC) who tallies up the most distance in successfully completed randonnées anywhere in the world in one season.
This year's race for the Hathaway trophy was not without its own drama. All was going well for 33-year-old former ultra-marathon runner Michel Richard, a rider openly pursuing the top spot on the distance list, until 1550 kms into the '2000 2000', when he caught a wheel and crashed. Despite a broken rib and a scraped elbow Richard decided to press on and did ultimately finish. However, once he started to recover he found himself in real pain and the next day was hospitalized with a badly broken arm which required what ride organizer Réal Préfontaine described as "major surgical intervention".
"I knew the rib was broken, but I found I could still ride with it," reported Richard several days later. "I don't know how I was able to ride that last 450 km without realizing that my arm was broken though...I think it says something about the power of adrenaline."
With Richard on the sidelines, 59-year-old Kuchenmuller soon found himself with a comfortable lead on the cumulative distance list. His tally as of August 24 was 7503 km, comprised of the '2000 2000', the 'Rock Mountain 1200', a 1000, 'Boston Montreal Boston' (1200), and various other shorter BC Brevets. Kuchenmuller's total will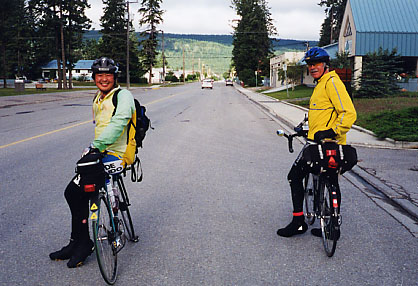 undoubtedly be a record by the end of the season. (The standing record is Réal Préfontaine's 1999 total of 7561 km.) But perhaps it isn't so surprising that Kuchenmuller should be at the top of the list - he was second behind Préfontaine in 1999.
"I didn't set out to win this thing," Kuchenmuller claimed at the start of the August 12 'Hell's Gate 400'. "Really! Somehow I got a bad rep. about these awards...I think it's because I thought up the rules for that Flèche trophy...you know, that one that only my team is ever likely to win." (There is an age x distance trophy as part of the Flèche Pacifique team event which was introduced by Kuchenmuller in 1992. It does indeed seem to be favoring Kuchenmuller's team(s) - they've won it five out of eight years.) Whether he has been chasing the trophy or not, Kuchenmuller has had an impressive year so far and by the end of the season he will no doubt have set a new standard for future John Hathaway competition hopefuls.*
_________________
"And what about the rest of us?" The 2000 season was noteworthy beyond the achievements of its stars. Let's take a quick look:
The Lower Mainland Spring series ended with two particularly difficult rides which were both complicated by extreme weather conditions. After the well-attended 200 and 300 km spring brevets, ridership plummeted for these last two events. The first of these, the challenging 'D'Arcy 400' (starting and finishing in North Vancouver), had only 6 finishers for 15 starters (and this isn't counting at least two riders who showed up at the start but thought better of it.) Nevertheless this finishing ratio is better than the last time this route was used in summer 1997, when only 2 riders finished from the starting field of 9.
The severe weather conditions for the spring 600 a few weeks later let up before the halfway mark, but this route (Abbottsford, Manning Park, Princeton, Merritt, Spences Bridge, Abbottsford) pulls no punches and so it was surprising that there was only one DNF for 13 starters.
There were two new populaires on the Randonneur calendar this year: the 'Canada Day Populaire' organized by Harold Bridge and the 'Victoria Populaire' organized by Michael Poplawski. Both rides exceeded expectation and I think you can look for these events on next year's schedule.
Finally, congratulations to the two new regional series organizers - Christine Todd in the Yukon and, and Wim Kok in Fort St. John/Peace River - on the successful execution of your new series, and welcome to randonneur cycling.
Eric Fergusson
September, 2000
(This article originally appeared in the Fall 2000 issue of Quick Release, the Cycling BC newsletter.)
* Oops, I got this one wrong...Manfred followed BMB with some touring in the US, and did not enter any other brevets. Réal's distance recorded remained intact. (Eric F. Dec 2000)
Photo #1 is of Ken and Keith - it was taken before PBP '99 by Denis Préfontaine.
Photo # 2 is of Nobo and Manfred during the Rocky Mountain 1200, July 2000 - it was taken by Bob Boonstra.
---
Also...here's A Brief Review of the Rocky 1200 held in July 2000.