2007 Season Review
One glance at the Summary of Participation chart [linked below] will give you a pretty clear sense of just how big 2007 was for BC Randonneurs. There were record numbers of finishers in all four of the basic brevet series distances (200, 300, 400 & 600 km), and a club event distance total of 247,266 which is 11 % higher than our previous biggest year, 2003. Paris Brest Paris is always a big factor in the annual participation figures, but with our high DNF rate this time around we actually had only the same number of PBP finishers that we had in 2003. So the increased club distance happened more locally. The two "hell weeks" certainly added to the totals. Let's take a look at a few 2007 highlights.
As for PBP itself... it was a killer. It was the first bad weather PBP since 1987 and the overall event abandon rate of 30% reflects this. Our regional ride coordinators were charged with the task of designing challenging qualifiing routes, and consequently BC had a particularly strong team at the start line in France. Our own 24 % abondon rate could have been much worse. Times were slower too. Keith Fraser was the fastest Canadian in 64:34, a time over 13 hours slower than his 1995 Canadian record. Despite the misery some of us experienced, others riders felt quite the opposite. First-time PBPers Nigel Press and Jeff Mudrakoff were spotted sporting big smiles.
It was another big year for first-time Super Randonneurs (200, 300, 400, 600km in one season) - a list of 9 riders including 2 women. Congratulations to Keith Feser, Graham Fishlock, Jerome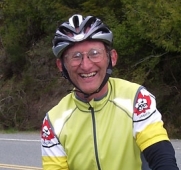 Lavigne, Devon Mihalyl, Keith Patterson, Norm Rotter, Greg Todd, Jenny Watson and Patrick Wright. The runaway rookie-of-the-year was Graham Fishlock. His event distance total of 5768 km is a new club record. Bravo Graham! In all there were 53 super randonneurs in the club which ties the record number from 2003.
As remarkable as Graham Fishlock's rookie total was, it was only good enough to place him 7th on this year's "Iron Butt" list. It was the deepest field ever this year with 10 riders tallying over 5000 kms. And at the top - no surprise - was Ken Bonner with 10,324 km. Ken takes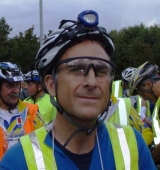 the John Hathaway memorial trophy home for the sixth consecutive year. Ken Carter from Seattle rode brevet series in BC, Washington State, Oregon and California and topped it off with PBP to finish second on the list with 8260 km. Surprisingly this is not the biggest second place total in the history of the award. (Being second to Bonner has become a sort of distinction of its own.) Michel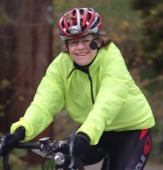 Richard with his 8265 km total in 2002 keeps this distinction by a slim 5 km margin.
The top distance by a woman was Susan Barr's 5281 km. I wondered if this was maybe a record distance for a BC woman. I looked back through the years and ended up putting together a new stats page similar to the rando rookie page. (The "Kendra" page is linked below). By the way, Susan's big distance in 2007 was only the fourth biggest distance by a BC woman. Top all-time distance....? Danelle Laidlaw in 2001 with 6541 km.
The locomotive we call Ken Bonner powered through another season with the familiar, but no less awe inspiring results. In addition to earning his straight sixth iron-butt award (for event distance), and registering all those fast times, Ken pressed on with his accumulation of non-event distance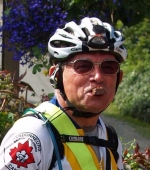 over his familiar Vancouver Island roadways. After his record breaking 2006 season, Ken's totals drifted back to slightly more sane levels: 30,677 km (Canadian Kilometre Achiever Program distance) and 18,973 century+ miles (Ultra-Marathon Cycling Association's "year-rounder"distance.) His big total put him easily on top of the UMCA year-rounder list for the third consecutive year. (We'll know about C-Kap later.)
Speaking of the C-KAP, the club as a whole had no trouble retaining top club honours - the Hewes Challenge Trophy - for 2006. (The C-KAP results are realeased the following year, so we don't yet know about 2007.) 21 BC Randonneurs rode 241,886 km between them led by Bonner with over 50,000 km and Henry Berkenbos with 32,000 km. 2006 was the third straight year we've topped this list and the distance figure is record.
The two "Hell Weeks" were a distinctive feature of the 2007 season. Ken Bonner's "Eau de Hell" week on the Island involved riding a Super Randonneur series (200 - 300 - 400 - 600km) over 7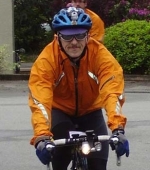 days. Seven riders fought through rain and cool April temperatures to finish the entire series: Gary Baker, Ken Bonner (pre-ride), Ken Carter, Eric Fergusson, Jeff Mudrakoff, Alex Pope and Michel Richard. Ali and Roger Holt's Princeton Hell Week involved riding four brevets over four days (300 - 200 - 300 - 200 km). The event was positioned in early August to be an intensive prep camp for PBP. Six riders completed all four rides: Susan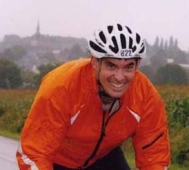 Allen, Eric Fergusson, Ali Holt, Roger Holt, Sigi Palme and Alex Pope. Congratulations to Alex and Eric for completing both hell weeks.
In 2003 four BC Randonneurs earned their Brevet Randonneur 5000 award in that one PBP year. This time around an impressive nine riders managed the same trick. They were: Susan Barr, Ken Bonner, Eric Fergusson, Graham Fishlock, Ron Himschoot, Manfred Kuchenmuller, Jeff Mudrakoff, Ross Nichol and Nigel Press. Congratulations also to four addition recipients of the BR 5000 who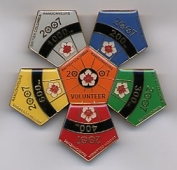 used some rides from earlier years to meet the award criteria: Deirdre Arscott, Bob Koen, Keith Nichol and Karen Smith.
One rider managed to get all 2007 pins. (This is the bit where I get to talk about... me!... in third person) Eric Fergusson got the five brevet pins (200 - 1000 km), both hell week pins, the super rando, the BR 5000 and the PBP pins and, prized above all others, the volunteer pin. And what an excellent pin design/concept it was - courtesy of Susan Allen. A second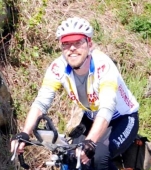 rider came very very close to getting all the pins - Jeff Mudrakoff took a rest day on the final Princeton Hell 200 km and consequently didn't get the second hell week series pin. But he got every thing else. So close!
There was one particularly fast time this year which deserves a special mention. Nigel Press rode through cold rain and strong head winds on the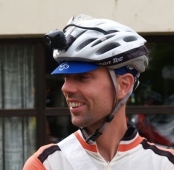 "Mountains and Desert" 1000 km in June in the time of 47:01. The time was 20 hours quicker than the next rider back on that event. It is by far the fastest 1000 km brevet time ever in BC not ridden on the Victoria - Port Hardy route. It is 5 hours faster than the next quickest non-Island 1000 (Bonner 2002), and almost 10 hours faster than the next quickest non-Bonner non-Island 1000 (Dan McGuire 1986).This was Nigel's first 1000.
As always it is the volunteers that keep this big machine moving along. 88 volunteer pins were handed out in 2007. Volunteers included Roger and Ali Holt who did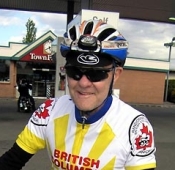 more than their share in making the big Lower Mainland brevets run smoothly, Ray Parker who continues to generate a new excitement for Island brevets, and club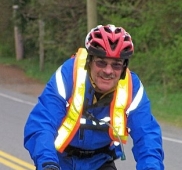 pres Gary Baker who managed to keep us on track despite recovering from being hit by cars TWICE!
The deserving volunteer of the year, and recipient of the Roger Street Award is, however, Cheryl Lynch. Once again Cheryl quarterbacked the PBP registration process, in addition to her ongoing work as data-base coordinator, and "correspondent" with Audax Club Parisien (ACP) in France, our sport's organizing body. Most club members will be unaware that ACP regards Cheryl as our permanent club president. It is she who validates all brevets in BC before they are subitted to ACP, and it she who is charged with enforcing the ACP policy. Executive committees come and go, but Cheryl is a constant.
Have you heard? There are some big plans for this coming season... Ken Bonner wants to run another "Eau de Hell Week" on the Island, and also a 2000 km brevet in August. And 2008 is a Rocky year! Roger and Ali along with with Bob Marsh lead the organizing team for our seventh Rocky Mountain 1200. You won't want to miss it.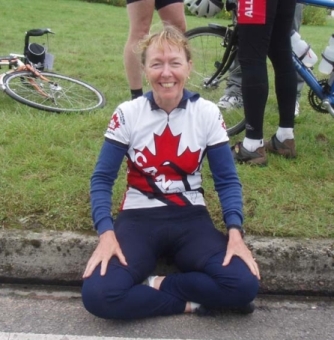 Deirdre - 6 PBPs...
Eric Fergusson
February, 2008
---
The summary of participation chart
BC Randonneurs time results at PBP 2007
The rando rookie page - most distance by a first-time super randonneur
The kendra page - most distance by a woman
The 2007 "Iron Butt" list
The 2007 super randonneur, BR 5000 page
Newsletter page about BC Randonneurs' C-KAP preformance
Summary page about "eau de hell" week
Summary page about Princeton hell week
The Roger Street award page