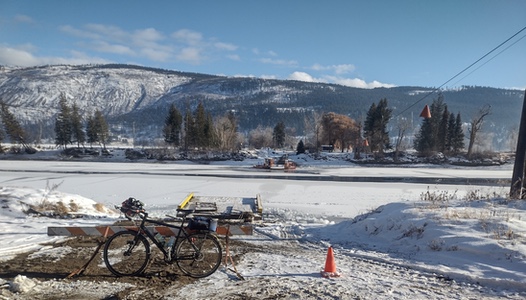 December Permanent
Permanent Brevet #204, "A River Runs Through It", 210 km
Ride Date: December 9, 2022
by Bob Goodison
I wasn't sure I was going to get my December Permanent, but there was a bit of a gap in the weather and I decided to give it a shot. I rode the A River Runs Through It route, starting from the Chase end. The thermometer at home said -4C, and I had a beautiful moonlit drive to the start. My hands got pretty cold unloading the bike and strapping all my stuff to it, but they warmed up quickly. I had no idea of the current temperature as my Garmin had done it's trick of periodically resetting all it's data fields, and fixing it would have required removing the gloves. Not gonna happen.
Pretty uneventful first leg to Kamloops, with a slight tailwind. Road shoulder was mostly good, with a few ice lumps, except for overpasses and on/offramps, which were very snowy and icy. It was a relief to get onto the Rivers Trail through Kamloops, which was mostly bare, but had some snowy and icy bits. When I got to Westsyde Road, I elected to continue on the Rivers Trail. For years I have stubbornly ridden the scary, 4-lane section of Westsyde, which is shorter and faster than the Rivers Trail. Never Again! Even the first couple of km, which is normally gravel, but today was unplowed, but packed and frozen into a very rough surface from people walking on it, was so much more fun than wondering if the next truck was going to run over me. I rejoined Westsyde at the Dunes Golf course, where it becomes a quiet, 2-lane rural road. The detours added some distance, which brought my total to 210.8 km, so I will have to tweak the route sheet to bring it closer to 200.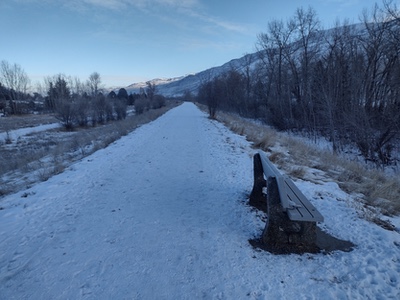 The rest of Westsyde was fine, with some snowy, icy bits near the ferry (obviously not running). Not even any noticeable wind. On one of my previous rides, a BIG Pyrenees dog wanted to chase me really badly. I wasn't concerned, as he was behind a 5 foot high fence, but he found a way under it. I guess the owners must have found and fixed the leak, because this time, he launched himself OVER it! I hate having to do the doggy sprint, especially on studded tires, but eventually he gave up the chase. I knew it was cold, as my still half full insulated. water bottles were both frozen solid. I finished my now cold, but still liquid travel mug of coffee on the way back to Kamloops. The bike path over the Halston bridge was well maintained, and the short bit of Highway 5 I had to ride to Shuswap Rd. was not too bad. I stopped at the TKumloops Petro Can and refilled my travel mug with hot coffee, and got a bottle of chocolate milk.
Shuswap Rd. was very good, but with a headwind that was most unwelcome at this point of the ride. The headwind got worse (or was it me) once back across the river and on the highway to Chase. One gust at Pritchard nearly stopped me in my tracks, but shortly after that it eased off. I was very glad of that, as it was getting very dark, and some of the ice lumps on the shoulder were hard to see. This ride had been fun (at least the first 150 km), which I had not expected, but I was VERY happy to be done.
Epilogue: BC 12 Completed. When I uploaded my Garmin, it showed a low of -12C, average of -6C. Kinda glad I didn't know that at the time. Wonder what January will bring?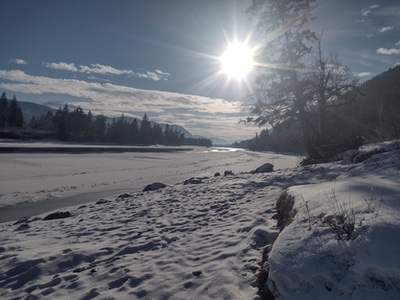 ---
Go to: P#204 Route Page (Database)
Go to: Permanent Results (Database - under construction, incomplete results)
Go to: Temporary Permanent Results
Go to: Bob's Ride Photos (google photos, 10 images)

December 10, 2022