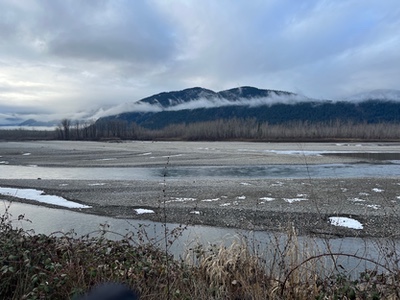 December Permanent, with Ditty
Permanent Brevet #216, "Chilliwack Flood Route", 200 km
Ride Date: December 11, 2022
by Karen Smith
Permanent 216
11 hrs 31 min
Solo

I have to admit, I wasn't looking forward to riding in December by myself, but I was sure buoyed by your message Eric, saying that you, Mike and Dave were all going to be riding yesterday too. I felt like we were out there together! : )
It was a hard ride for me!
Michel joined my for the last 51 km, for safety in the dark. Those farm roads are really black! And we had some yahoos in vehicles screaming at us in the dark! I'll never understand how anyone gets pleasure in that! One truck came back twice to get us again. After that we were both nervous that they'd return again...
Gary is out there riding today. He's got some sun today to help warm things up. I had no sun yesterday. But it looks like he has more wind today! Although the wind seems to have settled down now... It will be fun for me today, because Gary is riding my route and will come to my place for all the controls. It's always interesting to be the one who is NOT riding, and you go about your day, doing different things, and they are still riding...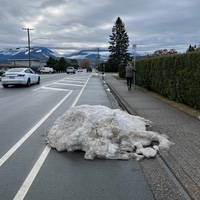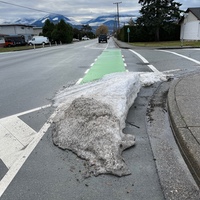 Here's a little ditty about my ride:
On the 11th day of December, my Permanent gave to me: ♫
Over 70 piles of snow (blocking bike lanes!)
11 plus hours of riding
10 toasty toes
9 minutes of rain (on Camp River Rd)
8 cozy fingers (plus two thumbs)
7 supportive texts
6 flocks of flying geese
5 trumpeter swans!
4 bottles of Boost
3 frozen ponds and 3 crow carcasses (licked clean!)
2 gulps of water and 2 minutes waiting for a train
1 extremely low Fraser River
and zero flats and mechanicals... ♪♫♪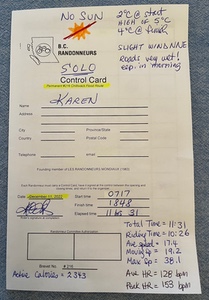 ---
Go to: P#216 Route Page (Database)
Go to: Permanent Results (Database - under construction, incomplete results)
Go to: Temporary Permanent Results

December 13, 2022