Journey of the Sorcerer (Elaho River) DNS
[Permanent Brevet #226, 204 km]
Ride Date: July 23, 2022
by Mike Hagen
Mike drove out to Squamish intending to ride his new permanent route, but the day turned out to be a different sort of adventure. I suggested we put his account of his alternate ride in the newsletter. He agreed. [EF]
Eric:
I bailed on the permanent. I was infused with antipathy on the way to Squamish. Maybe because I'd seen the Crouching Rat 300 riders off and was wondering why I was off by myself instead of riding with them. And on the way to Squamish, the clouds got dark and grey and there was a spit of rain. So I was sitting in the parking lot and thinking I really didn't want to do this. So I didn't. I pivoted and did a ride up to Hut Lake instead.
Do you know Hut Lake? It is up the Levette FSR [Forest Service Road] which branches off the Paradise Valley road a couple kms up from the Squamish Valley Road. The Levette FSR is mostly paved the first 1 1/2 km up to Evans Lake, but hits 20% grade in a few places (average is 12%). It's a steep climb. Then there's a pretty good gravel road for another 3 km to Levette Lake. Average grade is lower, but still 20% in a couple of places. Then the road goes another 4 1/2 km to Hut Lake, and this is a steep (though max 15%, thankfully), rough, rocky, 4-wheel-drive road. I was walking. There were a couple of vehicles and campers at Hut Lake. It's amazing where folk will thrash their cars to.
And the sun came out in the afternoon and it got hot. Took me five hours to do a 32 km ride.
But it was fun.
I will do the JotS (Elaho) permanent eventually. But I'm going to soften it up. Going to change the start point to Government Road and eliminate the out-and-back segment up the Ashlu FSR. Kiersten and I did a hike up to Crooked Falls last year. The trailhead is up the Ashlu FSR, and I recall that the road looked very steep and rough after the parking lot for the hike. Better to avoid that, I think.
M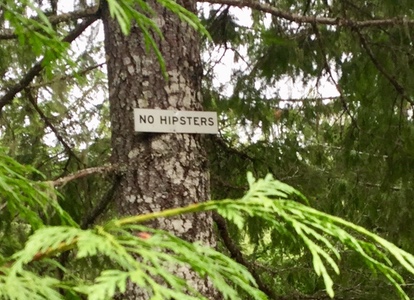 No hipsters at Hut Lake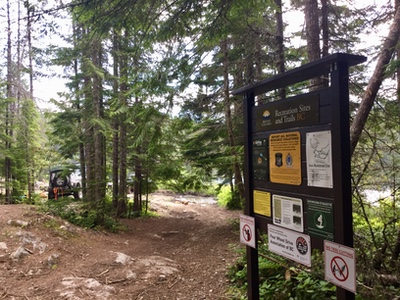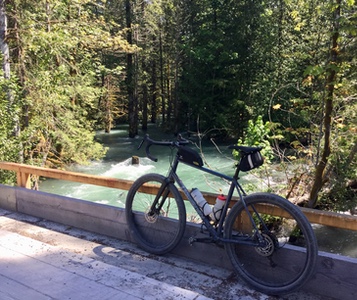 The Cheakamus River has spilled its banks and is flowing through the forest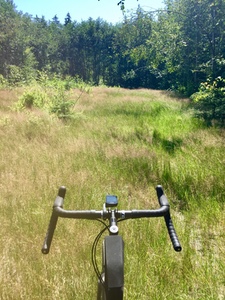 West of YSE, pt. 1: There's supposed to be a road here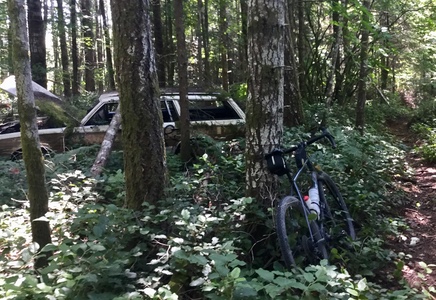 West of YSE, pt. 2: there used to be a road here?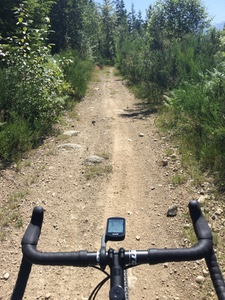 West of YSE, pt. 3: found it.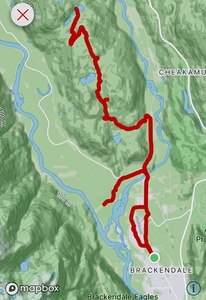 ---
Go to: --
-


July 30, 2022