Parks and Rivers Centenary 300
Ride Date: June 11, 2022
by Murray Tough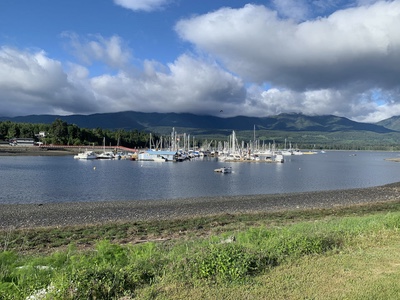 It was a perfect day for a ride. Cool, light wind and dry! The route description promised some interesting riding through parks and across rivers. It also mentioned gravel, stairs and eagles.
The first gravel section was fast and easy on a rail grade trail to Coombs. The next gravel section in Little Qualicum River Provincial Park was considerably rougher but manageable. The stairs arrived just before the first control at Deep Bay. I saw the first of many eagles as we approached the control, by a pretty harbour, with the sun shining. It seemed like it was going to be a great day on the bicycle.
The ride through the Fanny Bay Conservation Area was pleasant at first. The route sheet mentioned sand and gravel and warned of tree roots. No-one mentioned mud! We negotiated the tree roots on a narrow, slippery trail. All I could think about was not wiping out in the mud. I didn'?'t even want to put a foot down for fear of clogging my cleats. Both fears were nearly a reality when I hit a big root that I hadn'?'t seen coming. There was even a section of water to clean our tires as we got to the end. Thankfully, we all stayed upright.
We rode around harbours, along beaches, past farms and vineyards, through parks and across many rivers. The wildflowers were in full bloom everywhere we went.
The wind picked up and we had mostly tailwinds and cross winds as we headed north. At one point I watched four bald eagles soaring together in the wind while a fifth one watched the proceedings from its perch, high on a tree. By the time we got to Campbell River the wind was howling. I was stretched out on the aerobars, going fast when a blast of wind caught me sideways. I nearly went down. I stayed off the aerobars for a while after that!
After the turnaround in Campbell River, there was a long climb and headwinds. I feared the trip south was going to be a slow arduous ride. All one can do is keep one'?'s head down and turn the pedals. Which is what I did. The wind eased a little when I got inland. Despite the headwinds, the Inland Island Highway promised fast riding with easy grades and wide shoulders. There was little to no traffic.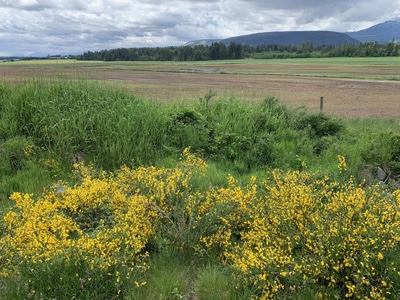 I didn't look at the elevation profile before the ride. I expected the big climbs going inland from the shore. The climb past the Bowser turnoff was a surprise. It was long, the wind was still blowing, but the grade was easy. After that, the big hills were all behind me. And so was the wind. Somewhere along the way, it turned around, which meant finishing with a tailwind.
There were a couple of brief showers that didn't amount to anything. I really didn't want to put on my less than aerodynamic rain jacket while battling the headwinds. Fortunately, it was never needed.
As I left the last control in Cumberland, I knew I was going to be pleased with my time. I was motivated and pedalling hard. The miles flew by... so did everything else. Like the goats on the roof in Coombs. I caught a brief glimpse as I whizzed by. A photo would have been in order, but I would have had to have been thinking fast, which is something I'm not prone to in the final stages of a long ride. The goats were well behind me when it dawned on me that I should have taken a picture.
I finished much faster than expected, 13:33. A personal best! It is little sad to say that my first thought was of all the places where I could have made up 3 minutes. It's not a race! But it kind of feels like one.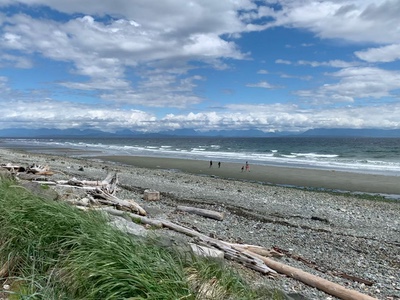 ---
Go to: VI Summer Series Results - ACP Centernary Results
Go to: Event Page (Database)


June 16, 2022