Cowichan Populaire 2022
50, 100 & 160 km
Ride Date: June 18, 2022
by Dave Macmurchie, Ride Organizer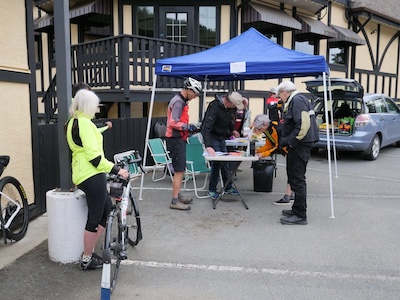 After the Covid interlude, the Cowichan Populaire arose from the ashes on June 18 and was well received by 93 registered riders, of whom 84 started and 77 finished. The event enjoyed the hospitality of the Cobblestone Pub in Cobble Hill, which has also arisen from the ashes of its 2018 fire. Cow Pop veterans will recall that we had planned to enjoy its facilities that year, but the fire occurred just two days before the ride and it'''s taken a while to pick up where we left off.
Weather was mixed, cloudy, some sun, some light rain and some heavy rain, depending on where you were and when you were there - it's Junuary, after all. Still the riders bore up and generally finished in good spirits.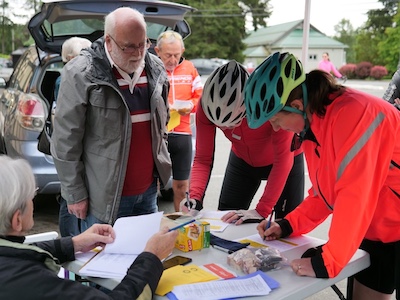 Between then and now we revised the routes somewhat, with all three pelotons circumnavigating Shawnigan Lake, visiting West Shawnigan Lake park before heading out to the other controls. We thank the Cowichan Rugby Club and Russel Farm for allowing us to use their space; the other controls were at Lake Cowichan and Glenora public spaces. The longer routes were more challenging this year because of the closure of Allenby Road, which required us to send riders up the Indian Road climb up to Glenora in order to get the distance we wanted. Traditionally the climb up Koksilah Rd is the major annoyance, and it was still in, but this year we included an excursion past the old Cowichan Station railway stop to break up the grind. But despite the additional elevation, the routes got a lot of good reviews, so we must be doing something right - we even had one person volunteer to help next year!
We were able to recruit local businesses to support the ride, the Cobblestone first and foremost, so that we could reward early registrants with a complimentary beverage, and others provided door prizes to enliven the afternoon. Thanks to Cycle Therapy for a splendid Bontrager helmet won by Dan Biles, to Experience Cycling for a premium Specialized tire won by Ron Myers, and Wendy at Hicks barbershop for complimentary of haircuts, won by Dirk Jeziersky and Connie Dunwoody. Enjoy in good health!
Nothing happens without good people, and we had the best. Great thanks to Dug Andrusiak, Norm Bennett, Buddy Bhandar, Edie and Graham Fishlock, Fred Fowler, Melissa Haynes, Paul Hovey, Mary Payten and Ross Pratt for showing up early, staying late, doing anything that needed doing and generally being indispensable. Well done, crew!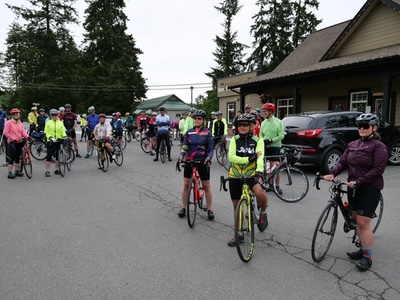 ---
Go to:
Cowichan Populaire Home
Go to:
Results
June 20, 2022