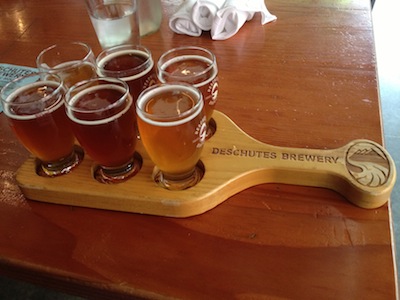 -
Oregon Coast 1000 - Day 4
Epilogue
June 22-25, 2013
by John Oswald

In four parts: Day 1 - Day 2 - Day 3 - Epilogue
In the morning I joined Will Danicek and Bob Koen in the lobby for the continental breakfast. I heard about how guys had been coming in throughout the night. After some standard passive-agressive needling about me finishing earlier than everyone else, we were off to the station to get our bikes checked in and loaded into boxes.

Now, I really want to love the train but both Amtrak and Via Rail make it a really tough love. First off, their computer system extends every simple transaction into a 10-15 minute ordeal. There is one screen and transaction for your fare payment, one screen and another payment for your bike check and finally another screen and another payment for your bike box. Now, armed with ticket, your luggage claim and your six receipts (one amtrak, one visa for each transaction) you have to roll your bike around the building and get your pedals off before the train leaves. Amtrak Portland and Amtrak Seattle have Park pedal wrenches for passenger use. Amtrak Eugene does not.

Prior to my arrival, Dave Campbell had already cut his hand trying to get his pedals off. Dave and Rick den Braber had asked for tools and had been provided a flimsy, already stretched beyond 15mm toy wrench for their pedals and now they ruefully handed it off to me. My pedals were disconcertingly immune to this tool and I began to realize that, having poured all my mental and physical resources into the ride, I had nothing left for patience and level headed thought.

All this is really a nice way to say that I was on the verge of an aneurism. If Will hadn't been there Amtrak employees might still be picking pieces of my brain and skull off the walls of the station. Will reassured me in soothing tones and:
- tried the toy wrench
- tried using the toy wrench with vice grips as a cheater pipe
- tried using the 15mm wrench from my multi-tool with the vice-grips as a cheater
- and finally tried hammering the 15mm wrench with a large rock.

Just as we were about to give up, Gary Baker came by and said,"Is that an external bearing crank... Just unscrew the bolts and take the crank off." Two minutes later the bike was in the box and my inter-cranial temperature slowly began to slip below 200F.

I always tell my students that the key to successful (insert tool here) operation is to be smarter than the (insert tool name again) you are using. Thank you Will and Gary for being smarter than a bicycle when I couldn't be! (Note to self: Put copious amounts of grease on the spindles every time you change pedals from now on).

Once moving, as always, the train was a great experience. As we rolled on I began to get a clearer picture of the way everybody's night had gone. It was sobering to hear how and when guys had finished the brevet, how even people with functioning computers had experienced navigational struggles getting into Eugene and to realize just how fortunate I was to guess correctly at a few intersections as I heard tales of wrong turns and bonus miles in the dark. Given my near breakdown in the face of Amtrak-induced adversity, I'm not sure I would have made it if I'd gone 15km off course with only 5 remaining kilometres showing on the route sheet.

In Portland with a three hour layover, I was proud to lead a small group to Powell's Books without a map (but not without a bit of chirping about how far it was). Admittedly, it is a decent hike from the station but Powell's IS the best bookstore west of the Mississippi AND the Deschutes Brewpub is located across the street. I picked up the latest from Bike Snob and a copy of Bicycling Magazine for the rest of the train ride and then we adjourned to the pub for lunch. More tales of the Oregon Coast and past rides were exchanged and I was lucky to sit beside Barry Chase who's done some great rides and has lots of cool stories and anecdotes. We then wobbled back to the station and boarded the train with plenty of time to spare.
The ride north to Seattle along the shores of Puget Sound was stunning and only marred by one Amtrak related experience. In the snack car the employee behind the counter asked us multiple times in a raised voice to wait for service in a phone booth-sized corridor to the right of the bar instead in the 12'x5' space behind the person ordering. What is with these people?!? Was there a training manual that said this was where the lineup had to be? How could one company refine its hiring and promotion practices to ensure nearly universal inside-the-box, one-size-fits-all problem solving? I guess there could be a good reason to cram four people on top of each other (after they had paid a premium over Greyhound for the comfort and style of a train ride) but frankly, I can't think of it right now.

North of Seattle the pace began to drag and by the time we reached Bellingham it felt like bicycling home might have been faster. When we finally reached Central Station in Vancouver and cleared customs it was after 10pm and I was unbelievably--no, uncontrollably--happy that I had a loved one waiting to pick me up instead of having to re-install my crank and ride home alone. In 23 minutes I would be asleep in my own bed and in less than 9 hours I would be back at work like all of this had been a particularly vivid dream.
-----
Thanks to Bob Koen for organizing the ride and encouraging everyone to ride home together on the train. Like Bob said in his intro to the ride,"Not everyone rides together, but everyone will be together on the train. It's pretty cool," and despite my feelings toward Amtrak, it was petty cool. I really enjoyed the route as well. It was scenic, challenging and took us down roads we would not have known about otherwise. Every iconic ride in cycling is hard work and The Oregon Coast is definitely one of cycling's iconic rides. Thanks for getting us excited and out there Bob!

Thanks also to the volunteers, Susan Barr, Rose Epp and Bob Lepage who got me on the road with the group even though I arrived two minutes before the start.

Finally, thanks to Eric Fergusson for mailing our clothes to Eugene and lending me cash to pay the entry fee. I (actually) couldn't have done it without you!
---
Go to: Ultra Brevets Results
Go to: Photos
September 7, 2013