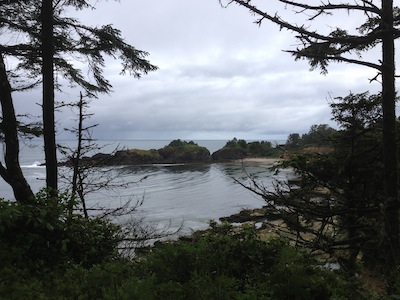 -
Oregon Coast 1000 - Day 3
Encountering Eugene
June 22-25, 2013
by John Oswald

In four parts: Day 1 - Day 2 - Day 3 - Epilogue
For the second day in a row I awoke minutes before the alarm. Most of me felt like I'd only experienced an hour of sleep but as I dressed in the dark, my mind did its best to reassure the rest of my body that I had been asleep for at least four hours before Eric came in. There was a fringe of light around the margins of the closed curtains as so I was hopeful that the wall of wind and rain that I walked through on my way from Subway the previous night had dissipated.
Outside it was fairly warm but less than three blocks from the hotel I was pulling over in the face of heavy horizontal rain drops to get out the rain gear. Normally these intermittent downpours would have me truly frustrated but I think randonneuring (or possibly age) has changed my response to in-ride challenges. Yes, rain on a ride is what I like to call,'sub-optimal,' but I've got a pretty decent bike, some excellent equipment and I AM on the Oregon Coast instead of at work, right?

Lincoln City's forgettable strip of motels, antique shops and clothing stores for female retirees lingered for about ten minutes' ride and then I was looking for the recommended breakfast stop in Depoe Bay. I never did find the Sunset Grill but I did run into Roy again at the last gas stop. He said everybody else, including The Nichol's, had stopped for the night in Pacific City. In the absence of breakfast, I poured some of the service station's hot, vaguely coffee-flavoured liquid into my mug, added some non-dairy creamer and hit the road. I knew there were some good places in Newport that I'd cruised by on my last time through and I would look ahead to them for a meal.

The worst of the morning's weather actually came at the height of the Otter Crest Loop--a nice detour that the Oregon Coast Bicycle Route takes onto the original Pacific Coast Highway's narrow grade. It was a sheltered, lower altitude and blissfully car-free escape from the clamour of cars splashing by at 100km/hr while you battled a considerable headwind. As I rolled peacefully out to the view point at a place James Cook had named Cape Foul Weather I was almost knocked off my feet by a gust of wind. On my arrival into Newport I looked like a drowned rat. At least I didn't have to worry about someone stealing my bike--only another randonneur would choose to ride in this type of downpour.

I think Newport must have a large time-share/recreational property demographic or at the very least that segment of the population seemed to favour Café Stephanie. It was a stark contrast to hear the conversations of retired doctors and businessmen after eavesdropping on dairy farmers in Tillamook and to experience on-the-ball, trip-over-one's-self good service a day's ride after the Raymond drive-thru. I went with the big-city vibe and had the breakfast wrap and a latté. It was very satisfying to get fresh vegetables and a fruit salad in the deal and the coffee was outstanding. After savouring it to the last drop I was once again ready to cut a swath through the wind and rain.

Riding around the point to the Newport bridge is very scenic in good weather and was still enjoyable on this day as our route had taken us off Hwy 101 to get through town. There was even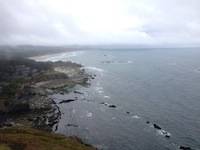 a lighthouse and any ride that passes a lighthouse always gets the thumbs up from me! After the bridge the rain began to let up and I was on the lookout for a milepost as my navigation was now in the hands of the Oregon Department of Transportation (ODOT).

Yesterday's foul weather had shorted out the charger for my Garmin GPS unit (I thought it had been in a ziplock. It hadn't) so I was flying blind. I knew the way to (and through) Newport from a previous tour but I was now looking for a new side road that wasn't part of the official signed Oregon Coast Bike Route. With all the riding I'd done in the US in the past year, I was pretty confident I'd be ok because most state and county roads have mileposts. Given that the route sheet was in metric and mileposts were in...uh, miles, my only concern was making approximate conversions on the roll while sleep deprived (That said, I did have some Lonely Planet maps in miles for backup). When I found Beaver Creek Road almost immediately after the milepost that I had calculated would be the landmark my nerves let up a bit I began to enjoy the ride again. Of course, needing to pull over and remove my rain gear didn't hurt either!
I reached the Beaver Creek information control about an hour ahead of closing time and I worried for the guys who had started the day in Pacific City. Would they be able to make it? Eric had expressed similar concern last night/this morning...

As I sped back out to the highway I enjoyed a scone that the dude at Café Stephanie had added at no extra charge,"..for the road," and I began to feel the flow. This section of the Pacific Highway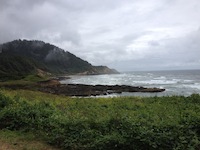 is especially inviting and I really enjoyed the next 60km to Florence.
The road rocked and rolled in and out of coves and up and down small cliff's. The surface had recently been redone (although the shoulder was a bit of a mess) and the stunted trees along theedge of the road formed a hedge that kept this cyclist out of the south wind. In Waldport I saw a bike co-op at a former gas station and took the opportunity to seat my tire properly after yesterday's flat repair (I like to follow a tip from Chris Cullum and pump it up to 100psi before lowering it to riding pressure). As I rode up the rise out of town, I noticed creaking in the chain and sped back down for some chain lube.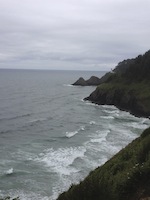 Out on the road I realized that I only remembered this section for a lunch stop in Yachats(pronounced "Ya-hots" according to my Lonely Planet guidebook pages) and for the 'guano' smell above Sea Lion Caves whilst admiring the Lighthouse across the cove. I think the fact I had been riding with a group on that day meant I didn't remember much else from the scenery--this was a great place to ride a bike!
When I finally reached Florence I was ready for lunch and looking forward to the Safeway...until I saw a Taco Bell. I found myself really wanting a salad and they had a fresh menu one with avocado and chicken--Sign. Me. Up. The salad powered me through the rolling sand dunes to Reedsport. Unfortunately, The Reedsport Safeway didn't have a deli so my dreams of a corn dog/Frappuchino combo were dashed. Instead I ate half a foot long from subway and brought the other half for the road.

Leaving the Pacific Highway for good I headed along the Umpqua River on OR-38. With a slight tailwind, river grading and fresh pavement I made good time to the turn off in Elkton. Near the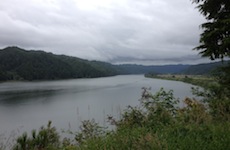 coast there were many cottages on the river with swim floats visible through the leafy canopy of trees that lined the highway. It really was a festival of greens between the river, the trees, the roadside grasses and hanging moss. It did begin to rain again--a vest worthy sprinkle at first but some heavier stuff in the last 20km into Elkton.
My right knee had been acting up again to I bought some Advil Liquigels and beef jerky in the Elkton Restaurant/General Store. As I climbed the hill out of town I popped the pills and ate thejerky in hopes that I'd avoid a medical monkey wrench in my plan of getting to Eugene in daylight.

OR-38 now had become became an undulating road through mountain valleys on its way to Drain. It was yet another really nice contrast to Hwy 101 and the earlier riverside portion of OR-38. I was still navigating by milepost and less time spent looking at the GPS display meant more time enjoying the ride.

In Drain I grabbed some chocolate milk, chips and Gatorade for the final run in. My knee had actually begun to feel worse when the drugs should have kicked in so I was now left to concentrating on varying my riding position between sitting and standing to change the muscle use pattern in hopes it would settle down.
Leaving Drain on the more heavily-trafficked OR-99 I was relieved to see the sign for the Curtain Road intersection 9km later. As I turned onto the side road and into a tunnel of trees I wondered what it would be like to ride through this overnight--and was glad I wasn't going to find out. I can't tell you how far it was to the top of Territorial Road because in my growing fatigue I forgot to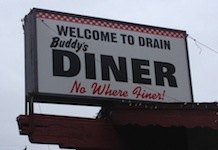 check the mileposts but I can tell you there really should not be a road there. There was only one roadside residence but it was reminiscent of the hovels seen in such films as "Deliverance" and "Oh Brother, Where Art Thou?" and didn't seem to merit the 20 or so kilometres pavement required to reach it.

After about 10 minutes it was apparent that this was the real climb over the Coastal Mountains and it was time to pay the piper. Because of the suffocating woods I couldn't see around corners but after a while it didn't matter--you know it was just going to keep climbing. I began to wonder if I was going to have to push my bike at some point.

When I became the kind of cyclist who wears lycra shorts I took it as a given that I would never push a bicycle while wearing them. Walking around dressed like a supehero is humiliating enough but having to push your bicycle in that getup is too much. The only other time I'd even considered pushing since then was while fully loaded on the Cabot Trail in Nova Scotia.

Well, it turns out that an internal struggle between pride and a growing self awareness of potential physical limitations is a great distraction from the task at hand and, in this case, carried me to the top of this climb to nowhere. When I finally reached the summit I was scarcely able to keep the dripping sweat out of my mouth as I gasped for breath but my feet had stayed on the pedals. I zipped up my vest and tucked for the descent with that familiar satisfaction of my victory over myself.

As I sped down the hill I was alarmed to note that the colour of the mileposts had changed. More disturbing was that the number on the signs had changed from the teens to the forties--the summit of the road had apparently been a county line. Unfortunately, knowing this didn't help me figure out where I was and when the next turn was coming.

I was now truly riding blind in a strange world. Through the filter of the gathering dusk and floating past on a gradual downhill grade, it was a vaguely attractive landscape of drying grass hillsides but the housing stock was in frightening disrepair and busted-down farm equipment and cars were everywhere. I appeared to be the only living thing (besides a few hardy trees) in the valley. There were no people, no farm animals, no birds...and I tried to imagine what could possess someone to live such a hardscrabble life in the hills above Eugene.

Although this was peaceful at first and although the road was unbelievably smooth, the stillness started to get eerie. It began to feel inevitable that the silence would be shattered by a white pickup truck lurching round the bend in the distance and that I would be a lonely target of the horizon for bored band of beer can toting locals. Fortunately, I got a grip and remembered that it was Monday night and this sort of attack was unlikely.

When I finally rounded that distant bend in the road the valley floor dropped away and a downhill grade with a yellow ROUGH ROAD warning sign was there instead. I immediately thought of the unlucky riders who had already DNF'd with collarbone fractures and was mentally steeling myself to pick my way down the hill when I lipped up onto the sticky softness of month-old asphalt and cruised through a magic carpet ride of bends and drops. It was anything but rough. I guess the work crew had forgotten to take down the sign as they frantically broke down their site in an effort to get back to civilization. Once again I was thankful for the lingering daylight which allowed me to let the brakes go.

I thought I had already turned onto the Lorrane Highway but 15 minutes later I arrived at an intersection that told me otherwise. Recalibrating it now seemed I'd be getting into town after dark. Looking ahead on the route sheet I knew I was going to be searching for a bike path and I began to get worried. No computer, metric conversions of mileposts that would be hard to see in the dark...this could get dicey. An alarming lack of street signs at the next intersection made me hope like heck that this was the one on the route sheet which instructed us to continue straight onto Bailey Hill Road. Halfway up the climb I was fortunate to notice a sign that indicated I had chosen wisely.

Darkness had prevailed by the time I crested Bailey Hill Road so when the lights of Eugene blinked into my eyes I was ready to be finished the ride. Yet another rolling downhill brought me to yet another unsigned intersection. My calculations based on the route sheet's distance indicated I should have already turned onto the bike path so I was starting to get antsy. I decided to take the right fork and once again the signs further down indicated I was fortunate to still be on Bailey Hill Road. I was starting to fret about my ability to locate the Fern Ridge Trail so when I saw someone getting into the last car left in a strip mall parking lot--the first living being I'd seen since Drain--I took the opportunity to ask for directions. The path was up ahead on the right in another mile or so! Wow, ok.

I found the paved and (mercifuly) well-marked trail and followed it awkwardly around the back of a dodgy apartment building blinding (with my Edulux) some poor souls who were out walking their dogs in the process. The trail dumped me onto an Eugene City Bikeway but after 5 minutes of residential tree-lined street riding the road dead-ended at a hospital construction site a few blocks short of the route sheet's next turn onto High Street. This required some ad-libbing but I found a work-around through Eugene's entertainment district to reach the hotel shortly after 10pm.

If that sounds like an anti-climatic ending, it kind of was. I was just relieved that I'd made it in one piece with my lack of a computer, the lack of road signs and a detour that took me off the route sheet. I was extremely grateful to receive the box of street clothes that Eric had shipped ahead for us and then I was stunned when Gary Baker appeared out of nowhere during check-in.

He related the miraculous story of his afternoon: An unfortunate mechanical, having the right tool to fix it but that tool being the wrong size, running into a Rohloff hub expert at the Sea Lion Caves viewpoint, the expert having the same tool and it also being the wrong size and then getting a ride all the way to Eugene from a guy with a pickup--complete with dinner and a beer at a seaside resort. Not bad. As for me, all I wanted now was an adult recovery drink, a shower and clean clothes. In that order.

I walked a block to a convenience store and picked up some Mexican take out on the way back. I'd been repressing a deep longing for Mexican food for about 900km (but unwilling to stop long enough to wait for it's preparation) so I was now a very happy camper. I ate my Burrito and Chilli Rellenos in a towel with a Mirror Pond and then hit the shower (with another Mirror Pond) before taking my private party (no other riders would show up for hours) to the hotel's hot tub. Afterwards I collapsed in a heap on the bed satisfied with a great ride that had a little bit of everything.
Go to: Day 4 - Epilogue
---
Go to: Ultra Brevets Results
Go to: Photos
September 7, 2013