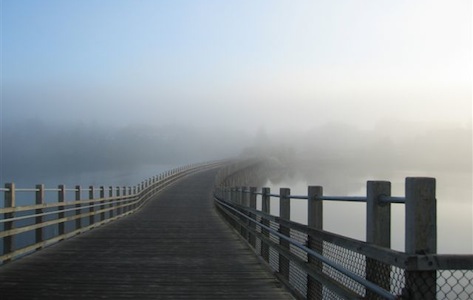 Fall Isle-Lander 200 Pre Ride Report
by Jim Runkel
As one of the organizers of the Fall Isle-Lander 200, to be held on Sept 12, Sunday, I took the opportunity to do the pre-ride. Weather was ideal with temperatures starting at 9 C, and rising to 21 C before dropping again to 16 C by rides end. Even with the sunny conditions, it was a cool start to the ride with patchy fog.

At 7 am I set off from the Moka House in Cook Street Village. On Sept 12, registration will begin at 6 am. Come early and enjoy some great coffee and baked goods to fuel you on your way.

Even living here, I still marvel at the scenery, and this ride takes you through some amazing areas. Along Dallas road the Olympic mountains looked majestic. Downtown Victoria was next, with the Parliament Buildings, Inner Harbour and Empress Hotel, looking as impressive as ever. The ride crosses the famous "Blue Bridge", maybe for the last time if it is replaced next year???. Watch the metal grated surface as it can be slick, especially if wet, and take the full lane when crossing the bridge. Just after the bridge, a ramp exits right and then a hard right turn onto the Galloping Goose (GG) Trail and starts a fantastic ride along almost the full length of this trail. Conditions on the GG were excellent. Be aware of a few cautions on this trail. It is multi use, so in some areas, there are pedestrians with many walking dogs (some off leash) and further out, you may come across riders on horse back. A large section is unpaved (Collwood to Sooke). I was on "23C" tires and no problems. It is generally hard packed (may be different in the wet conditions though). Between the road crossing of Gillespie Rd and Hyw 14 (Sooke Road) just past Matheson Lake are a number of very steep down hill sections with corresponding very steep uphill sections. Front brakes should be used very little and you may choose to walk down and up these sections as the chance of "loosing the front" is great. The ride continues to a point on the GG just past the "44km" marker. You will cross Sooke River Road and then the second time you come to it, you will turn right and proceed down Sooke River Road back toward Sooke Road.

Once you make your turn toward Sooke by the Sooke River bridge, you may encounter some repaving work on the road. The only caution is the steep road edge so stay well "on the road" through this section. After passing by Sooke you find yourself on Otter Point Rd. Continue on Otter Point and then turn Left on Kemp Lake Rd. The sign for Kemp Lake Rd is hard to see as it is hidden somewhat. So as you approach this turn look for a sign "FULL CIRCLE SEEDS" on left. If you see the Otter Point Fire Department on the Right, you have passed the turn.

The first control comes up after a nice fast decent to the West Coast Rd. For those who have done this ride before, the Kemp Lake Store is no more. A new name and owners have taken this spot over and now its called ROCK BEACH GRILL AND GROCERY. I spoke with Karen at ROCK BEACH, and she is expecting you. There is a small variety type store. You must try the SURFERS BALLS...a very tasty treat. The muffins and coffee are also good.

Proceeding from the control to Sooke, be very careful. Even at 10 am, the road was busy. There is no shoulder and the pavement quality is bad is some places. Once in Sooke, with the new pavement going down, things improve. After you pass through Sooke, look out for Sooke Shell. You will be close to turning back onto the GG trail on your right. You pass very close to a bay on your right, and then veer right at a parking area with concrete barriers.

The riding is now familiar as you make your way back into Victoria. Just before the Switch Bridge that crosses Douglas (Hwy #1) the Lockside trail branches left. Follow this now to Cordova Bay Rd. Matticks Farm will be on your right. Stay on Cordova Bay Rd which becomes Fowler. Do not go back on the Lockside trail. A nice loop around some farm fields (Hunt - Welch-Martindale) takes you toward Sidney. Joining Lockside again, you make your way past Mitchells Farm on left, Heritage Acres on right and into Sidney via Lockside Drive. I picked up a stone in my front tire where the interchange is being built by the airport. It held till Sidney. I stopped at the Red Brick Cafe (turn Rt on Beacon and its just past Serious coffee). It has good food for a lunch stop. While I waited for my soup and sandwich, I fixed the flat. Sidney is also your second Control. After Sidney, the ride takes you into scenic North Saanich, past some spectacular homes and farms. It was from this point that a very brisk head wind dogged me all the way home.

You pass the Victoria International Airport, and head back through Central Saanich into Saanichton. E. Saanich Rd takes you to Veyaness. It veers right and up and then White Rd takes to Seabrook. At the end of Seabrook is a little gravel trail that takes you to Oldfield road. Passing some very nice farms and farm markets (hungry anyone) you now head around the top end of Elk Lake and cross the Pat Bay Highway. The road becomes familiar again, as you pass Matticks Farm and head down Cordova Bay Rd, along the ocean and past the shadow of Mount Douglas.

The ride now becomes a test of your navigation skills as it tours you through many neighbourhoods. Passing through the Queenswood area and then the Uplands, you marvel at the multi million dollar ocean front estates that you pass on your left. As a new Bentley passed me, the thought came mind...I guess there is no economic downturn in Victoria....

After a tour of Fairfield and past the famous Ross Bay Cemetery, Dallas Road beckons and the final push up Cook street end your ride.

A wonderful, fairly flat route, with many scenic views, the Fall Isle-Lander 200 is one of my favourites.

Philip and I would like to invite you to our beautiful Isle for a great ride.
---
Go to: Jim's Pre-ride Photos
August 30, 2010