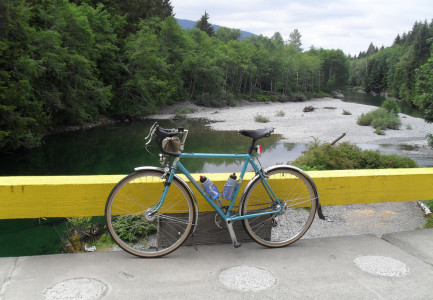 Renfrew 300 – Organiser's Report
by Lee Ringham
The Renfrew 300 took place on Saturday, June 26th. The six riders signed up for the first edition of this largely out and back route included David Lach, Guido van Duyn, Graham Fishlock, Jerome Lavigne, Kevin Bruce and me. As an enticement to attract mainlanders (and to defray travel costs), Cathy and I offered Nanaimo accommodation and so Jerome and David came to stay for both Friday and Saturday nights.
Saturday morning was cool and breezy, but pleasant. The breeze increased steadily and by mid-morning was a moderate headwind from Duncan to Port Renfrew. The sun eventually broke through about 1 p.m. on the west coast and the day warmed considerably, becoming cloudy with sunny periods. The rising temperature also generated an up-valley wind by mid- to late-afternoon, so we had a headwind back DOWN the Cowichan Valley on our return ride. Grrr!
Our group splintered shortly after departure as I forgot something in the car and had to return to the start after about 1.5 km. Graham (Rocketman) Fishlock shot off the front while David, Jerome, Kevin and Guido continued together until the first climb, which broke things up. I caught Guido at about Chemanius and spent most of the day riding with him, chatting about all things rando and other interesting topics. The ride up the valley to Lake Cowichan and over the hill to Port Renfrew was a bit of a slog into the morning headwind and we became separated on the rollers near Lizard Lake.
A bit further up the road I encountered the Lake Cowichan bound 'Rocketman', who had graciously stopped to chat with Kevin. I later heard from Guido that 'Rocketman' had stopped a second time to chat with him too. Both riders remarked on Graham's stops, saying such occurrences were uncommon during Lower Mainland events, due to the number of riders involved. Both riders also remarked on the number of passers-by, other cyclists, runners and even kids who offered up greetings, saying this was also uncommon during Lower Mainland events.
I rode with Kevin into Port Refrew and stopped at the cafe recommended by Graham, only to find Jerome and David tucking into lunch. Our meal was documented by Kevin and his witty pictures and hilarious captions are posted elsewhere. During lunch, Guido slipped by on his return journey, only to be caught by Jerome and David. The three of them rode together for 12 or 15 km. Kevin and I started off somewhat later and rode up the San Juan River valley together, until Kevin decided he needed a nap and crawled off under a tree for a sleep! I continued alone, aided by the former head wind which was now blowing me back towards Lake Cowichan (and assisting on the upward sloping road). After climbing back over the spine of Vancouver Island, I re-caught Guido on the decent into Mesachie Lake and spent the rest of the ride with him. We returned to Nanaimo just after 10 p.m.
Guido remarked on how beautiful the scenery was, especially between Mesachie Lake and Port Renfrew and along Norcross and Richard's Trail. He enjoyed Code and Quenell Roads, although the rollers were tough on him. David and Jerome understood the meaning of "Wall Street" roughly 2.5 km from the end and Kevin remarked on how hard navigation was after dark! As for Rocketman Fishlock, I never saw him after Lizard Lake, but his post-event e-mail indicated his approval of the route.
Each rider offered constructive criticism on what was a positively received route and all of them said they would like to return for VI rides. Kevin even suggested 8:30 a.m. starts near the ferry terminal so riders could travel over, squeeze in a 200 km brevet and return to Vancouver the same day! Thank you to all who attended, your enthusiasm made my rather minimal organization efforts worthwhile and I hope to have more attractive events on the calendar in the future!
Top photo: Kevin Bruce
---
Ride Date: June 26, 2010
Go to: Results
June 28, 2010