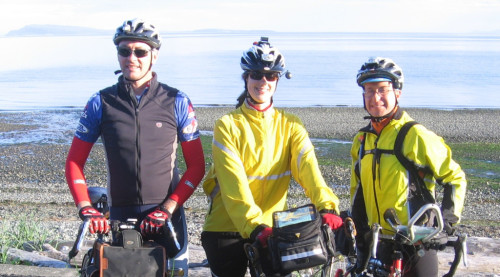 Lee Ringham, BrynneCroy & Mike Croy at the start in Qualicum
(Click)
Pacific Shoreline 200 Pre-ride - Two Reports
by Brynne Croy & Lee Ringham
Brynne's:
What a lovely way to spend a day! The route was unusual for an island brevet in that it was flat and the cue sheet was remarkably short.

Unfortunately with a start time of 7am and some distance between home and that location our day started before the sun's. Mike and I have logged a few rando-related mid-evening exoduses from the house, this was by no means an odd occasion. Lack of traffic had us in Qualicum Beach killing time for a good hour before Lee's arrival. It gave us an opportunity to take some scenery shots and enjoy the wildlife on the waterfront, kicking the eagle count up before we even started.

Despite all the time to get our things together I managed to forget my camelback in the trunk of the car. This was discovered quite early in the journey and Mike reflexively offered to retrieve it, the round trip seemed within his capacity so I opted to let him go for it. Wide, flat shoulders and a lack of vehicles made the first leg of the journey flow by quite quickly. There was great conversation and more birds for the list. Eagles were often overhead and ravens all around, I saw some quail and we flushed a pair of turkey vultures from a ditch.

The weather stayed fairly steady throughout the day, temperatures in the low twenties. Head winds seemed to plague us on and off through the last two thirds of the course and there was a brief threat of rain from a nearly cloudless sky past Bowser on the return. Great company and ride atmosphere made light of any otherwise imperfect aspects of the day. The one regret we shared was that the tandem was a logistical non-starter. It would have been an absolute hoot although I might have had to go without retrieving the camelback.

This route has a great deal to offer many folks. If you are hoping to turn in a fast (island) time this is one of the most straight forward and level routes you could find. If you would like to sample fresh fruit and homemade pies from the up-island community without too much concern for the clock there's plenty of that on hand. If you have an interest in Mennonite woodworking and/or army surplus, good news! You're going through Black Creek.

Hope to see you this weekend!

Brynne Croy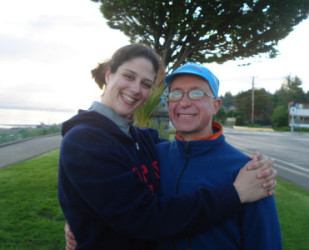 Done !
---
Lee's:
This Saturday marks the inaugural running of the Pacific Shores 200. Although this piece of roadway is very familiar to most randonnees who have ridden onVancouver Island, this is the first time this route has been run in isolation. Following a route laid out by Graham Fishlock as a permanent, it offers the following:
1. Great scenery overlooking the upper reaches of the Strait of Georgia.
2. Relatively flat terrain (hey this is the Island after all).
3. Relatively light traffic, although the traffic does tend to occur in bunches.
4. Nice shoulders for frequent two up riding.
5. Many potential refueling spots.
6. Easy navigation.
After Brynne and Mike Croy generously offered to accompany me on the pre-ride on June 5th, we met in Qualicum Beach at 7 am and started north along Highway 19A.
The day was pleasant, weatherwise, with a light head wind all the way to Campbell River. We saw several eagles and turkey vultures soaring effortlessly on the breeze. We saw California quails bobbing comically along the roadside. We even spotted several deer.
The breeze swung aound and freshened once we made the turn at the Campbell River control and blew in our faces all the way back to Qualicum. After a couple of stops to remedy a slipping seat post on Brynne's bike and a caffeine stop in Courtenay we rolled into finish after nearly 10 hours of riding. Our slightly sunburned trio seemed happy to have returned in good spirits and this ride was certainly a great improvement on my last pre-ride!
This was also the first ride on my newly built up Velo-Orange Polyvalent (with 650b wheels) and it passed with flying colours!
I hope to see as many members as can make it on June 12th.
Cheers Lee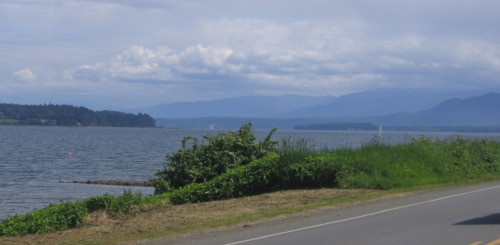 ---
June 9, 2010