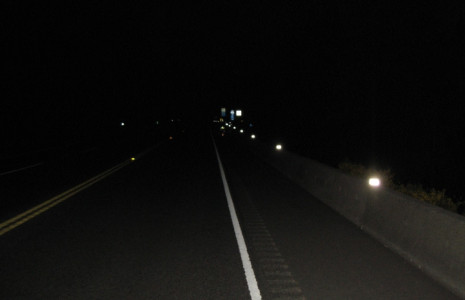 Highway to Hell...the Hellions return
by Jim Runkel
As legitimate offspring of hellweek, two fellow hellions (jim and philip) decided to continue our exploration of the hell theme by taking the Highway to Hell.
Now I must state for the record, Union Bay, at which point you turn around is not Hellish in any way. In fact its rather heavenly in that it gives one a break from the road, and the market (control) has a wonderful lunch counter serving all manner of homemade goodies including great soup and eggs benny with fresh hash brown potatoes. The lovely people at the market are also not demonic, and in fact are quite friendly and helpful...back to the start then...
Sleep, I need more sleep. My alarm goes of at 1 am, after only going to bed at 920 and being up since 6am. Well its time to get up, eat some food, and make sure the gear is all packed. I still cannot believe the weather is going to be as good as promised so the required rain gear gets included. My goal was to go lighter, which I think I accomplished.
I pick up Philip at 220am and head for the start. 9 smiling faces head out from the Tim Horton's into the night. Soon Philip and I take up our customary place, at the back of the pack with small red lights disappearing into the night. Up the Malahat we head, a steady climb, but with light increasing a good feeling is on us. After Hell Week, we both vowed to make changes to our bikes. In particular our gearing needed to be changed. We both run triples, but mine is a 10 speed ultergra. I went to a 28 t (from 30t) small chairing, and a new cassette of 12-27 instead of the 11-23. I also switched to a 32 rear tire. I have one for the front but ran out time to install, so was still running the 23 (x 700c). What a great difference the gearing made and the Malahat climb confirmed it was a good choice. We pushed on to Duncan, where were fuelled up with some nice breakfast treats from our favourite stopping spot...Timmies.
We kept a good pace, and arrived in sunny Nanaimo to the smiles of Brenda & Jim Fidler. Our cards signed, clothing adjusted for the amazing weather, we heading out of town toward Parksville. Getting off the 19 and onto the 19A was a nice change. I never realized how LOUD vehicles are!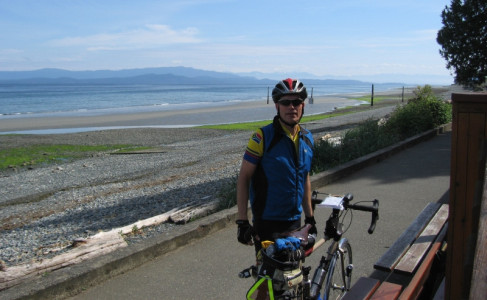 It was nice to be on the quieter sea side route. Qualicum greeted us with nice views of the ocean and mountains. I had stopped at the "Beach Hut" on a previous ride and was looking forward to chicken croquets on the return trip but they were all sold out...so it was with heavy heart I start off toward Union Bay. On the way Ken passed us, a full 45 kms ahead. We also saw the rest of the group heading back. As mentioned above, Union Bay was great and the food left me with a full tummy and light heart. We met Steve and his lovely mom and wife, who had come to 'support' his first 400 attempt. He took off before we were done eating...Philip had to get the home made eggs benny dish...great choice! We started back. I find the halfway point is mentally uplifting. Now the km's were counting down toward the finish. A head wind (how can you get a head wind both coming and going down the same road??) made the journey a bit hard in places and I always find the stretch from Buckely Bay to Qualicum Beach a long hard slog anyway. It seems to go on forever! Back in Qualicum, with no croquets to eat, we had an ice cream instead. We decided to push through to Nanaimo, where the thought of Delecado' bean and chicken wrap kept us motivated. We made a brief stop under the overpass entering 19 after Philip road over some glass. I picked it out of his tire, and new tube was inserted....we were off again. A layer of cloud was making the day look grey and the city of Nanaimo not very attractive. I do not like the section from 7-11 control to the highway in Nanaimo. Not a very bike friendly city! A fresh bottle of Blue Gatorade was in the camblebak. We got to Ladysmith and both needed a break at the park on the highway. A good stretch on the grass for a few minutes and we were ready for the long climb up to Chemanius. And then the rewarding long downhill past Mt Sicker Rd. In Duncan we fuelled up and met Steve again, just leaving for the last 50 k's. We had a nice rest and headed out into the closing darkness. The home stretch took us to Shawnigan Village, where fresh batteries make the IQ shine bright again. I was horrified at the amount of traffic on this most terrible section of road. From Shawnigan Village to the Malahat, pavement quality is appalling and no shoulders made for a few close calls between cars passing us and oncoming traffic (it turns out the Malahat was closed and traffic was being pushed through this way). It is a slog from the lake to the South Shawnigan turn off onto the Malahat. A steady climb and rough pavement, coupled with the stress of heavy traffic really wear you out. We were both feeling very sleepy as we descended the Malahat into Goldstream. I lead the way down. Once the lighted highway appeared by Millstream, we knew we were on the home stretch. Now to figure out the "follow the Bike Route" instructions on the route sheet. Turned out to be quite easy and interesting. Finally at 1225 am, after 21 hr and 25 mins we were done.
A successful second 400 for us.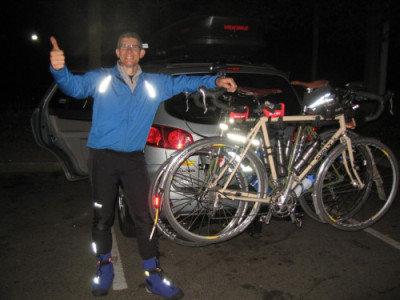 ---
Ride date: May 15, 2010
May 19, 2010