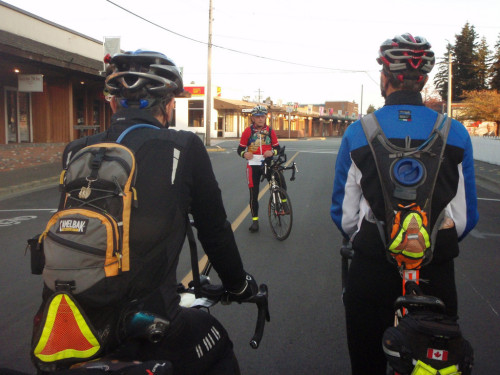 Eau de Hell 600km Brevet
by Keith Nichol
There were seventeen starters for the 600, sixteen potential Hell weekers, including the first woman, Cheryl and Bob B coming back from his crash on the 300. The forecast was for showers around Nanaimo/Gold River but at least the start was cool and dry.
The initial pace out was respectful of the distance and what had gone before, except for Ken who whistled by as if he was out for a ride around the block. Pretty soon we were off the Highway and meandering along Cedar Road through the farmland. We skirted Nanaimo and were soon at the first control, not much to eat but they did have a wash room as everyone's morning coffee was no longer welcome. I met Jeff walking back for the key as I headed out with it. Relief was had and as I stepped out and heard the door close I realized I had left the key inside. The expressions on the five eager faces dropped and they rapidly disappeared behind the building. None of the forty keys I tried worked and I had to break the news to the next group in that an alternate wash room had to be found. I hope they eventually got it open?
Back on the road and then the Highway heading to Parksville. There was a large Bald Eagle looking for breakfast on the beach before NW Bay road. The next stop was the Shell control at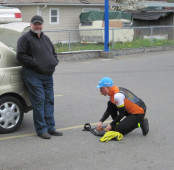 Qualicum Beach. Mike Croy's dad Paul was there and he was rapidly falling into his role as an impromptu volunteer for the ride. Then it was a long pull through to Courtney for a Tim Horton's soup combo and we left Henk fixing a puncture. We'd seen a few mouldy deer and hawk along this stretch but not much else.
The inevitable tuna sandwich and chocolate milk at the Campbell River Mohawk, fuelling up for the climb to Gold River. I remembered that the deli in Gold river didn't really cater for non-carnivores so I got extra and Paul very kindly carried them up.
We'd just got up the first long climb when it started raining and not wanting to get wet for the return we added the waterproof layers, even though it was going to make it a bit sweaty. Pretty soon it was pelting down which of course meant we had to have our first mechanical. Unbeknown to us Mike had been having problems getting into his big chain ring and the reason soon materialized when his left crank fell off. Henk got it back on but we were now missing a spacer so it still wasn't shifting properly. We used a zip tie to temporarily solve that problem.
After having been soaked for an hour or so the sun came out and soon we were under blue skies surrounded by snow covered mountains. It was just getting dusk when Henk spotted a herd of elk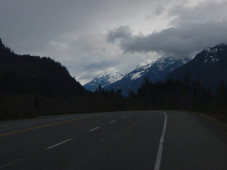 just off the road. They are big creatures and just gazed at us as we went by. Soon after that Ken came by returning from Gold River, he was heads down and focused. Alex, who was also ahead of us had decided to sleep for a bit in Gold River. On the descent into Gold River my front wheel was picking up road debris and jamming, which was a bit disconcerting.
The motel in Gold River really made us feel really welcome, hot coffee and they had opened the dining room. Paul had all the stuff we'd given him to carry up laid out and soon people were eating and changing into warmer clothes for the return to Campbell river. Rejuvenated I went and removed my front mudguard as I didn't want issues going back. When I returned to the dining room Mike told me he was stopping as he couldn't shift into his big chain ring any more. We went down and with a bit of adjustment on the front derrailleur all was well. It didn't know if he wanted to thank me or curse me, I can't say I blame him.
Backup the hill we went and soon we were seeing the oncoming headlamps of the others behind us and the disappearing tail lights of Eric, Jeff, Keith and Henk. Everyone was soon accounted for and we focused on getting back to Campbell River in one piece down all the hills. Crossing the bridge at Butte Narrows was a good half way reference and soon enough we saw the quarry lights which meant we were close to Campbell River. A quick refuel and warm up and then we were on our way to Courtney for breakfast at Tim Hortons. I'd gone about a 5kms up the road when I realized I didn't have my Camelback with me so I headed back and picked it up, a bit brain dead by this stage as it was about 2:30 in the morning and we had been on the road since seven the previous morning. I decided not to take the detour after Campbell River and went through the construction zone which was fine apart from some sandy bits which were a bit challenging. I certainly didn't want to do the detour hill again. It was past Oyster Beach before I caught up with Mike and Keith again. Shortly after that we caught Jeff and Henk as they had been fixing a flat. Breakfast in Courtney and then on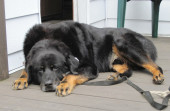 the road again. Temporary light relief from the grind when a pileated woodpecker flew across the road in front of us and started pecking away at a pine.
We stopped off briefly in Parksville to say hi to Torro and were surprised by freshly made Jo Anne cookies. I gave Torro the dog treats I'd hauled all the way from Chemanius the morning before. Thanks Jo Anne, the cookies hit the spot. Soon we were in Nanaimo at the 7-11 on Terminal, the scene of many a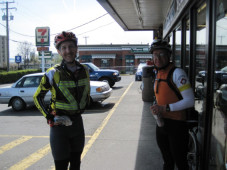 control in the past. It was at this point that Alex caught up to us after having chased us furiously since Gold River. Ken had text him that we were ahead and he should chase us down. He was a little disappointed to hear that Jeff, Henk, Keith and Eric had all left the control 30 minutes before. He rode with us until Mike pinch flatted on road debris at an on ramp just before Ladysmith, a good excuse for a pee. We were both flagging at this point but we knew we were close so we we soldiered on. As we turned off Mt Sicker road I pointed out a hole which Mike promptly drove into. Remember the old maxim "look where you want to go not where you don't want to go", words of wisdom many years ago from Roger Street. I wish I had filmed the tyre repair as it was a classical example of how not to put a wheel back into a frame and that was before we had to get the chain back onto the front chain rings. A few more kilometres and we were in back in Chemaius, Hell week number two for me and Mike's first 600, super randonneur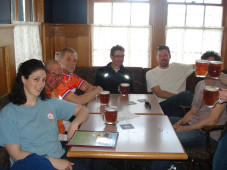 pin and Hell week. All that effort had been worthwhile.
We bumped into Henk at the hotel and it was straight off to the pub across the street for a celebratory beer or two, sweaty clothes and all. Mike got a hero's welcome from Brynne and Paul, which he well deserved.
Saturday morning was a slow start and a good breakfast with Alex and Gary, fuelling up for the ride back to Vancouver. Ken arrived as we were about to leave and further chatting occurred,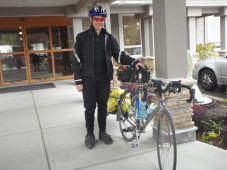 along with Bob B and Barb preparing to go back to Kamloops. I stayed on the Highway until Cedar road and then decided to get some peace and quiet. It was raining steadily which at least gave the bike a wash after all the dusty miles. I missed the 12:30 ferry which didn't bug me as I started writing my ride report. Beware of the coffee from Black magic in the terminus building, it was near water. I went back and asked for a second attempt at an Americano with half the water and she very kindly put in a double shot which made it more palatable. Cheryl arrived and I got to see Torro again before boarding the ferry. A fellow cyclist Ron was going back to to Vancouver and we ended up chatting most of the way back. He'd done the 50km Victoria Populaire so he at least had an idea of what the randonneur madness was about. I ended up showing him the quick way onto Marine Drive from the ferry and rode with him all the way back to Lion's Gate Bridge.
So ended Hell week. Thanks to all the organizers and volunteers who made it possible, it was fun.
---
Go To: Keith's 600 km Flickr Photos
Go To: Eau de Hell week home
April 18, 2010