Cheryl is the first woman to complete the EdH series. Here's her story:
When the going gets tough, cry but keep pedalling
by Cheryl Lynch
Eau de Hell in 2010 was a great experience. The riding on Vancouver Island is varied and really beautiful most of the time. We were lucky this year to have exceptional weather. I was also lucky to have a strong and experienced riding partner, and my mother's kitchen on the 400 and 600 routes.
My goal was to ride the 200 and 300 and start the 400 and 600 and not quit unless I ran out of time. I expected my body to break down and my butt to get extremely uncomfortable. Others have said they get stronger through the week but I know I need more recovery than them so was prepared for my speed to drop as the week progressed. Which it did, at least the average speed did, however, I think my legs did get stronger through the week. My riding certainly became more efficient and my pedal stroke became smoother. Somehow I managed to keep my butt mostly intact, the 50k feet or so total of climbing probably helped. I don't think that 600 was any harder than any other 600, since there can be so many things that can make it harder e.g. rider health, weather, wind, road surface, elevation gain, navigation. My legs didn't actually feel trashed, except when I forgot to eat in the night, which surprised me on mornings after having completed a ride a day or two prior. Maybe LLSD with lots of snacking is actually good for the muscles?
My weak link was my shoulder, which would spasm with stabbing pain if I pushed too hard, which was frustrating when I felt good and wanted to push, I had two choices, go and pay or be careful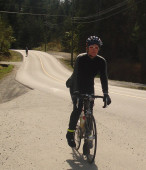 and manage the pain. The good thing about that pain was that it stopped when I stopped so it was easy to make it go away, and stopping gave the rest of my body lots of recovery time.
The 300 had the most climbing (and descending) of the week, which made the 400 and 600 seem relatively flat. I think this week of riding is more about the total climbing than it is about the total distance. There were some amazing hilly sections, especially on the 300, including Ross Durrance Road in Saanich. I've never seen anything like it, it was like a rollercoaster. Also on the 300 we rode over the Malahat both ways.
My worst times were in the middle of the night. On the 400 I was dying but after eating about 1000 calories at Dave MacMurchie's control at 3 AM, and meeting up and chatting for a while with Noel, I felt much better. I was getting sick of bars and not really thinking I needed to eat. Same thing on the 600, leaving Gold River at 2:30 AM, with only an egg and a bar in my stomach was probably a mistake, as my speed got slower and slower, until at one point I stopped and sat at the side of the road for a bit (next to a huge boulder which had landed just on the side of the road) and ate some fruit leather to get me going. Once we got to Campbell River I had a bagel and two doughnuts (including the legendary apple fritter with it's magic go properties for tired randonneurs) with two cups of coffee and felt normal again.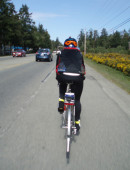 Before I left Vancouver friends advised me to "eat lots". Basically I ate anything and everything, until I was sick of eating all the time. The pizza at San Marcos in Campbell River was the best ever, and they let us bring our bikes into the lobby.
Because of the days off, there was no real sleep deprivation. I got 2 hours of pretty solid sleep at Gold River plus 10 + 4 solid hours between the 400 and the 600 start.
My preparation included permanents through the winter, hills, and one 500 km weekend.
A big part of endurance cycling is mental toughness. I'm not that tough, but I can pace myself. When the going gets tough, I slow down (and sometimes cry).
I have a few different positions which I can ride in comfortably for long periods and I tried to use them equally to spread out the contact points. I also have a favourite pair of shorts.
There can be a lot of crap on the shoulders so a spare tire is a must. I had two punctures through my sidewall. I hate staring at the shoulder, weaving through rocks and potholes to avoid puncturing, but there was a fair amount of that on the #19A and #1. Traffic wasn't bad for the most part, but the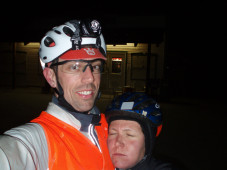 last couple of hours of the 600 were busy. It seems the vehicle of choice on Vancouver Island is a diesel pickup truck. At least tourist season wasn't yet getting going so overall most of the air we were sucking in was good, clean fresh air. On the 180 km out and back to Gold River on #28 we saw only a handful of vehicles (and the road surface was smooth and clean). Even in the dark it was a spectacular ride.
It was really nice to see the other riders at controls and on out and back sections. In the middle of the night on #28 Ken Bonner stopped to say hi and see how we were doing, and later we passed the others as they were getting to the top of the climb out of Gold River, Jeff in the lead.
Two days later I'm still a bit groggy and eating every couple of hours, but I feel happy-tired and have a sense of accomplishment. Vancouver seems a bit surreal after riding past all the island living but it's nice to know there are other people like me who just like riding their bike all week.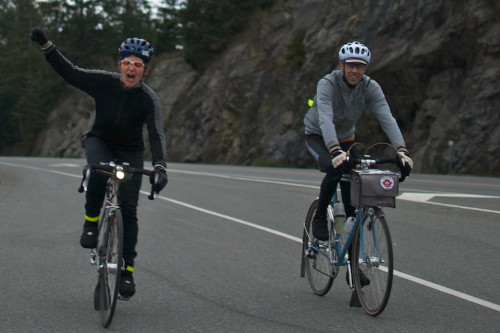 ---
Go To: Eau de Hell week home
April 18, 2010