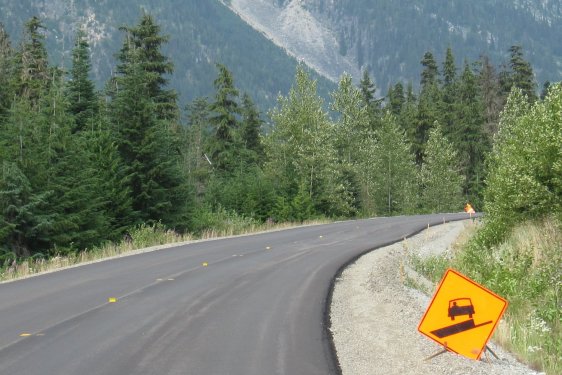 Photos: Ryan Golbeck
Riding the Time Line
Cariboo Loop 1000, August 1- 3, 2009
by Eric Fergusson
By any measure the Cariboo Loop is the least successful ride in the history of BC Randonneurs. There have been 12 starts and only 3 finishes - a whopping 75 % attrition rate.
So why? It would be easy to say that the 9 riders who didn't make it weren't up to the challenge. But this just isn't so. Even though a number of riders were first-timers, they all had proven to be strong riders on other courses. And some of the non-finishers have been exceptional riders.
The Route that John Built
It was John Bates who drafted this route in 2002. He tested the route on tandem with fellow multi ultra brevet finisher Danelle Laidlaw but they didn't make it. They abandoned somewhere after Pavilion, around the 300 km mark. It is the only ultra brevet (1000+ km) either of them has failed to finish. In 2005 two other strong riders, Paul Lahti and Dave Gillanders, also abandoned on day one, and also around 300 km.
Finally in 2006, Scott Gater and I both finished - the curse was off the ride. The third rider that year was Jeff Mudrakoff attempting his first 1000. He was doing fine until shortly after Lillooet when headaches (possibly dehydration related) started slowing him down. He fell behind the time limit somewhere past Pavillion and didn't reach the Clinton control in time (~370 km).
Ryan Golbeck wanted to take a run at the route this year, and did the organizing for four additional starters: me, Rick den Braber, Colin Fingler, and also Jeff Mudrakoff again, this time fresh from 1200 km finishes at Shenandoah and Gold Rush. There were multiple start times. Ryan, Rick and Colin at 3 am, Jeff at 5:00, and me at 6:00.
Ryan had made two changes from John's original route. The scenic meander on Horse Lake Road after 100 Mile House was replaced by the U-turn up the big hill out of town on Highway 97, with a quick left on the newly paved Rte 24. Horse Lake Road is much quieter of course, with low level traffic, but (in 2006) had truly awful pavement for much of this 16 km section. The second change was after Merritt - the route defaults to the more challenging climb on the main highway (Rte 5) to the Coquihalla summit, skipping the 30 km back roads stretch on Coldwater road.
My Loop
This story is going to be a little longer and more descriptive than it would normally need to be. That's because this is less a story than personal survival notes documenting how to avoid messing up next time.
-------
Even though the curse was now off this ride, I still was a little anxious. In particular I was worried about the Achilles tendonitis I had struggled with in June. It seemed healed but often it comes back. With my Achilles worries in mind, the plan was to ride a little slow, spin those hills and try to keep moving. The forecast was for hot temperatures, with no possibility of rain. We knew that there was a fire risk on the route, but the Lillooet fire was being described as "contained", and the more intensely covered Blackcomb fire was also heading towards containment by the morning of the start.
I was already halfway up to Cayoosh pass (~190 km) when the impossible happened - the dark clouds rolled in and the thunder storm began. I knew that I was not making great time, so rode on and endured the moderate rains with periodic downpours. I knew I was safe from the lightning because of the tall trees on either side of this road corridor. Someone (I think it was Jerome?) pointed out later that I was riding a metal bike, and was actually a likely target for a lightning strike, even in a treed corridor. Oops.
There was a treat at the top however. The previously almost unridable road surface had been repaved. Beautiful! And the storm was passing.
At the Lightfoot gas control in Lillooet (268 km), I found Ryan and Colin in seemingly excellent spirits, and also Jeff. Rick was MIA, but would show up later. Jeff had had fender problem, so was a little behind schedule. He headed straight off. Ryan had had multiple flats (4?), and knee problems. Colin and Ryan could maybe still have made it to Clinton on time, but it would have been a battle. The road ahead was still challenging, so I think they made a wise decision to cut their losses. Rick DNFed too, after being bogged down by sleepiness in Joffre Lakes Rec Site.
The story most people were thinking about for this place at this time was, of course, the Lillooet fire that was suddenly far from contained and moving towards town. As we contemplated our own situations at Lightfoot Gas, we witnessed first hand the whirr of helicopters overhead rushing to and from their dump points. It sounded like we were in a war movie. Ryan caught the action nicely with some of his photos from the ride. Ryan's Photos. The following day Lillooet was evacuated.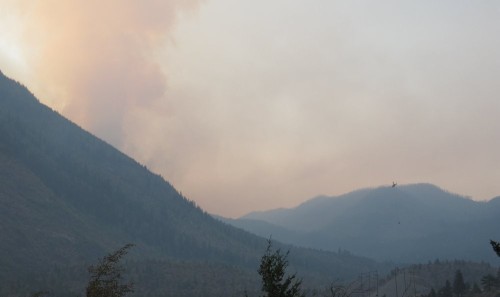 I struggled with the next part of the route. The climb up from Lillooet to Pavillion was a known obstacle and normally manageable, but I was feeling sleepy. In 2006 I started this route at 8 a.m. and was two hours more well rested. Between my slower riding and several nap stops I think I squandered at least two hours on this leg to Clinton (~370 km).
I arrived at the Round-Up Motel just before 4 a.m. - the control closed at 6 a.m. and I didn't want to leave late because there was still an elevation gain to face before 100 Mile House. After a quick clean, bike prep, and an unsatisfying Powerbar meal, there was time enough for a 90 minute powernap.
The terrible stretch of road on route 97 from Clinton to 100 Mile was even worse than usual this year. As always most of the shoulder was virtually unridable. As a bonus this year there were a few construction sections with very uncertain footing for bikes. Quite dangerous. The gentle climb through this section is ultimately acknowledged by a summit marker about 10 km south of 100 Mile: Begbie Summit, 1127m.
I arrived at the Smitty's in 100 Mile House at 10 a.m., a full hour ahead of the limit, to find Jeff in good spirits ready to head off. I was starving and dove into a carbo and fat infused traditional breakfast. When I stepped outside, just 40 minutes later, it was like walking into an oven - a painful, searing heat. I love the heat, but there are limits.
So with the time limit again nipping at my heels, and the prospect before me of a difficult climb out of town in sizzling temperatures... I decided it was a good time for a nap. I lay down on the grassy margin in the shade of a van and fell into a shallow sleep.
Although the owners of the van were apologetic, they said they had to go. I'm not sure how much later this was, but I knew that I had likely slipped behind the limit. Time for me to go too.
After the climb out of 100 Mile House the temperature was a little cooler. Interesting how much elevation influences temperature. After the left turn east on highway 24, the fresh pavement and tailwind were a welcome combination. Unfortunately I was still sleepy. I stumbled along for a while and then lay down for a deeper, more satisfying sleep in the shade of an dormant garage in Lone Bute.
Finally, a little more awake, but probably well behind the limit, I made the dash for Little Fort. Mercifully there was still a tail wind, which is a good thing because there is actually a further elevation gain in this stretch to MacDonald Summit (1311m) before the monster descent into Little Fort.
I made it to the Little Fort control, again with an hour to spare. And again there was Jeff ready to head out. He wasn't enjoying this. The heat was getting to him. Even though it was 5 p.m. it was uncomfortably hot.
Fueled up and fully hydrated I left Little Fort for the easy run into Kamloops only to find myself tired and weaving. This time I resorted to caffeine pills. It wasn't working, and so at the first opportunity I stopped to get gum. This helped, or was the caffeine finally kicking in? I moved at speed to Kamloops and as the evening cooled I was feeling better, and moving a little faster.
It was newly dark when I rode in to Kamloops on the familiar stretch of Route 5. I kept looking for the Halston Husky on the left. I recognized other things about the approach, but the station just wasn't there. Eventually there was another gas station on the left.
It was possibly because of the effects of heat and general exhaustion, but the scene was surreal. A beehive of activity - not just a busy business, but also a aboriginal gathering place, social club. Mainly young people, but all ages were represented. Very few non aboriginal customers. And what a bonus to see vegetarian options on the sandwich rack. I was able to have a big meal. As I sat down to eat there was a girl in some distress. Her family in Lillooet was being evacuated and she needed to be with them. A security guard with admirable sensitivity was calming her worries. Yet the problem remained - how was she going to get to her family?
I went back for a second meal and had the opportunity to speak with the manager about the Halston Husky. "Still closed for renovations," she revealed. "But you are at Tk'emlups Petroleum !" I tried to scribble this on my control card, but she grabbed it and did it right.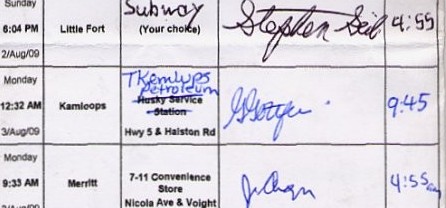 I had remembered that Interior route coordinator Richard Blair had mentioned to me and Ryan that the Halston Husky had been undergoing renovations, but this was a while ago, and I would have thought the work would have been finished. Guess not. It dawned on me then that I should have shared this information with Jeff in Little Fort. Well maybe he figured it out and stumbled into this same place earlier.
In my run into town I had, of course, missed the Mt. Paul Way right turn to the red bridge into downtown Kamloops. With some helpful redirection from one of the Tk'emlups Petroleum security guards I was able to retrace my steps and get back on course.
Just like in 2006 I misunderstood the approach to the hill that would take me up through Kamloops. I went up a ramp to the left that would (I think) have taken me back across the Thompson River. A motorist was similarly confused and was nearly crunched while making an unwise U-turn on the ramp. Instead I gingerly portaged my way back to the Y in the road and was on course again.
After the climb through Kamloops I was down on good old highway 5A - a long but easy run into Merritt. This was a pivotal section of the ride for me, and I made up some valuable lost time. A few notes about 5A: Some of the early sections had been newly repaved. Wonderful. There was an unexpectedly high level of truck traffic on this road in the middle of the night. This was true in 2006 also. A slight head wind became an extreme head wind around the lake towards the end of the section, but this dissipated on the final run into Merritt. Though some sections had been improved, there were still long stretches of awful pavement. I needed more caffeine pills to stay on the road, and more gum.
I arrived at the Merritt at daybreak and was soon enjoying a classic 7-11 feast: egg sandwich, two cups of veggie noodles, chips, V8 and chocolate milk. Oddly enough, according to the clerk, no other cyclist had been through here tonight. So where was Jeff?
At the Road Runner Motel, I was informed that the cyclist's room had been cancelled and that no other cyclist had checked in. It was beginning to look like I had somehow passed Jeff. I left instructions to send the cyclist, who should be in shortly, to my room. I left a water bottle in the window for Jeff's easy reference, but Jeff never showed.
The time I made up between Little Fort and Merritt allowed me the luxury of a four hour sleep. I awoke refreshed, and left Merritt only slightly behind the limit. Ryan's second route change, to use the main Coquihalla route instead of Coldwater road, didn't make for an easy start to this day. It occurred to me as I inched my way up the steep early kilometers on Route 5, that if Ryan had somehow found the means to get to the top of Coquihalla for a secret control, I was screwed. I didn't think it was likely, but I was thinking about it. I notched up my effort to try and get back ahead of the time line.
The conditions were favourable. It never got too hot on day 3, and though there was a headwind, it was not as strong as it often is through the Coquihalla corridor. I didn't check the time, but I was moving along a little better than expected and would have been comfortably ahead of the limit by the time I reached the summit.
After the summit (Coquihalla pass, 1240m), the ride is essentially over - you've made it. I felt oddly energized and ripped through the last 200km, finishing in 65:43, nine hours ahead of the limit.
I learned later that Ryan had been at the finish at Waves Coffee House earlier that evening, but by the time I got there at 11:45, he had gone home.
Also later, I found out that Jeff had abandoned in Kamloops. He said that by Little Fort the heat had really taken its toll on him. He was making bad decisions, not the least of which was not eating and drinking enough while resting at the perfectly outfittted Subway/convenience store in Little Fort. As a result he had heat related stomach problems after Little Fort. He had pulled over at a rest area, and this is where I must have passed him. He apparently still had a little time when he reached in Kamloops, but then had to face the problem of the missing Husky. He then got lost in Kamloops, and then he ran out of time. He did end up riding to Merritt, but it was, as he put it, "just for fun".
Afterthoughts
This is one of only three 1000 km routes that starts by using the Sea-to-Sky/Duffy Lake corridor to Lillooet. And no matter how you leave Lillooet [~265 km], the road's not going to get easier, so you'll need a time buffer.
Other than the exceptionally tough Cayoosh climb after Pemberton [at ~190 km], there's no particularly difficult section worth singling out in this opening stretch. But the ups and downs are enough to add up to a cumulative level of difficulty. No problem if you're Jeff Schlingloff, Michel Richard or Henry Birkenbos - great climbers, all of whom have completed one of these three routes. For the rest of us, these routes should be approached with some caution. If nothing goes wrong, then you'll probably be able to keep ahead of the limit. But if there's an additional problem - a physical or mechanical issue, difficult weather - then you've lost your buffer and are already in trouble by Lillooet.
I think also that the other two routes are more helpfully named. Riders shopping around for 1000 km brevets will naturally be cautious before choosing Jeff Schlingloff's "Pacific Range Explorer" or my own "Switchback 1000". John's "Cariboo Loop" sounds gentle and friendly. Misleading to be sure.
Having support with a route like this can also a factor. In 2006, Scott Gater's wife Melissa supported us on the ride. She did a great job of simplifying the food and sleep decision making at the key controls. There was also a designated control, which she managed, at Joffre Lakes Rec Site just before Cayoosh pass. This meant that we needed to carry only enough fluids to make it from Pemberton to that control. The big climb was that much easier in 2006 without having to pack the fluids necessary to ride through to Lillooet. This control was also a part of John's original route in 2002 when Bob and Patty Marsh manned the same control.
Fluids are a real issue with any of the BC Interior routes on that August long weekend. There are often long distances (100km+) between controls in extreme heat, often without services. I was packing 5 or 6 bottles between controls on this ride, and that was just enough to get me through. But those fluids are heavy and they weigh you down on the climbs, so you must always budget a little more time. At night you might not need as much fluid, but don't count on an any stores/services being open, so carrying a generous level of liquid is essential.
So you see, finally I have figured this route out. Next time it will be easy.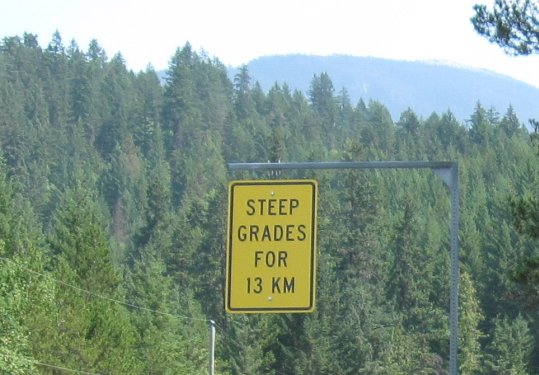 ---
Go to: Results
Go to: Photos
Go to: Route
September 28, 2009