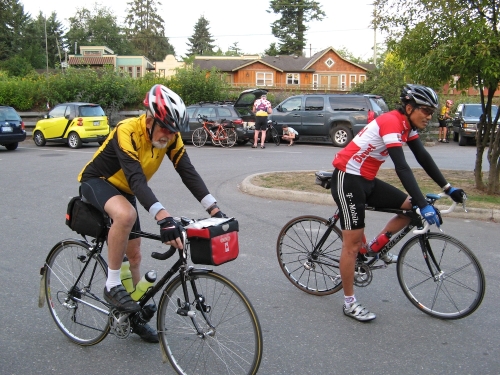 Harold (left) with Luis Bernhardt at the start
Photo: Paul Whaley
The "Wannabee" Meets "Bintheredunthat"
by Harold Bridge
When Barry Chase revived John Bate's "Whatcom Wambler" 300 a few years ago, I saw it as an attractive route I would like to ride. But accepting the limits imposed by age, I realised all aspects need to be favourable before I would attempt it. Things have been going well this year, 2009, & with 13 weeks with between 300 & 422 kms on the C-KAP weekly chart, & 7,000km halfway through July I felt it was now or never. Whilst it may prove hot (it did) during the afternoon, July 18 looked like it would cooperate.

At 05:00 I thought it best to use the GEB & donate $3.95 to its construction rather than risk the Albion Ferry like late starter Alex Pope did. Got my route sheet & control card & realised I had forgotten one thing; my magnifying glass! Our control cards have lots of empty space, why such a small font? That is a serious consideration when the elderly are likely to riding 600s & 1000s (don't read too much into that!).

With much of the climbing in the first stage there is a need to maintain pressure, especially up that beautiful climb on South Pass Road where I was passed by Richard Blair for the second time. I think he started reading his route sheet after that because I never saw him again. For those who don't know it, South Pass Road goes north east until it bounces off the 49th parallel & becomes south bound Silver Lake Road. Shortly before the bend there were voices behind me, but not ours. Two women, one of whom had ridden STP, took some interest in what I was doing; "You're a what?" I gave them the standard definition of a randonneur; "One part racing cyclist, one part touring cyclist, mixed with one part masochist". They laughed, then shot off into the distance!

In my mind the control at Silver Lake Park is "just down the road". But there is a series of rollers that cause out the saddle pounding or serious gear changing. A lonely looking Tracey Barill appeared relieved to see me.

The next impediments were; the head wind on Rte#9, the 30 or 40 Harley Davidsons being unnecessarily obnoxious and the sign telling us the Middle Fork Creek Bridge on Mosquito Lake Road was "out" from June 22 '09 to sometime in 2010. What to do? Take a chance that cyclists could get through, (some did & got through) or do a "293" instead of a "300"?

My computer had been staying remarkably close to the route sheets distances & so decided at the "R" onto Upper Samish Road to note my distance, compare it with the route sheet & continue south for a suitable distance; 3.7kms & return. But the revised route was 304, not the bare 300 as before & I cut that idea short.

I admit that sometimes long rides can get lonely and it was a pleasure to see a control sign on
Prairie Road with Ivan Andrews' happy smiling face behind it. The "secret" was required as the original short cut along Parson's Creek Road left us with not enough kms.

I rode 200 metres past the Alger control & came to the cross roads wondering where the control was. The newly painted yellow building I had seen was it. I was thankful for a tail wind along there, but not for the Harley's that passed me for the second time on their way to hell (I hope) or wherever.
Bellingham, what to do? The heat of the afternoon was having its effect & my speed on climbs was getting pitiful. I had failed to switch my computer to "Manual" so that I could keep an eye on true average speed. At a guess I felt I was still in with a chance, but history & memory were putting doubts in my mind. "Quit while you are ahead" seemed to be a sensible attitude. But I earned the sobriquet "Madbridge" in 1952 & anyway, who wants to be considered sane in this crazy world? But sobriquet's power of persuasion is fading with time & I endeavoured to think of the short way to Fort Langley. Not sure the route I chose was the shortest. But I thought , hoped, someone might be looking for me & by using the route there was more chance of being found.

Having to line up with foreigners at the Canada Custom was humiliating & while there the Holts arrived so I didn't feel so quite alone. I had missed the Lummi & Semiahmoo controls & was just hoping for a guardian angel to come & rescue me. But I think my GA is with the paramedics & I had a rather slow but easy ride back to Fort Langley. I was taken by surprise on 72nd Av when Keith Fletcher stepped out from behind his truck & urged me on with "Don't stop!". I didn't , & it was a few minutes later before I realised he didn't know I was DNF! But too late, I rode back to The Fort, & got cold enjoying my Lumicycle halide on the 240 descent .
In theory I could have completed. I finished at the Fort at 23:30 with 266kms.
I had 2.5 hours in which to do 34kms.
HJB 09/07/19

---
Go to: Results
Go to: Photos
Go to: Alex Pope's motionbased ride details
July 19, 2009