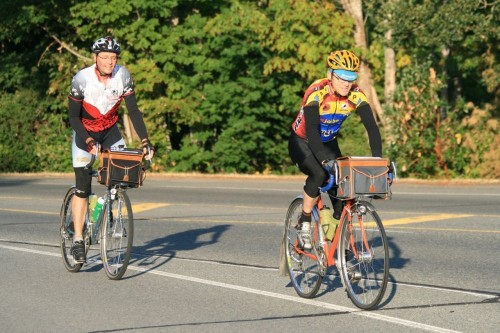 Lee (left) en route with Patrick Wright
Photos: Lindsay Martin
My First 400
by Lee Ringham
In my first year of randonneuring, the idea of attaining a "Super" pin is a strong draw. Thus I decided that the Backroads 400 would be my first 400 km brevet, as I had missed the earlier Highway to Hell 400 due to other commitments.
Ride day rolled around and in typical fashion I was late. I rolled into the start Tim Horton's at about 1 minute to 6. Fortunately I had already filled in my waiver and cheque, so I hurriedly signed in, said hello to Lyndsay and Nigel and rushed back to the car to get ready. The next few minutes I spent performing tasks familiar to most randonneurs – getting my bike off the rack, sliding water bottles into cages, slinging my pump beneath the top tube and fixing my handlebar bag into place. Next I cinched up my shoes, added a helmet and pulled on my gloves. Of course, all this took time and Lindsay informed me I was starting five minutes late. Fortunately my friend Patrick had arrived roughly 30 seconds before I did and he kindly waited for me so I wouldn't have to ride the caboose alone.
It was a wonderful morning for cycling. A touch cool, but calm, the roads were quiet and the sky was clear. If the rest of the day had been the same, it would have been a glorious day of riding. But all too soon, the sun began to beat down, we began shedding layers and the prospect of a long, hot day began to become clear. By the time we arrived at the first control in Chemanius we had caught Devon and Luke and had time to briefly greet Mike and Philip as they rolled out. As I made a few adjustments, Patrick decided that we were moving too slowly, although our average speed was considerably higher than I normally ride. He bid me adieu so I joined Luke and Devon as we cycled north. Eventually I moved ahead of them and started the long climb up the Nanaimo Lakes Road and thence onto South Forks, heading for Nanaimo.
As I rounded a bend I suddenly caught sight of two cyclists – Patrick and Philip were standing by the side of the road. But they were both in rather odd poses, which I soon realized were due to cell phone use and injury, respectively. Patrick was calming calling 911 and explaining that a cyclist had been injured by going over the bars. Philip looked decidedly uncomfortable supporting his left arm with his right. After his explanation, I hung around for a few minutes to provide moral support before departing for points north, rejoining Devon and Luke who had also stopped.
Soon enough we arrived at the second control, where I made my first big mistake in not stopping for long enough. I refilled my bottles, grabbed some road supplies and headed out into the heat. The next section of road was really hard for me, consisting of short steep climbs that had me rowing through the gears – big ring, middle, granny, middle, big, middle - repeat, repeat, repeat. For some reason I could not get into a good climbing rhythm and wasted far too much energy climbing. Mistake #2.
By the time I got to Errington, it was hot, my core temperature had soared and I was feeling pretty wasted. A fortuitous encounter with Mike and Graham lead to a rambling, repetitive conversation on my end and I realized that continuing on was not a good idea. Fortunately the local sandwich shop was open and after several glasses of ice water, a chicken sandwich and a 40 minute in the shade rest I was ready to continue. During my stop I was joined, once again, by Devon, Luke and Patrick. Patrick arrived, took one look at me and pointed out: "You're crusty, man!" Thanks for that, but it confirmed to me that I had been overdoing things to that point.
The next few hours passed well enough, much to my surprise. At Control #3, roughly 217 km in, we met Mike and Graham. When I suggested that our previous conversation must have been somewhat disjointed, they both laughed and confirmed it was both highly repetitious and incoherent. They had been somewhat concerned about the state I was in and were glad to see that I had recovered sufficiently to keep riding.
The rest of the ride past by - it continued to be hot and the distance was long, but we kept rolling our crank arms around. After a bug attack that had me performing an impromptu strip act on the side of the highway, we stopped for supper in Parksville. We were back in Nanaimo by 10 pm and passed within about 200 m of my house. Patrick inquired as to whether we should stop in. "If we do" I replied earnestly, "I will not leave again until morning". That settled that issue and we pressed on into the gathering darkness.
The remainder of the brevet came and went in stages. I focused on getting through to the next control, then to Duncan, then Cobble Hill, and then the finish. I was tired and sleepy and my pace dropped slightly over the last hour, but with some perseverance and generous amounts of Clif Shots I completed the ride in 20:41. It was a fabulous experience and I learnt a great deal – as I do after almost every ride.
That Super pin though? We shall have to see how that shapes up!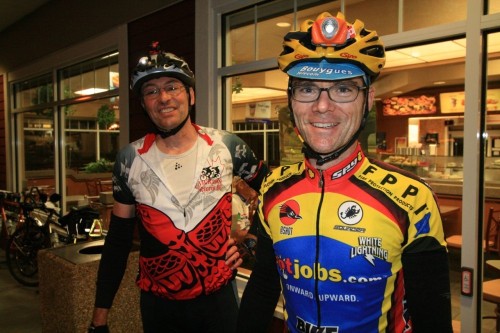 Lee and Patrick at the finish
---
July 16, 2009