Day of Wine and Roses
by Bob Koen
(Photos Bob Koen - click to enlarge)

Like many other folks that I know, my fitness level fell off a cliff in December and early January due to the 'snow event' that occurred in Vancouver during that time. I was completely off my bike for a 5 week span. A good deal of cabin fever set in as a result. That cabin fever is my excuse for coming to the rash conclusion that riding a 300 km brevet in mid February, with very little training, was a good idea.
The idea arose when I got an email advertising $49 flights each way from Seattle to San Francisco. A quick check of the San Francisco Randonneur club calendar ensued and a plan was made. I had a few randonneuring friends in the area that I was keen to see, and who could be counted on to provide floor space for me and guidance while out on the ride. I booked a flight down on Friday and back on Sunday and proceeded to do as much training as possible, which wasn't much.
The weather on the day of the ride started out nice, but with the threat of rain for late in the day. The ride started at the San Francisco side of the Golden Gate Bridge This is where I learned an interesting custom of the SF randos. They don't provide route sheets. You are supposed to print it out from the web site and bring it along. It's too bad that I hadn't done that. I now had a very good incentive to not get dropped.
We mounted up and proceeded over said span. This is a very famous bridge for good reason. It is incredible. It is twice as wide as the Lions Gate and easily twice as long. The views are stunning.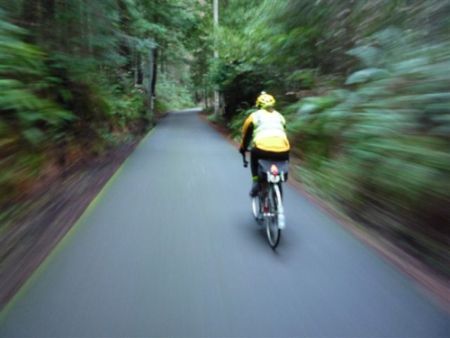 Then there is a steep downhill into Sausalito and on northward through Marin County. I rode part of this with a contingent of four riders from Seattle who had also bailed out of the wintry Northwest to try to get in some early season quality bike riding.
Soon the pack thinned out and the rolling climbs began. There is nothing too long or too steep. This is more the kind of country that takes its toll gradually. We went through some patches of redwoods, and then climbed up to a reservoir and into rolling grasslands. Cow country here, but very pretty. Then a long stretch of flat but not scenic populated area landed us at Healdsberg for lunch. After this the terrain went from drab to delightful in short order. We passed by quite a few Vineyards and one with a tasting room that as open from 1 to 4 pm. Hey, we're in luck said I, noticing that it was 1:30 pm. I couldn't convince my riding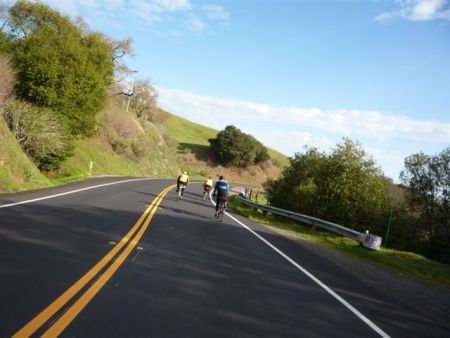 companion Kitty to swing in though. She seemed dedicated to dragging my sorry ass around the route and getting me back to the starting line in the 20 hour time span. In fact, my ass was in a sorry state by now (see paragraph 1 re: not enough training). My legs joined in the misery somewhere near here when I started cramping up in various parts of both legs. The scenery more than made up for the misery however. We were riding along the Russian River here heading west toward the coast. In short order we rode from red grape vineyards, past the last vineyards at the Korbel champagne winery, and into a grove of Redwoods. The Redwoods quickly thinned to coastal scrub and then became grasslands as we climbed up a steep hill and came out along the Sonoma Coast stretch of Hwy 1. The next 15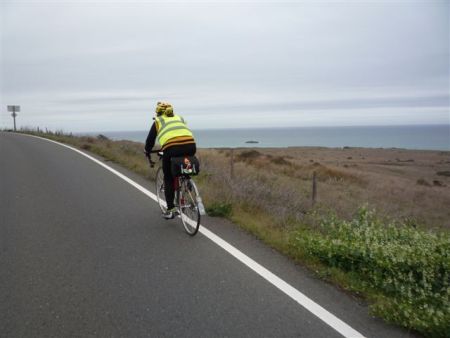 km was pure delight. My body was dragging but my spirit was soaring as I rolled south along a super scenic stretch of coastal highway. We stopped for a bite at a control at the south end of the coastal stretch and then turned inland for a few long steep rollers. This brought us back out to the coast, but along a calm bay that was reminiscent of the Strait of Georgia because it was protected by a large peninsula to the west. In fact, the bay is part of the San Andreas Fault, one of the most active earthquake faults anywhere. Another control occurred at the hamlet of Marshall along these shores. We had a couple of hours in the bank here, but there was a complication. The control was in a small restaurant famous for its soup. But they closed at 6 pm and proof of passage in the form of a receipt needed to be obtained. If the restaurant closed before we got there then there was a procedure for mailing a post card to the brevet organizer which I didn't fully understand and which Kitty didn't want to get involved in. Not to worry, I got there with 15 minutes to spare. I had a bowl of soup and enjoyed a spectacular sunset.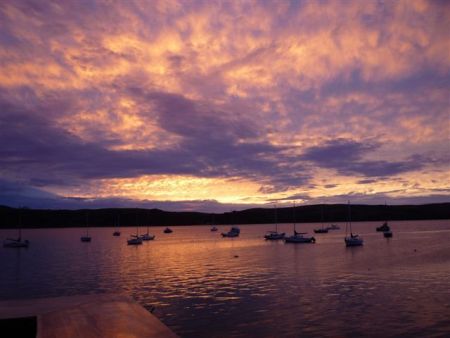 Soon enough we were on our way and heading south and east into the gathering darkness. And just like in BC, as soon as it got dark the temperature dropped and it started to rain. Unlike here though, it didn't rain harder and harder until the road became a lake and the brevet became a death march. Instead the rain stopped and started several times with stretches of dry road in between. And the night was relatively warm. The country became much hillier here. We were in western Marin County and had to climb over a range of hills and back into the heavily civilized eastern part of the County. There was one hill that seemed endless and even had a false summit to briefly cheer me up before dashing my spirits completely with a second long slog to the true summit of the climb. This seemed like it was certainly the longest, hardest climb with a summit of less than 600 feet ASL that I have ever done. If it hadn't been February it probably wouldn't have been bad at all.
A few more hills and suddenly we were at the last one, the climb up from Sausalito to the northern portal of the Golden Gate Bridge. I had been dreading this, but it turned out to be not too bad. Another trip over that amazing bridge and the job was done in a time of 16 h 42. I was happy with that.
In the end there were no roses, although there were quite a few flowers. And there was no wine, but there could have been. It was a great day on the bike.
---
Ride date: February 21, 2009
Go to: Results (on San Francisco Randonneurs web site)

March 1, 2009