New Randonneur 5000 Pin
by Eric Fergusson

14 BC riders have earned the coveted BR 5000 pin attached to PBP 2007. These were awarded last night at the Spring Social at Mooses Down Under in Vancouver. There were significant changes made to the award. The pin is no longer called the "Brevet de Randonneur 5000" pin (it's now just "Randonneur 5000"), the design has changed for the first time since 1991, and finally it's now longer a pin (it's a medal). It was all a surprise to me. Here's the new design: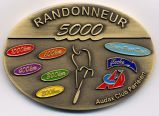 Click to Enlarge
For Deirdre Arscott this is her 6th Randonneur 5000 pin, which is the most for a Canadian (tied with Brian Leier in Manitoba). Her first one from 1989 was call the "Brevet Cyclotouriste 5000". Here are the earlier designs:


5000 pins attached to PBP 1987 & 1995
One change I don't like with the new design is that the recipient's name and historical sequence number is no longer engraved on the front of the medal. The number appears on the back, looking a little lonely. The new design is great, but the personal touch on the old design, recognizing the individual rider with the historical sequence number up front, will be missed.
Have a look at the full list of 2007-2008 Randonneur 5000 recipients.
---
44 BC riders earned their super randonneur medals in 2008, and these were also presented last night at the spring social. Here it is:

2008 Super Randonneur
March 8, 2009