VanIsle Eau de Hell Week Report
by Ken Bonner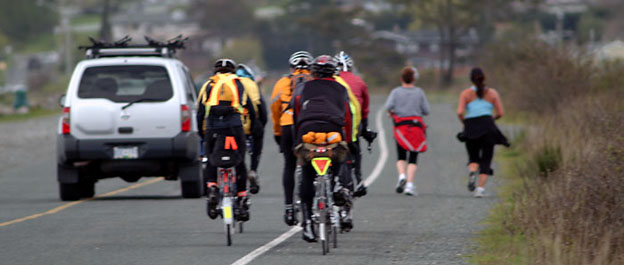 Scenic Ocean Boulevard on the 300 km, April 8
Vancouver Island
Eau de Hell Week
April 7-14, 2007
1,500 km.
43,000 feet (13,100 metres) total climbing
Eau de Hell
** perfume of spring blossoms
** pitter-patter of spring showers
** phrase used frequently by riders
I am pleased to report that there were plenty of spring blossoms … but unfortunately the pitter-patter of spring showers got a little out of hand so it was hard to detect the delectable scents of the spring blossoms. Also, many "Eau de Hell's" were exclaimed by most riders, particularly during the hilly part of the Alive Are The Hills 300 which accounted for 11,500 feet (3500 metres) of the total Eau de Hell climbing. Although Keith Fraser managed to add a few bonus kms. and some extra climbing, Michel Richard and Ken Carter demonstrated that they were real 'keeners' and added
an estimated 20km and about 1000 feet of climbing to this brevet!
Participation records were shattered for the Tour de Cowichan 200 (a record 70 registrants; the previous record was a little over 40 registrants set in 2006) and for the Alive Are The Hills 300 (25 participants). 17 folks registered for the Lost But Not Forgotten 400. This ride ended up with the highest number of dnf's – 5. Two of the dnf'ers, Keith Fraser and Manfred Kuchenmuller found the dark back roads of the Cowichan Valley somewhat confounding and once they found themselves on the Trans Canada Hwy, they pedaled furiously back to the finish with eerie shadowy devils nipping at their heels! Manfred said he saw a cyclist go by without a head – it was bungeed to the rack pack:-).
The Ride For Gold 600 was the crème de la crème of all the Eau de Hell Week brevets. Terrific scenery and fast times to the Gold River turnaround. All riders checked in and left the Gold River Control within 15 hours of the start. The predicted storm gave some hints of its arrival with a brief,
heavy hail storm and a couple of snow flurries shortly before the riders returned to Campbell River in the middle of the night.
For the last 200 kms back to Chemainus, riders were assailed by a constant heavy downpour of rain driven into their faces by 70 kph gusting wind off the straits. Temperatures were cool. At one point, Michel Richard reported he did not need to drink from his water bottle, all he had to do was open his mouth! Not unexpectedly, the return trip was cold and difficult. Riders warmed up by making frequent visits to coffee shops along the way. In spite of the fact that the 1st 2/3rds of the Ride for Gold was fast and scenic, all riders agreed that the conditions they experienced during the
last 200k made this the worst brevet they had ever ridden. One Hell of a 600!! Only one dnf … mechanical difficulties and a worry about hypothermia.
Seven, yes, …. SEVEN intrepid riders completed this 'compact' Super Randonneur series!!
I received a note from John Hughes, Managing Director, Ultra Marathon Cycling Association (UMCA) in which he states "I hadn't realized that the Eau de Hell Week was, in fact, a full series of brevets. Some years ago I was talking with Lon and he brought up the idea of Brevet Week. I told him - politely - that I thought it would burn people out, there'd be a low percentage who qualified, etc., etc. I was wrong!"
Official Eau de Hell Week 'Hellions' (Survivors):
Cum. Time                               200    300    400    600

76h53m  Ken Carter (Seattle)            7:28  15:00  18:41  35:44
76h59m  Alex Pope (Club Treasurer)      8:03  14:22  20:26  34:08
83h05m  Gary Baker (Club President)     8:44  15:39  22:45  35:57
83h07m  Jeff Mudrakoff                  8:33  15:04  21:31  37:59
79h25m  Eric Fergusson (Club Webmaster) 8:04  15:39  22:45  32:57
74h26m  Michel Richard (Past President) 9:37  15:00  18:14  31:35
75h53m  Ken Bonner (A)                  8:58  13:50  19:05  34:00
In sum:
Lots of wonderful scenery, blossoms, hills, rain and wind. It was HELL!
CONGRATULATIONS TO ALL EAU DE HELL WEEK PARTICIPANTS AND PARTICULARLY TO THE SUCCESSFUL 'HELLIONS' – EACH OF YOU DEMONSTRATED NOT ONLY INCREDIBLE
RANDONNEUR TENACITY UNDER SOME TERRIBLE CONDITIONS – BUT, EACH OF YOU ALSO MANAGED TO EXUDE A POSITIVE SENSE OF HUMOUR AT THE FINISH OF EACH OF THE BREVETS!!! BRAVO!!
Thanks:
A VERY LARGE 'THANK-YOU' TO THE VOLUNTEERS (Graeme Sheeley; Margot Bonner; Ray Parker); HELPFUL MERCHANTS (Chemainus Subway; Chemainus Dancing Bean Café; Gold River Chalet Motel; Campbell River Mohawk; Qualicum Shell; Petro-Can in Nanaimo & Colwood Corners; Sidney 7-11; Lake Cowichan Esso; Tim Hortons in Nanaimo, Mill Bay and Royal Oak (Saanich); and finally, but not least, the Sooke Cyclery.
Also, A BIG THANK-YOU TO our hard-working Club Executive for supporting the Eau de Hell Week concept; and to Cheryl Lynch (Data Base person who manages all the control cards and other paperwork); Eric Fergusson (webmaster who posts all the brevet results); Karen Smith (director of medals); and, Alex Pope (Treasurer who collects all the money and pays all the bills).
Special Mention and Thanks to the organizers of the traditional Tour de Cowichan 200k, Susan Allen and Doug Latornell for once again making this brevet a resounding success!! Also, it is very much appreciated that they graciously permitted the Tour de Cowichan to be linked with the other three brevets to complete the array of brevets comprising the Eau de Hell.
Another group of folks that should have been mentioned are the riders. without the support of participating randonneurs there would be no event. Thank-you to all!
And finally --- don't forget the Hills Are Alive 300 (about 800 feet LESS climbing than the Alive Are the Hills 300) starting and finishing in Victoria this Saturday, April 21. For more info, see Vancouver Island schedule.
Happy Riding! …. Ken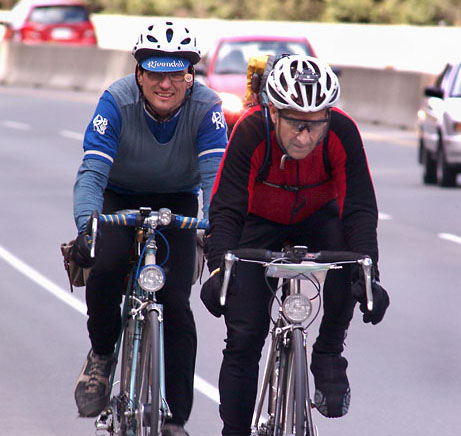 Michel Richard & Ken Carter on 400 km, April10
Photos: Raymond Parker
April 17, 2007