What I learned on the Eau de Hell 300
(aka The Hills are Alive, Wet, and lined with Rumble Strips)
by Tom Clements
Friday April the 6th - finally it arrived. Since Ken Bonner announced his Eau de Hell week I had been anticipating April the 7th and the first of what I hoped would be four rides culminating in the satisfaction of having completed a full series in one week. Bob Koen picked me up at 1:30 and we headed for Horseshoe Bay, aiming for the 3:00 or 3:45 ferry. It was a long weekend. What were we thinking ? When we got on the 5:00 ferry we relaxed a bit as the 7:00 had seemed a possibility, meaning a late arrival in Chemainus and less rest.
The street name of my B&B should have been a clue. As Bob pulled onto Panorama Ridge Road, and had to drop immediately into second gear as he began the 200 foot climb up the 1km road, I began to think about riding back up after the 200 and worse, after the Hills are Alive 300. Unnecessary worry as it turned out, but more on that later.
LESSON NUMBER ONE: Check the elevation of your accomodation relative to your finishing point.
The alarm at 5:15 was unnecessary. I was awake already, full of anticipation for my first brevet on Vancouver Island. After breakfast, a quick ride down to the Dancing Bean, filling out the forms, getting route sheet, a final pit stop and we were off. The weather forecast called for a slight chance of a showers, so I along with many others thought our heavy duty rain gear wouldn't be needed.
LESSON NUMBER TWO: Never trust the weather forecast.
(although by the time you are in your 60th year it should have been learned long ago).
I had not trained as much as I wanted to; although in conversation with other riders on the 200, it became clear that none seemed to have trained as much as they would have liked. The winter/spring weather was the most frequently cited culprit. In spite of having only a few 90k plus rides under my belt, the 200 went very well. In fact I was only two minutes shy of my personal best of 9:15 (and that was in dry weather on the Fraser Valley flatlander route). Most of the hills were short and not too steep and it seemed that the downhills were longer than the up (a mathematical impossibility give the same start and finish elevation).
LESSON NUMBER THREE: My training this year was more effective than I thought.
After a Linguine Carbonara at the Dancing Bean (good but not large enough portion), Bob Koen generously offered to give me a lift back up to my B&B, giving me a respite from climbing plus an extra 30 minutes in the jacuzzi.
An early night, good breakfast, quick descent to Subway, filling out the forms and we were off on the 300. The weather was overcast but dry and I began to wonder if I would need to strip off all my rain gear even though rain was forecast. By the time the route first crossed Highway 1, I had started to ride with Karen Smith and we had a pleasant ride to Control 1 at Shawnigan Village then to Millbay Road and Highway 1. The ascent to the Malahat Summit was not too bad given the rumble strips and steady traffic. We stopped at the top and I told Karen I am not a good descender especially given the rumble strips and roadside debris. Karen said she would wait for me at the bottom and we set off. It was probably the 3 inch rock I felt my rear tire go over that gave me the pinch flat on a long straight downhill. As I repaired the damage, Manfred, Allard, and Mikael Jansson passed me. I got to Goldstream Road, and Karen and I set off towards Sooke. She had ridden the route before and told me she remembered a steep hill on Lagoon Road. When we turned onto it and saw the road ahead, my comment was "it's a hill, but it doesn't look that steep". I couldn't see beyond the slight left hand curve at the top of the not so steep hill. Karen was right. So was the route sheet - "Lagoon Road (up hill !)" This was the first of many times we would use the granny gears. Shortly afterwards the first spits of rain began and by the time we got to Sooke a steady rain was falling.
LESSON NUMBER FOUR: Rumble strips, roadside debris, and steady traffic make descending in daylight tricky.
LESSON NUMBER FIVE: When the route sheet says up hill followed by an exclamation mark, believe it.
LESSON NUMBER SIX: Sometimes you can trust the weather forecast.
At the Sooke cycles control Manfred and Alard joined us and we discussed where to have something to eat. They were leaning towards Subway, but Karen's craving for french fries overruled and off we went to McDonalds. After satisfying our deep fried/salt cravings, we set off on the scenic route to Sidney.
At km 169.3 the route sheet shows a left on Millstream Lake Road (at stop). This is more of a bear left than a sharp left and we had a clear road so continued straight on through the stop sign and began riding up hill. As we passed the stop sign I noticed that the street sign across from the stop sign said Munn Lake Road. I mentioned this to Manfred, and we stopped after about 200 - 300 meters. Karen decided to ride back down to check out the intersection more closely and found we had missed our left turn. (We later heard form Ken Bonner that others had continued on for many kilometers before realizing their error).

Millstream Lake Road / Ross Durance Road alone would make the ride worthy of it's name "The Hills are Alive". It was very hilly and very steep in places There was not a straight or flat section over the entire leg. Switchbacks on downhills were wet and I had to brake hard more than once when I carried too much speed into the corners. This would be a beautiful section of road on a warm dry day. The shady, road had Arbutus trees and rock outcrops everywhere. These are so typical of Southern Vancouver Island and they reminded me of growing up in Victoria spending many happy hours hiking the (then) remote reaches of the Saanich Peninsula.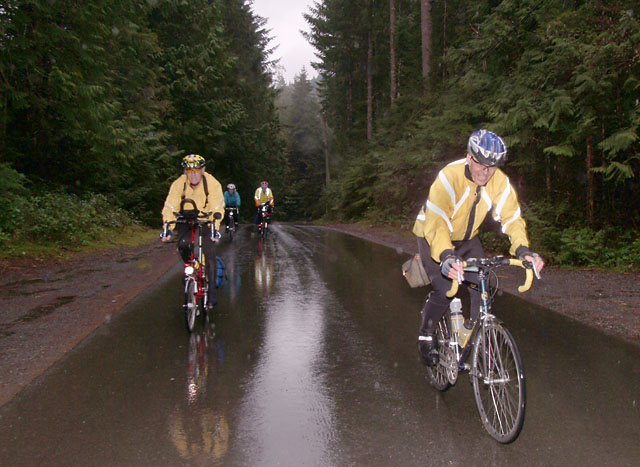 (l to r) Manfred, Karen, Tom & Alard on Ross Durance Road
(Photo: Ray Parker)
The 7-11 in Sidney marked the 2/3 point of the route and we arrived wet and hungry. The clerk signed our control cards and told us there was a Subway in the next block. Perhaps it was just us, cold and wet as we were, but the air conditioning in Subway made it feel colder than outside. We had our subs and wrap and tried unsuccessfully to warm up. When we left, the consensus was that it definitely was warmer outside than in, and after a few minutes of riding we warmed up.
Manfred's first flat happened just as we crossed Royal Oak Avenue, next to a small corner store with an overhang to keep us dry while repairs were made. Tube installed, inflated and wheel mounted, the tire went flat again. As the second tube was being installed, we saw a single headlight crossing Royal Oak. It was Mikael Jansson who we had passed somewhere along the route. He stopped and produced a shopping bag with a packet of 12 mini cinnamon buns and some apples. He offered buns to all, then another round, then apple segments. His generosity was much appreciated although he did bear some ribbing that he simply wanted to shed weight before heading up the "Hat" Another tube and, fingers crossed, the wheel was mounted again. Success ! Off we went, now a group of five to the control at Tim's - hot soup, chilli, coffee, and no air conditioning.
Warmed, refreshed, and fuelled, we set off on the last leg -and what for me would be the worst part of the ride. The riding was easy and pace steady until we entered Goldstream Park and the dreaded rumble strips began. I have terrible night vision, a consequence of bilateral retinal detachment surgery, cataract surgery, and glaucoma, as well as constant and sometimes significant "floaters" in my visual field. I told the rest of the group of this and that I would be riding this section very slowly. They generously offered to wait for me at the top and we set off. I didn't need to ride far to be reminded of just how quickly the strips can through one into trouble. Only five minutes into Goldstream Park, I momentarily lost concentration while trying to ride between the rumble strips, the concrete barriers along the roadside and avoid the gravel and rocks in that narrow section of pavement. The front wheel hit the strips and almost immediately I was riding down the center line of the highway. The late hour may have saved my life as there was no traffic on this section which earlier in the day had been busy with cars and trucks. I had to stop at this point, take several slow deep breaths, and regain enough composure to continue on. Once the climbing began, things became somewhat easier as the slow pace gave time to see and react to the debris and strips, and I was able to keep pace with Alard and Mikael for much of the ride to the summit.
We regrouped at the top and rolled out for the descent. Manfred and the rest suggested I could ride in the traffic lane and pull over should a vehicle approach, as they planned to do, but my earlier experience crossing rumble strips and the generally narrow and gravel strewn shoulder gave me visions of having to execute a quick exit from the lane and losing control at speed with traffic approaching. This was probably a "worst case scenario" mindset, but it was enough for me to descend the entire Malahat to Mill Bay at an average 12 - 15 kph.
Arms and shoulders burning, hands aching from braking, finally the dreaded rumble strips ended and I "let'er rip" down to the Shawnigan - Mill Bay Road intersection.
The sense of relief was fantastic and it felt as if I could ride another 300 from there (without rumble strips !)
LESSON NUMBER SEVEN: It is possible, but not fun to ride the Malahat. If I ever ride it again, I must remember to do it in daylight.
Clear sailing ! Flat stretches, long gradual downhills (without rumble strips !), and we soon found ourselves in Duncan. A quick pit stop at Chevron, and the final 18k to Chemainus. With 13k to go at 0200, Alard got a pinch flat. We were at a weigh station and used it's lights and shelter to do the repair. By now the possibility of a DNF was becoming a concern if we had any more mechanical / flat troubles. Alard suggested we go ahead, but I for one wanted to finish together, especially given the support the group had given me over the Malahat. Flat repaired, we set off at 0215 and without further problems arrived at the finish with 20 minutes to spare at 0240. Ken greeted us and Mikael was kind enough to give me a lift up to my B&B.
My plans to do the entire series had been beset by concerns about my physical ability to complete the rides. To my surprise, I felt physically capable of doing the 400 and possibly 600, but mentally was too beat up to go on. There was not enough psychic energy to cope with unknowns of the rides. After the strain of the rumble strips, it was not my body that stopped me, but a complete lack of mental and emotional energy. I FELT good an Monday, but had no motivation to ride another brevet Tuesday.
LESSON NUMBER EIGHT: Even if the body feels good, the mind can stop you as effectively as physical exhaustion.
My thanks to Karen, Manfred, Alard, and Mikael for their support and companionship on the 300 and to Bob and Mikael for saving me from riding up the final monster hill. Thanks also to Ken Bonner and all the others involved in putting on the Eau de Hell week.


April 23, 2007