...And the birds kept singing:
a novice's first 400 and 600 km brevet
by Graham Fishlock
Oh, not to be separate,
not shut out by such a thin screen
from the full measure of the stars
What is inwardness?
If not intensified sky,
crossed by birds and deep
with homeward winds.

Ranier Rilke, (Paris, 1925)
Until Ken Bonner's "Eau de Hell" week, I had never ridden a 400 or 600 km brevet. When I first heard of the idea, I realized that this was a great opportunity to find out whether I could complete these two longer brevets---both within several days.
When initially learning of "randonneuring" last year, I joined to participate in a few events to help in conditioning for an upcoming summer bicycle tour across Canada. After a populaire and with the encouragement of Ray Parker and Steve Lonergan, I rode in several 200 and 300 km brevets thinking any longer distance was verging on the absurd. However, the seeds were sown, and I started riding regularly with Steve Lonergan who deserves the credit (or blame) for growing my interest in the longer brevets and even PBP. I prepared by riding regularly through the winter and attending the PAC Tour desert camp in Arizona.
The 400 km brevet went smoothly and was largely uneventful. The only real obstacles were a little rain and cold temperatures at night. Susan Barr's company over the last 140 kms provided good conversation, a wealth of experience to draw on, and an extra pair of eyes for navigating the cold darkness around Shawnigan Lake.
The 600 km brevet became a totally different experience. From the start, I was pleased to note that I had no lingering effects from finishing my first "400" the day before. I felt strangely strong and although I held back, I still found myself in Gold River (310 km) in 13 hours. With the extra time I had built up, I decided to ride to the 360 km mark and stay at the Strathcona Park Lodge. I showered, ate and slept for a full 6 hours, confident that I still had lots of time to finish in the required time.
I was also hoping that with this delay, the approaching storm would pass quickly and I might miss a good part of it. No such luck. I left the Lodge feeling great but rode into a storm of strong, swirling winds, heavy rain and miserable sleet. Reaching Campbell River in the early dawn light, I came across Ken Carter who had wisely chosen to stay at a motel in town while others rode through the night.
Now there was only 200 km left to ride but the riding conditions had not improved. The south-east gale force winds coupled with the heavy rain saw my speedometer dip to 15 and 16 km/h on the flats. The horizontal, cold rain found me wiping my glasses regularly---steam on the inside and grit and water on the outside. This was no easy feat as I was wearing 3 pairs of gloves. Even so, I was still having trouble staying warm. The conditions were conspiring to make my first 600 a challenge.
By the time I reached Courtenay, I was starting to feel sorry for myself. With 150 km left, even though I knew I was going to finish in a comfortable time, I began asking myself, "Why am I doing this?" It just was not fun any more. I discovered later that several riders concluded it was the worst cycling experience of their lives.
It was soon after this questioning began that I had one of those unfathomable moments occur that seem poignant with meaning. Cycling past a salmon berry bush with its sodden pink blooms, a song sparrow let out its familiar, unmistakable song---2 short whistles, a long whistle then a long melodious warble. The clarity and volume of this familiar song instantly changed my focus. I no longer was a wet, cold, lonely cyclist wanting to finish the day, but l was left wondering if that little bird can so proudly sing in these conditions, how can I complain?
My focus simply changed entirely. I was now looking around, admiring the wonderful breakers being created along the beaches, the wind swirling through the large fir limbs and even the spray of water off my wheels seemed a delight. That simple song moved me from a space of selfishness to a space of being grateful for what was before me. I felt strong, I was going to finish and now seeing, once again, the beauty around me.
My first 400 and 600 km brevets were very different events that provided many learning experiences not mentioned. Now with my first randonneur series completed, I look forward to my first PBP. I will take to Paris a strong sense of gratitude for the encouragement of riding friends like Steve Lonergan, the lessons of other randonneurs, and the many efforts of riders that volunteer their time to organize our events. I also hope to take along the memory of a song sparrow from Fanny Bay that sang its song of delight into the rain and wind.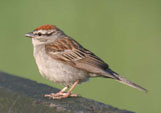 April 20, 2007