Registration info for PBP 2007:
Message from Cheryl Lynch, May 17, 2007:
The deadline for having everything (Dr's note, 2 photos, copy of medical insurance coverage for out of country, completed entry form, payment) to me (mail or courier) is June 14. It goes in the mail June 15.
I will fill in your homolgation numbers and print out labels for everyone.
You don't need to register on-line.
The cost in Canadian dollars is as follows:
Entry - $162
Pre-ride dinner (multiply by number of people) - $18
Cancellation insurance - $4.50
DVD - $15
PBP Jersey - $45
Payment is to BC Randonneurs and we will send one payment for the club to France.
As in 2003, 1300h is proposed as the time to get bikes checked so a Canada photo can be taken at 1400h. [Note that the photo time has been changed. The Canada photo and the BC Randonneurs photo will both be before the bike check. BC photo at 12:15, Canada photo at 12:30. Your bike check should still be 1300 on your registation form. All on Sunday, August 19.]
Here's the link to the on-line entry form (click on English). If you need a hard copy let me know and I will mail you one.
http://www.paris-brest-paris.org/EN/index.php?showpage=41
Feel free to contact me if you have any questions.
Thanks!
Cheryl
lynchc@telus.net
---
Here is some new information on qualifying for PBP:
(Received by Cheryl from ACP in May 2007)
Here you have the final word from ACP on substituting a brevet with a longer distance brevet in order to qualify for PBP registration:
"Pour ce qui est des inscriptions, il est possible de remplacer un brevet par une distance supérieure (ie un brevet de 300 peut remplacer un brevet de 200km)."
So it looks like you can substitute a longer brevet for a shorter required brevet. For example: 200, 400, 400, 600 would be a qualifying series.
(Cheryl needs to know if you are planning to substitute brevets.)
---
Here are some notes from ACP re 2007 registration:
(It's from the official pre-event booklet page 32.)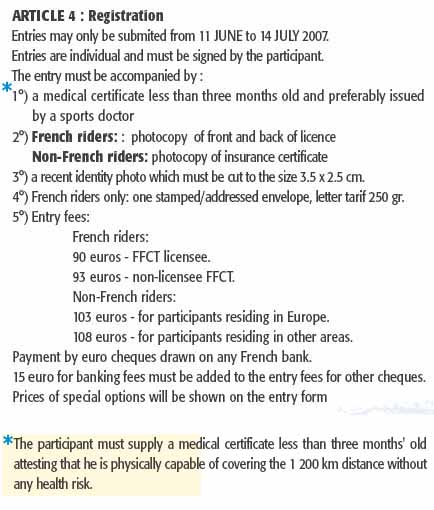 ---
Here is a medical form that has worked in the past. Paste it somewhere and retype the blue bits :
Name of Participant: Me
Date of birth: Long Ago
The above named person has been my patient since _______. I certify that he/she is
physically capable of covering the 1200 km Paris-Brest-Paris Randonnée,
August 20 to 24, 2007, without any health risk.
Signature:_____________________________ Date ___________________
Name & Address of Doctor:
Dr. X
xxx - yyyy West Broadway
Vancouver, BC A1B 2C3
Canada