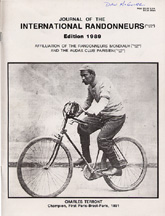 0
Journal of the International Randonneurs - Edition 1989
80 pages
Not available
This 1989 edition is the first of two issues of the Journal of the International Randonneurs. There is no publisher or editorial credit anywhere in the booklet, but this is probably the work of American randonneur James Konski. There is some general information about randonneur cycling, but the focus is on Paris Brest Paris. The publication is called "International", but there is only token non-American content. There are a few pictures, but they are poor reproductions.

There is a length history of PBP by Phil McCray, as well as contributions by speedy luminaries Scott Dickson, Lon Haldeman and Kay Ryschon. There is an excerpt from Clifford Grave's My Life On Two Wheels, and an account of the 1931 race version of PBP by its winner Sir Hubert Opperman. It would be nice if much of this material was more available.
Thanks to Dan McGuire for providing me with this booklet. [Eric F.]
Contents:
The Randonneurs.............................................2
Paris-Brest-Paris...........................................3
History of Paris-Brest-Paris................................4
ACP, International Randonneurs, Randonneurs Mondiaux.......18
Qualifying Rules for 1991..................................20
"PBP 1979, 1983, 1987" by Scott Dickson....................21
A Message from Lon Haldeman................................25
USA PBP Anciens............................................26
"Paris-Brest-Paris" by Clifford Graves.....................28
An Interview with Jim Konski...............................35
"Brest or Bust" by Jack Brohal.............................39
"Riding into the Eighth Century" by David Fisk.............48
Letters from Jean-Claude Muzellec and Leif Johnsson........53
Commentary by the 1987 British Columbia Participants.......54
"A Landmark in a Life" by Bernard Le Strat.................55
"Boston-Montreal-Boston" by Charles Lamb...................57
"Beyond All Reasonable Limits" by Creig Hoyt...............59
Comment by Herman Falsetti.................................61
Ryschon, Brehler, Hotton, Freitas at PBP 1987..............62
"PBP 1987" by Claire Goldthwaite...........................64
1931 "The Fifth Paris-Brest-Paris" by Sir Hubert Opperman..66
"PBP Digression" by Phil McCray............................69
Brevet Requirements........................................74
_