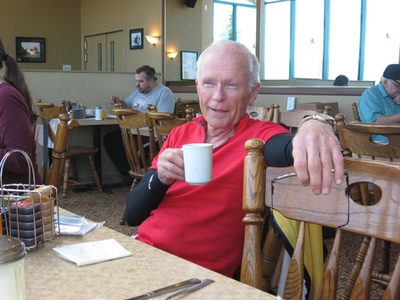 Richard Blair Dies at 77
Member #217
Southern Interior Brevet Coordinator 2005-2010 km
by Deirdre Arscott
Long-time southern interior randonneur and volunteer Richard Blair passed away peacefully in his sleep two nights ago, on the longest night of the year. Southern interior randonneurs tend to be upbeat and fun. Richard was no exception until he was diagnosed with dementia a few years ago. The decline was shockingly rapid. It was so sad to see the spark in his eye and the cheeky personality disappear. I missed him already! His wife, Fearon, has given me a couple of important reminders recently. 1) Say "I love you" more frequently to those close to you. 2) Enjoy the season and each other, things can change very quickly in life!
---
Thanks to Deirdre Arscott for forwarding Richard Blair's obituary text below. This is the full obituary, before it was abbreviated for the Kamloops newspaper version. Thanks to Bob Goodison for forwarding the newsletter version --> HERE.
---
Nos Disparus Richard Marcroft Latta Blair
The Hon. Richard Blair died December 21, 2022.
Richard was born to David and Vivian Blair in Glasgow Scotland, joining his only sibling, Michael, on March 7, 1945. The family immigrated to Canada by ship in 1952. His first memory of Canada was the taste of fresh strawberries in Ottawa - a taste he never tired of. The family settled in Vancouver where Richard attended Magee High School, where he played rugby (his knees never forgave him), became a Queen's Scout, took up skydiving (over 100 jumps!) and followed his big brother into the journalism field as a copy boy. This evolved into his first career as a journalist at the Vancouver Sun.
Richard entered UBC in 1963 where he spent the majority of his time at The Ubyssey newspaper, rising to the rank of City Editor by the time he met Fearon in 1965. He had barely scraped through his final year of a BA, thanks to working too many hours at that paper, when he and Fearon tied the knot in 1968. Fearon recalls a phone call to Richard on their first morning of marital bliss, advising him that he was admitted to law school. So their first year of marriage had them both attending U.B.C., Fearon finishing her nursing degree, Richard in first year law.
In spite of continuing to work two nights a week as a journalist he completed his law degree and articled with Clarke Wilson in Vancouver. The day after being admitted to the bar, they left to see the world, which they did in19 months of travel, making many memories and friends along the way. They then settled in Kamloops, where Richard worked with Meikle Shupe Blair, then with Mair Jensen Blair, while managing to make time for hiking, skiing, cycling, canoeing, mountaineering, traveling, and driving expensive, interesting and at times impractical vehicles (an MG-TD, Lotus Eclipse, Morgan +8, amongst others) as well as some back room involvement in provincial and federal politics. He also served on the Overlander Extended Care Hospital board as member and chair, and was involved in the establishment of the Kamloops Foundation, now known as the BC Interior Community Foundation.
In 1989 he joined the BC Randonner Club, a long distance non-competitive cycling club which led him to cycle around 6000 km per year for many years, including a number of 1200 km rides through the Rockies, Kamloops to Jasper to Lake Louise and back to Kamloops, in 3 days. These rides qualified him to ride Paris-Brest-Paris, considered the ultimate long-distance bike ride. However, he and Fearon concluded that if they were in France for cycling, it would be preferable to enjoy the food and fine wine!
In 1985 he took a sabbatical year from his law firm. He and Fearon did another year long grand tour around the world, focusing on South America for the first 6 months, then cycling 4200 km over 10 weeks in Europe, and stopping in various other countries in Africa, Asia and the Pacific enroute home.
Their love of travel took them to visits in what Fearon estimates is 76 countries! Most of the trips were often off the beaten path, exploring literally the whole world. One memorable cycling trip was with Fearon an a tandem bicycle, riding from Vancouver to Winnipeg. Another trip was a hike to the top of Mt. Aconcagua, at almost 7000 metres the highest point in the western hemisphere.
Richard practiced as a litigator; during his career as a barrister he exemplified collegiality. Following a session of determined advocacy for his client, but after the client and the opposing client had departed the courthouse or discovery room, he would often suggest a bike ride where he and his opposing counsel would unwind, discussing anything except the matter which brought them together as adversaries that morning.
His love of bicycling resulted in the formation in the 1990s of an early morning "bike gang", with a couple of fellow lawyers but more importantly, lots of non-lawyers who provided useful perspectives on life. That "gang" routinely cycled with him every weekday morning, weather permitting, for 20 years.
In 1992 he was appointed to the Supreme Court of BC, where he worked until retirement in 2013. Counsel were always pleased when they saw that he was presiding. He never seemed to betray his thoughts or the ultimate result with his facial expression. Those appearing in front of him, lawyers and self-represented parties alike, were always treated courteously. His decisions reflected both practicality and a thorough understanding of the relevant facts and law.
He was at times dismayed when his colleagues' (and, rarely, his) decisions were overturned by the Court of Appeal, and delighted on those occasions when the Supreme Court of Canada restored his colleagues' decisions. Since the early morning bike rides were at 7:30 AM Kamloops time, the days' decisions emanating from Ottawa were known by the start of the ride. One morning the Supremes had restored three B.C. trial decisions - when one of the biking lawyers said "Good result today, Three nothing", Richard said, "No, 27-nothing!""
For Richard, one unanticipated benefit to being a judge was the ability to perform weddings, especially those where Scottish attire was worn, which brought enjoyment to him and to the happy couples.
Following his retirement in 2013 he became the first "judge in residence", a voluntary position, at the new Thompson Rivers University law school. He enjoyed working with the law professors and especially the students.
Richard succumbed to dementia and spent the last 3 years of his life in the care of the wonderful staff at the Kamloops Senior Village. He leaves behind his wife Fearon, brother Michael and his family, cousins and their families in Scotland, his in-laws and their extended families across Canada, many long time friends which is a reflection of his many interests and pursuits, and Itsy, the last of a long line of dogs. He was a good man who loved his family, served his community as best he could, enjoyed his chosen work, and lived his life to the fullest. He will be missed by many.
---
Go to: Richard Blair Stats (Database)
-: -
December 25, 2022