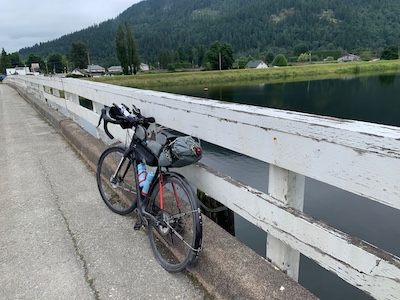 A Whistlin' Through Hell
Lower Mainland Spring 1000
Ride Date: June 18, 2022
by Murray Tough
It was a last-minute decision to do this ride I hadn't noticed it in the roster when I was planning my weekends but there it was, so I booked hotels and paid my registration fee. I was a little concerned that it was close on the heels of a fast, for me, 300 the weekend before.
We, which means all two of us, set out before sunrise, in light rain and drizzle. It was enough to keep the roads wet but not enough to deliver a good soaking. It didn't let up until I got to Whistler at lunchtime. Despite the rain the trip through Vancouver was pleasant enough. I got to see parts of the city that I hadn't seen before. .
We crossed the Iron Workers Memorial Bridge. We passed the railyards and shipping terminals that line Vancouver Harbour. We rolled through Lonsdale Quay and onto the Spirit Trail through X?wemelch'stn, a Squamish Nation community in the shadow of the Lions Gate Bridge. A brightly lit cruise ship passed under the bridge. Not far behind it a second cruise ship in English Bay was also making its way into the harbour.
The Sea to Sky Highway was quiet in the early morning. I couldn't see much of the surrounding mountains because they were obscured by fog and clouds. The many creeks along the way were all raging torrents of water.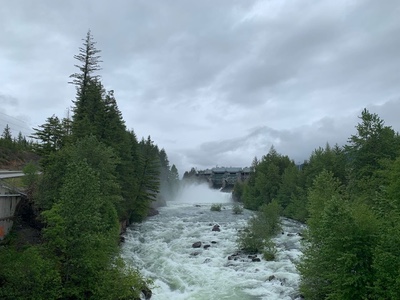 On the climb to Whistler, there is a hydro dam that was releasing water. The cascade was creating its own cloud. Somewhere on that climb, I got a flat. Fortunately, it was only light drizzle at the time. The climb up to Whistler was harder than usual for me. I was not making good time. At first I blamed the flat but when I did the math, it was clear that the flat did not account for all of the delay. I wasn't too concerned because I thought I would make it up on the descents. I also decided that calories would help and bought two sub sandwiches - one to eat now and one for later. I felt better after some food but, alas, I was not getting any stronger.
The descents were fast and at times scary. In some places the shoulders were rough and broken. At times there was no shoulder. At times there was about a tire's width between the rumble strips and an obstacle - like a bike swallowing, recessed drain cover. Later I discovered that the rumble strips are invisible at night, above a certain speed and at any speed when they are wet. I was forced to ride in the traffic lane more often than usual.
The descents included lots of short climbs. Normally I enjoy these, it gives me a chance to get out of the saddle and get warm before the next big plunge. Not today. Each little climb took more and more out of me.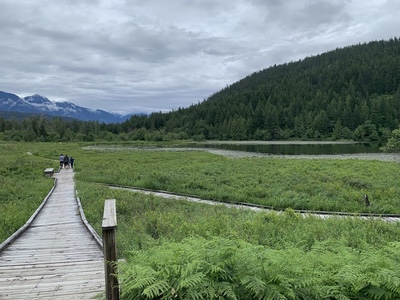 Pemberton Meadows was a pleasant ride through a verdant valley on a flat, straight road. The valley was flat and wide with mountains on both sides. It was lush and green with a raging river.
I had to wait for a bear and a tiny little club to cross the road in front of me. I wasn't about to get close enough to take a picture. The bear was wary and crossed quickly but the cub was more curious, and happy to dawdle. When the cub started climbing a utility pole on the other side, I decided it was safe to pass. I didn't think the mother would leave her cub. I was wrong. An oncoming truck startled the bear as I was passing. It reared up and charged back across the road to my side. All I could do was keep paddling and hope that the bear was too frightened to eat a cyclist.
My average speed was below 19 km/h when I arrived at the turn around in Pemberton Meadows. This was not going to afford me much sleep.
I arrived at the Squamish control just before dark. I had hoped that I would be at Horseshoe Bay and off highway 99 before nightfall. At the control I had a nice chat with a Bangladeshi man who had moved to Canada 40 years ago. He told me that his father used to cycle and he asked a very astute question about ultra-distance cycling, "What do you eat?"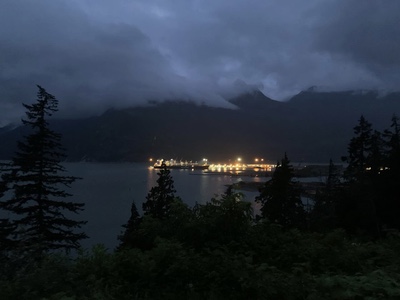 By the time I left the control it was raining. Again. This ride was feeling like type 2 fun. The rain didn't last long. By the time I got to Britannia Beach it was dry. I stopped to eat the last of my squished sandwich before pedalling into the darkness.
Marine Drive was a delightful ride in the dark. Traffic was sparse. The hills were short. The ships at anchor in English Bay were brightly lit.
I finally arrived at my hotel in North Vancouver a little before 2:00 AM. I had only banked enough time for two and a half hours of sleep. One night's sleep was never going to restore my legs no matter how many hours, so I set my alarm and got whatever sleep I could.
Back on the road for Day 2. I wanted to stop and take pictures as I rolled past the industrial waterfront in the early morning light, but I was worried about making the control at Boundary Road on time. I needn't have worried because I made good time through North Van and across the Iron Workers bridge.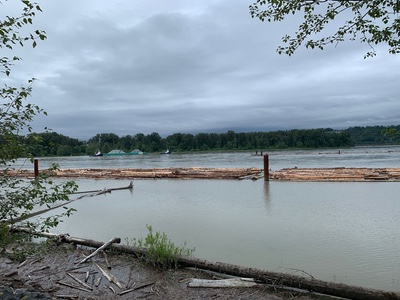 I rolled along the banks of the very swollen Fraser River and through the, sometimes malodorous, farmlands of the Fraser Valley. Despite the relatively flat riding, my progress was slow. Too slow.
My daughter has a rule that says you don't abandon a ride when you're tired and hungry. My plan was to get to Agassiz, have some lunch and find somewhere for a nap. But as I cycled through Harrison Mills, I knew that hunger was not my problem. I had been snacking all morning. A nap would have been nice but none of that was going to make me faster. I had only ridden the first 100 km of the day and I was already struggling. I hadn't done any of the day's big climbs. I still had to do 270 km to finish the day.
When I came to the sign that said, "Caution steep winding road next 2 km," I made the decision. There was no point in continuing to Agassiz. I considered crossing the bridge at Agassiz for a nice ride through the Fraser Valley back to the Tsawwassen Ferry. But If I had it in me to ride to Tsawwassen, I would not be giving up on this ride. I turned around and had a nice lunch at the Rivers Edge Club House on the Sandpiper Golf Course in Harrison Mills. It was time to figure out how I was going to get home.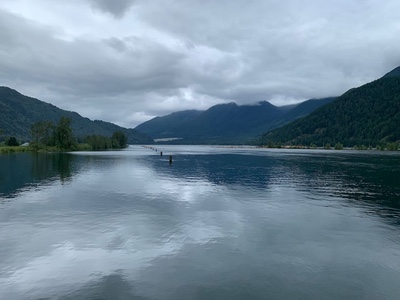 I could ride 60k back to Maple Ridge then get transit to the ferry. I had enough time to catch the 8:00 PM crossing. My other option was to ride 35k to Mission and catch the Monday morning commuter train. As I cycled back towards Mission, my wife called to tell me that the 8:00 PM ferry was canceled, I would have to take the 9:00 PM crossing, which meant I wouldn't see my pillow until midnight. Either way the hotel in Mission was already paid for.
I took my shattered confidence and wounded ego to Mission where I had a hot bath, a nap and dinner. Thankfully the hotel had room service. There were lots of restaurants nearby but I didn't have any street clothes or shoes that I could walk in.
Live to ride another day.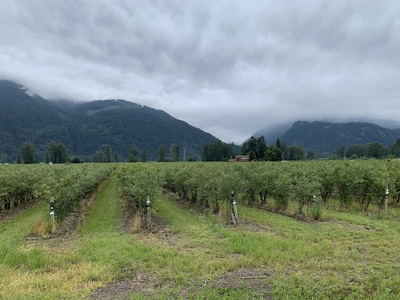 ---
Go to: Event Page (Database)


June 22, 2022