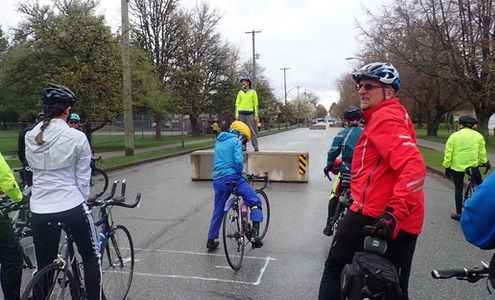 Mike Hagen on the barricade at the start of the 50 km route
9:08 and still not raining...
Storm Clouds Over Riley Park
2022 Pacific Populaire Report
Ride Date: April 3, 2022
by Mike Hagen, PacPop Assistant Coordinator
It wasn't raining at Riley Park at 6:30 on Sunday morning, April 3rd. But it was dark. As it got lighter, and the volunteers trickled in, we could see that, though it was cloudy, and the ground was wet, maybe it wouldn't rain? Much? It was certainly nice to set up the canopies, tables, chairs, and signage without any rain!
The 34th Pacific Populaire was full. We'd limited the field to 500 participants, and we'd sold out within two weeks of opening registration. Clearly, there was a pent up demand for this venerable Vancouver cycling tradition.
Then the weather forecasts started coming in. And they were dire. They escalated to a Storm Warning: heavy rain and high winds. Oh joy. Participants were emailing, asking if the event would be cancelled or postponed? No, we ride, rain or shine. Could we get a refund? No, sorry. Well, I'm not coming -- open my seat to someone on the waiting list! It was good to hear from people letting us know they were cancelling, but for everyone who did, how many were not saying so? How many no-shows would we get?
At the starts at and just after 9:00 (still not raining) we could see that we had about a 50% DNS rate. Kudus to the riders who came out to brave the elements! It would be a memorable experience, as it turned out.
At 10:00 (still not raining) we were beginning to wonder if we'd dodged a bullet. Not only was it not raining, but the sun was threatening to appear. The clouds to the southeast were distinctly brighter. Maybe?
But, no. The wind started about then. And it gusted. And it blew. Canopies and tables were drifting. We rushed about setting up anchors. Fabric blew off the canopies. One blew over and was lost to a broken leg.
Riders were finishing by then. Most of the 25 km route riders finished before it really started to blow. Many of the 50 km riders finished before it started to rain, but did have some heavy wind to deal with. The 100 km folk, however . . .
By noon, the winds were slackening, but the rain was starting. And as the afternoon progressed, the rain did too. Folk finishing now had tales of riding at an angle through the crosswind, but were not too cold and wet. By 2:00, it was pouring rain, cold, and still windy, though not noticeably so anymore. These riders looked pretty drenched! They were happy just to grab a few of the baked goods and disappear toward their cars and go home to warm up.
Finally, at about 4:00 p.m., a last half-dozen riders appeared, and, following them, was our 100 km sweeper! We were happy to see Nigel! And the last finishers were happy to be finished too; one of the most memorable 100 km rides they will ever do.
---
Go to:
Pacific Populaire Home
-
April 4, 2022