Chilliwack Flood Route
Permanent Brevet #216, 200 km
Ride Date: November 21, 2021
by Karen Smith
I did my Permanent yesterday. I still have to do up my Control Card. I had a basic plan when I started, but had to change my route on the fly, as my estimated distances were a little off.
Here's my Garmin recording. See below in Michel's email to me. My Garmin doesn't old a charge long enough for a 200 anymore, so I borrowed Michel's (which is also on its last legs, but lasted the 11 1/2 plus hours). : )
I don't know if you can open this without the Garmin Connect software.
I hope that you can. It's interesting to see the map of the ride.
I couldn't go west beyond Chadsey which is about 8 km from my house.
I couldn't do Vedder Mtn Rd as it was closed due to flooding in Yarrow.
Chilliwack Lake Rd, was single lane traffic and that would have been too slow, and I didn't think that I should be there, so I couldn't go that way.
Luckily some of my normal route, from Chadsey through Popkum Round-About to home was good, so I did that loop twice, second time in reverse, each time with a different little out and back to get mileage. That got me to 149 km.
Then I just had to get 50 more km staying inside those borders.
Will work on route sheet, and route card and send in.
Just wanted you to know now, that I did it. : )
Michel doesn't want me to ride through the winter. Says I'm not fit enough. And he's right! These rides take a lot out of me now.... So we'll see...
K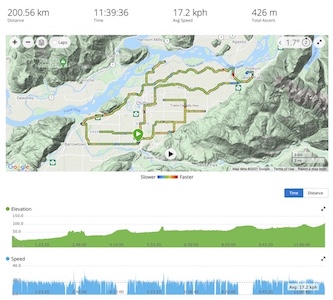 Source: https://connect.garmin.com/modern/activity/7855505870
---
Go to: P#216 Route Page (Database)

December 31, 2021