Chilliwack Flood Route
Permanent Brevet #216, 200 km,- with a field route revision
Ride Date: December 3, 2021 - with Karen Smith
by Colin Fingler
Got a text from Karen on Wed inviting me to ride a permanent on a new route she created after the first 'Atmospheric River' a few weeks back. Forecast was for cloud, low wind & cool temps (1-6 C) on Friday, before the snow was to fly on Sat. I had missed Craig P's Nov 11 ride and I was glad of chance to get a ride in, especially with one of our permanent veterans - it would be my first.
Karen sent me her route to review - it reminded me a bit of Eric's infamous 'Vancouver City Limits', as she was constrained to route within the 'Island of Chilliwack' due to all the road closures from the recent flooding. I couldn't resist making some armchair edit suggestions - replacing several of the short out-and-backs, with longer runs east along Chilliwack Lake Road and then west out through Yarrow. But Karen noted that both of those roads had been restricted/closed since the rain events, so we decided to go with her original route.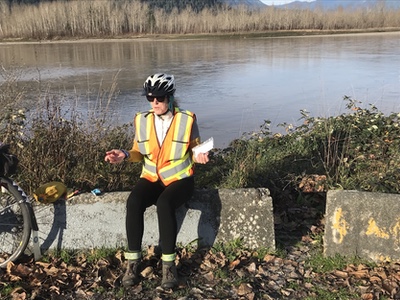 So at 0642 Fri, we set off from Karen's house in Garrison - full dark, 1C, roads dry and not too much traffic for a weekday. I did remember to tuck some extra Garmin batteries in my back pocket, which I was glad of later.
It turned out to be a beautiful day for a ride, and I quite enjoyed the changing vistas of the local mountains as we traversed the route along the Hope/Camp River road out to the Cheam Wetlands park in Popkum at km 44. I noticed that Bridal Falls had picked up a brand new set of 'Bridesmaids Falls' on either side. We also saw two-way traffic on Hwy 1 as we crossed over, unusual because this was the first time since mid-November that it was now open thru Abbotsford.
We did see some standing water in the Chilliwack fields, but nothing like the devastation of the Sumas Prairie that had been all over the news. Km 70 had us back at Karen's for a break / warm up. Temps were now up to about 4C. We then mostly reversed our route out & back to Hwy 9. We even had a few hours of sunshine and I saw 8C on my display when we stopped to gobble some Stingers and Blox beside the Fraser River. Km 150 had us back at the house again just before 3:00pm and we psyched ourselves up for the final 50.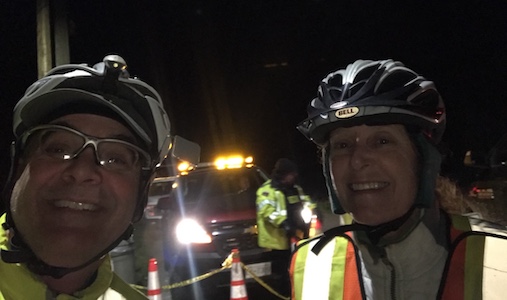 But as we turned north off Promontory onto Chilliwack River Road, a new road closure sign appeared and we could see water on the road 100 m ahead. We needed a plan B in a hurry. So we decided to check if the Chilliwack Lake Road/ Vedder Mountain Road routes were feasible - the Vedder River roundabout was only about a 1 km away. Good news! The closure signs were now gone and so we had a nice twilight climb up the Chilliwack Lake Road, marvelling at the roaring Chilliwack River beside us. There were a few spots where the excavators had obviously been busy over the last week, but the shoulders were mostly good for riding. We turned around at the Tamihi Bridge, which put us at 177 km by the time we returned to the roundabout now in full darkness. The roundabout was about 1 km from our finish point, so we needed another 22 km or an 11 km out and back (say 11.5 to allow for an error margin) We crossed our fingers and continued into and thru Yarrow towards Sumas Prairie wondering if we would hit our turnaround distance of 188.5 before another road closure sign. At the Boundary Rd tee, we opted to head south until we hit a manned road block at No. 5 Rd. 188.3 km - close enough! About face - we finished back at Karen's at 18:03 with the GPS reading 201.3km, with the temp dropping quickly. My first permanent was done.
And yes, Sat morning was a full-on winter wonderland.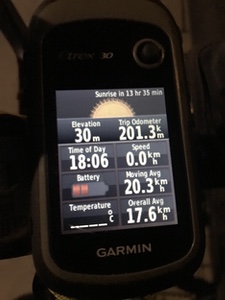 ---
Go to: P#216 Route Page (Database)

December 31, 2021