Seven Bridges
Permanent Brevet #142 , 202 km
Ride Date: November 19, 2021
by Mike Hagen
I wasn't at all enthused about heading out the door to ride Seven Bridges Road. I'd just done (Close to) Car Free and I was still tired. But the forecast was sunshine, and then rain and more rain the rest of the week. It's a good idea to ride dry! But then Dave King texted saying Sunday looked good, I double checked and saw that he was right; Monday looked good too. So I was seriously thinking of throwing it over and riding with Dave on Sunday instead. I could watch World Cup long track speedskating from Stavanger, Norway. Plus, Kiersten is skating at the CanAm International in Calgary this weekend, and her races are live-streamed. I could watch all that instead of riding.
Tempting. Very tempting.
But no. Up before dawn and ready to go, I headed out just as a rain shower was ending. Roads wet and clouds dark. But a promise in the west, it looked brighter. And by the time I hit the south end of Cambie, heading to the Arthur Laing Bridge and over to Richmond, the sun was out, blue skies chasing the clouds away. By midday, I was feeling fine, very much enjoying an uneventful ride.
Well, not entirely uneventful. Sewer construction has closed 112 Ave in Maple Ridge between 246 St and Rockwood Dr. I knew that, and planned to detour via 113 Ave and Ferguson, then head back to 112 Ave via Kanaka Creek Park trails. I hadn't ridden those trails before. But they proved to be wide, compacted gravel, a bit rough, but no real issue on a road bike except for some steep bits. So I did a little walking. But that's okay, I got credit for a few hundred meters of new road on Wandrer.earth. All good!
Also good: finishing the ride 2 1/2 hours quicker than Thursday's Car Free, getting home just at sunset, the western clouds ablaze with pink and orange and red. Very pretty.
So, Dave, we riding Sunday?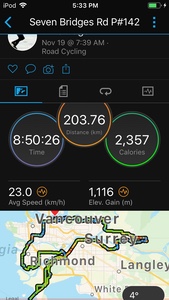 --
Postscript: Dave and I indeed rode Sunday [Nov. 21]. It started out cool with scattered high and hazy clouds, the sun shining weakly. The sun grew stronger as the day went on, until clouds rolled in during late afternoon. But we were given a last glimmer of sun and a blood-red sunset right at the end of the ride. A Hazy Shade Of Winter was an apt route for the day. Some nice design features in the route. Good job, Barry!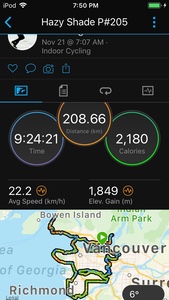 ---
Go to: P#142 Route Page (Database)
Go to: P#205 Route Page (Database)

November 19 & 21, 2021