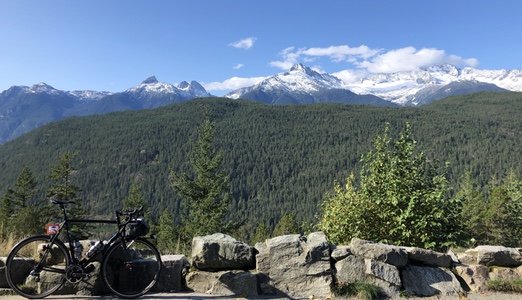 Sea to Skies Super Randonnée 600
Permanent Brevet #601, 605 km
Ride dates: September 28 & 29, 2019
by Étienne Hossack

For the first attempt at my SR600 I waited to get a good weather window for the ride after its approval at the start of September.
The last weekend rolled around (coincidentally around my birthday, a great excuse for a party!), but nobody was available to ride, so I headed out solo.
It was indeed a pleasant weekend for sun, but not so much for wind. The ride up to Whistler was gusty and full of headwinds. More than once I found myself descending a hill, pedalling, and going 15-20kms per hour. And the Sea to Sky hills are not small!
I also had a very close encounter with a bear running less than 100 feet in front of me across the highway, so I sung some loud songs after that.
By the time I reached Whistler, I was itching to continue, so I tried to rest as little as possible and push to Joffre. Riding Whistler to Pemberton is always harder and slower than I expect, so I had to stop for a bite to eat in Pemberton.
When I reached Joffre, I was excited to take a photo with the sign, only to discover somebody had stolen it! The park rangers showed up about a minute or two after I did and started taking their own photos.
Anxious to ride as little as possible in the dark, I took off.
I ate a "beyond meat" burger at Whistler Nesters, which was actually reasonably tasty, before heading down the highway, detouring once to a pitch-black viewpoint in the village, and to Callaghan Valley. I guess there was some construction going on, because at the entrance to the park area, which was closed, there was a car blocking a gate, clearly there to let folks in and out. He looked very confused when I rolled up and said, "Don't mind me, just here to take a picture of that sign" and rolled away.
The return trip was reasonably pleasant at night - Callaghan had been the coldest part at 1ºC, which I was prepared for, but still found chilly - the temperature steadily increased as I rode south. New paving meant that the shoulder was iffy in many sections, and there was a corrugated pavement descent into Porteau Cove which I did not enjoy.
When I finally returned into Vancouver I was 3 hours behind my best-guess schedule, and 5 hours behind my ideal schedule (I had been riding at an "easy" pace in order to save my Achilles from severe over-use). So after a short detour home for a shower and 4-hour sleep, I hopped back on the road.
The second day was just long. Not terribly brutal, as I was still climbing at an easy pace, but there's no way to get up a mountain faster if you're making yourself go slow 😁
There were some really cool bike paths en route though, and I did thoroughly enjoy the gradient of Cypress after all the other climbs. I also had a strange encounter with lost tourists in the Seymour conservation reserve - but I had little I could do for them apart from telling them to walk up the trail and hope for a way back into town.
The views were spectacular, the bike paths awesome and overall I think it's probably the most beautiful bike ride I've ever done in my life - the combination of mountain views, night skies and fall weather was just phenomenal. I hope others get the same enjoyment I did!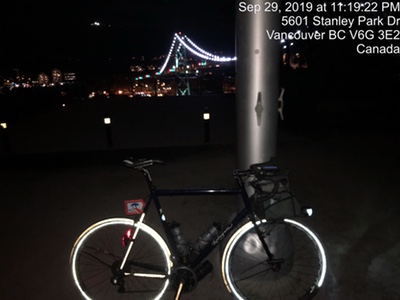 ---
Go to: Étienne's Photos (29 Images)
Go to: Event Page (Database)
Go to: Notes, Map and Other Info



October 6, 2019