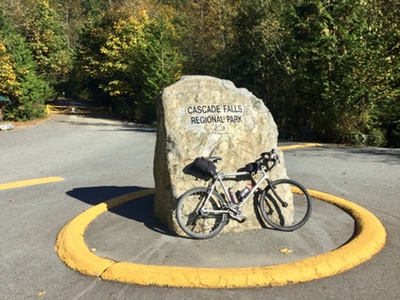 Journey of the Sorcerer (Norrish)
Permanent #199, 200 km
Ride date: October 10, 2019
by Mike Hagen
It was a nice day for a ride. Chilly to start, it was 1 deg when I left the house, but the sun was out and it warmed up. There was no wind to speak of. A very pleasant, fall day for a ride! But it didn't go as planned.
I suppose I can't expect all these gravel permanents that I'm doing, my Journey of the Sorcerer series, to work out. There's no Street View up those roads. There's only so much one can do with map layers and air photos. One can't really know what to expect. One can only go up for a look-see and hope for the best.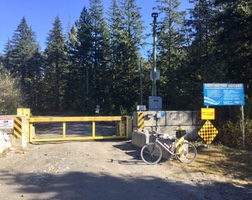 My intention was to ride up the Norrish Creek Forest Service Road to Dickson Lake, about 20 km past end-of-pavement on Hawkins Pickle Road (love that name!). But what I found, at the water treatment plant, was a sturdy gate, video surveillance, and a sign, a big sign, saying "Restricted Access." This is the Norrish Creek Community Watershed area, supplying water to the good folk of Mission and Abbotsford, and no admittance to the unwashed hordes. Sorry. That was the end of the road for me, and only six km up! No choice but to turn back. And too bad, too, as the road was pretty good. Oh, the first km was steep, stony, and a bit rough, but after that it was good. Some potholes, some washboard; but just about as good as it gets for a FSR.
I salvaged my permanent by doing an out-and-back up Sylvester Road to Cascade Falls Regional Park. I was still a bit light, so I overshot my intended finish at the McDonald's at Gamma and Hastings, continued on to the Chevron at Willingdon and Hastings, then down and around the block to get my Garmin to 200 km.
I'll send you revised route sheet and control card in a bit, in case anyone else wants to take a run at this. [Mike did send the revision - now in database. EF]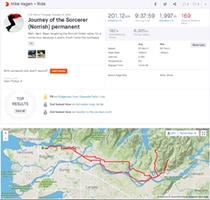 ---
Go to: Permanent Results
Go to: Event Page (Database)



October 13, 2019