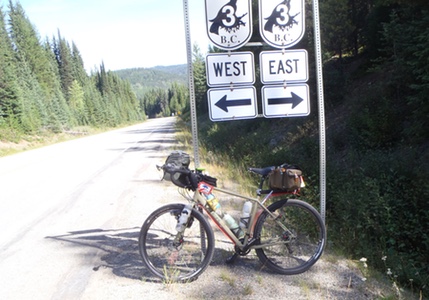 Heart of the Kootenays 600
Super 600 Permanent
Ride dates: August 19-21, 2016
by Bob Goodison

For the past year I've been considering attempting the Heart of the Kootenays Super 600 permanent, which, after finishing PBP last year, would be the last ingredient needed for my Randonneur 10000 award. I finally decided on a date of Friday, August 19, to start. After re-reading Bob Koen's ride story from last year, I decided on a 04:00 start, with an overnight at Crawford Bay, about 340 km in. I chose to ride my monster bike, due to the gravel section from Three Forks to Idaho Peak and back. If I've already told you the story of the monster bike, skip to the next paragraph. Every five years of service, Orica sends out a catalog, from which employees can choose a service award. I hit the 25 year mark this spring, and could find nothing I wanted or needed, but one of the choices was a Trek Fuel X5 mountain bike. I chose that, thinking I would sell it. When the bike shop supplying it contacted me for sizing info, I asked about substitution for something I would actually ride. They said OK, and I wound up with a Trek 920 adventure touring bike. At this point I must take back all the bad things I've said about Trek bikes (boring and ordinary- this one is not), aluminum frames (harsh riding and tiring - this one is not), knobby tires ( slow, high rolling resistance- these are not). Unfortunately, the bike has a thru axle fork, and I was unable to use my dynamo wheel, so I was forced to use my old Cat Eye battery lights, which were barely adequate when I bought them in 2003. Also dating back to 2003 were my mountain bike shoes, which I swore I would never use for another long ride after the 2008 Rocky Mountain 1200. I removed the sprung Velo Orange saddle I had installed when I built the bike, as it had only about 300 km on it and is still hard as a rock, replacing it with my eight year old Brooks B17, well worn and super comfy. I put on six bottle cages (could have gone seven). That seems like a lot, but one held bear spray someone had suggested I take and one was dedicated to water to be dumped over my head and back as necessary, leaving four for drinking. It had also been suggested to carry a Spot tracker, but I was unable to rent or borrow one locally, and procrastinated too long to get one from further afield.

I slept in my van in Christina Lake, took my official start photo, and headed East up the Paulson. It was about 15C, and calm. Perfect conditions. As I gained elevation the temperature dropped to around 8C, and I was glad to be wearing arm warmers and vest. Once over the top and descending, things changed in a hurry. Suddenly freezing, I stopped at a rest area to put on my jacket and long gloves.My thermometer said 0.6C. It warmed gradually as I descended, then climbed the Strawberry Pass to Rossland. Some improvisation was needed in Rossland, as my route through town had roads closed for construction. I used parallel roads which were still torn up and muddy, but at least open. I had ridden through Rossland and Trail once years before on a 400 km brevet. This was my first chance to see them without it being pitch dark and pissing down rain. Very pretty towns when you can actually see them. After the drop to Trail, I took my control photos at the bridge and turned around for the long climb back to Rossland and the Nancy Green Summit. This time I stayed on the highway to avoid the closed roads, adding some distance, but avoiding confusion. The temperature was in the low 20s, but I was sweating buckets. When I stopped to apply sunscreen near the summit I managed to pause my Garmin for a couple of kms, throwing my distance off a bit. fortunately, the route is really hard to get lost on. Another photo control at the Hwy 3B junction, and a long, fun descent into Castlegar. With an ultra-long wheelbase, and those huge 29 x 2 gyroscopes, the monster bike is super stable, making me a little more confident on descents, but I still kept it to a bit under 60 kmh, with the help of the great hydraulic disc brakes.

I stopped in Castlegar, refilled all my bottles and bought a cranberry muffin that magically became blueberry by the time I was out of town. It was up into the low 30s by the time I was climbing the Bombi summit out of Castlegar. Each one of the climbs was taking about two hours, and none of them seemed to have any flat spots in them to rest on. It's a little depressing when you think you must be nearing the top, but you can smell the hot brakes of trucks coming towards you. After the summit my legs began to cramp so I stepped up the electrolytes, and the problem went away. The gas station in Salmo provided a much needed milkshake, a Coke and full bottles to prepare me for the last big climb of the day. I had a great conversation with three older men sitting outside smoking. They told me there was a water pipe part way up, but I never found it. They also told me I could cool off in the lake at the rest area at the top, but by the time I got there I didn't want to. It was still in the 30s, and the climb was long and steep. Near the top I found a small waterfall on the opposite side of the road. Scrambling over mossy rocks (glad I didn't have road shoes!) got me close enough to wash my bandanna, fill my over-the-head bottle, and soak myself completely with the icy-cold refreshing overspray. This got me over the top, and I descended to Creston. Coming into Creston, you cross flat flood plain area (think Fraser Valley), that I believe is the only level part of the route. I stopped for a bowl of Tim's chili, called Susan with a progress report, and then called my motel in Crawford Bay to say I was running behind schedule and would be unlikely to get there before 10:30. They said no problem, they would be more than happy to wait for me. The coffee at this Tim's (a dark roast with an espresso shot) was better than usual. I was very glad that I had not been a day earlier. They told of a terrific wind storm, trees down and power out. The evidence was in the ditches all the way to Crawford Bay. Despite the fact that the next section was no where near as flat as it looked on my elevation profile, I made good time. The huge,nearly full moon shone beautifully on Kootenay Lake and the ultra-smooth pavement, making my feeble lighting only necessary to make me seen by car drivers. I arrived at 10:35 PM, had a shower, a bowl of instant ramen, and half my package of instant mashed potatoes and went to bed. I had the remaining potatoes, plus some instant oatmeal for breakfast. I highly recommend the Crawford Bay Inn- the owners are great people, and it's inexpensive, clean and quiet.

I spent about eight hours at the motel and rode over the hump and down the big hill to catch the 07:10 ferry. I spent some time both before and during the ferry ride chatting with a local named Jules. I explained what I was doing, and showed him the elevation profile of the ride on my Garmin. He told me the road up to Idaho Peak was good, you could drive it in any car, and a cyclocross bike would have been fine- I didn't need the MTB tires. He also said that I could save some time by packing a para glider and coming back down that way, but it might violate the ride rules. I got a bad coffee on the ferry, and enjoyed the sunny morning sitting on the upper deck. I've read that this is the longest free ferry ride in the world, but it was over all too soon. I rode with a rider from Nelson for a while, from just after Balfour to the hills at Coffee Creek, where I told him to go ahead because I couldn't climb at his pace. I controlled in Kaslo, then went to the grocery and stocked up on food- sausage rolls, croissants, and bananas. After the initial hump out of town, the ride up to Retallack from Kaslo is one of my favourite rides anywhere, and again it did not disappoint. I stopped at the Fish Lake rest area for a break, and met a touring rider from Melbourne, heading the other way. He said he had several friends who were Audax Australia members. A fun descent to Three Forks, followed by a quick ride up a good gravel road led me to Sandon. I was going to get an ice cream cone from the store, but by the time I got my wallet out there was a family of six ahead of me. Oh well, who needs ice cream?

The only place on the route that traffic was a problem was on the Idaho Peak road, especially the first few kms. It was loose, steep and rocky. Each time I had to move over for a car, I got into the loose stuff and spun out. Letting air out of the rear tire helped with traction, but the only way to get going again was to go across the road, then turn uphill. About this time I started having problems clipping in and out on the right side. I'm not a newbie, and I know that this usually means the cleat is coming loose, but for some reason I chose to do nothing about it. The climb got harder, and I found the only way to keep my heart rate at a reasonable level was to walk the steep sections- and it was all steep. I think I wound up walking about half of the 12.5 kms. A few people offered rides, but I had to decline. Finally I made it to the top, and tried to take my control photo.
Somehow the settings on my camera had gotten messed up, the battery was dying, and I couldn't make my spare battery work. After a few minutes of panic, I reset the camera and got my photo. I found the spare battery terminals had some kind of mung on them, which I scraped off with a knife, and all was good again. Until I started down the hill. I had figured on an average of 8 kmh going up, and 20 kmh down. Wrong. So wrong. The road was way too loose and rocky for that. More like 5 kmh going up, 10-15 kmh going down. My kmh may have been low, but my EPK (expletives per kilometre) was quite impressive. About this time I found that I had somehow paused the Garmin again, and the whole Idaho Peak section was not recorded.

Finally making it to New Denver, hours later than planned, I needed some serious calories. I checked the tops of all the canned food containers in the store, looking for something that didn't need a can opener. Chef Boyardee Ravioli it is! Plus some bananas for the road. The driver from the Idaho Peak shuttle came over to talk - he was one of the drivers who had offered a lift. I WILL make use of that shuttle at some future time. I topped up the tire pressure and hit the road. I had forgotten how big the Slocan hill is, and it depleted my energy reserves some more. By the time I hit Winlaw I was fading again. I knew Sleep is for Sissies would be closed (Does that mean they're sissies?) Mama Sita's cafe was open, and had live music but was packed, so I chose to forage at the gas station. This time Stagg chili had the easy open top. Remember the cleat I had ignored? Shortly after dark it fell completely off the shoe. I thought it was lost, but when I got home it was still stuck in the pedal. I had to ride the last 100 km or so completely unable to clip in the right side. I didn't stop in Castlegar, although it was tempting. I could smell the popcorn from the theatre as I rode by, and it crossed my mind that I probably could go to a movie and still finish in time.The last climb up the Paulson took forever, but the moonlight was beautiful and there was no traffic. The last descent was chilly due to exhaustion, but I finally got to the Paulson bridge to take my last control photo. All that remained was 22 km downhill to get back to the van.

Would I do it again? I'm trying to train myself to use the word unlikely rather than never. I might possibly consider it if someone else was doing it and wanted company. What would I do differently? Not much, except expecting a much lower speed on Idaho Peak. Obviously, not ignoring the loose cleat.I definitely should have trained a bit more- since the 1000 on the Canada Day weekend I had only done one moderate 200 km. The bike proved to be the right one for the job. Going up wouldn't have been much worse on the Ritchey with its 32 mm tires, but coming down, with the skinnier tires and rim brakes would have been horrible. I probably should have stopped in Castlegar for a sit down and some food at Tims before the last climb. Don't even think of doing this ride in road shoes. The scenery is beautiful, traffic is low, and I met a lot of great people. If you're up to the challenge, do this ride. It's worth it.