BC Randonneurs
Cycling Club
Next--->
BC Randonneurs "Bumble Bee" Jersey Design Origins...
by EF based on Images found by Michel Richard

"Hennie Kuiper winning the Giro di Lombardia 1981. I always thought that this jersey was an original design." Michel Richard sent this message and the two images above to the club discussion list in October of this year.
The information I have on our original 1991 bumble bee jersey design is relayed in the clothing history section on this page GO. This is what I say there: "I asked Harold [Bridge] to look into this and here's the word: "Eric, I spoke to Dan McG [McGuire] tonight. He thinks David Johnstone got the woman who ran the clothing company in Ontario to come up with the original design of the "Bumble Bee" jersey. H." (March 2002)"
The above photos from Michel put this statement in doubt. Perhaps the woman in Ontario borrowed the design. Here are examples of a couple of our club jersey designs: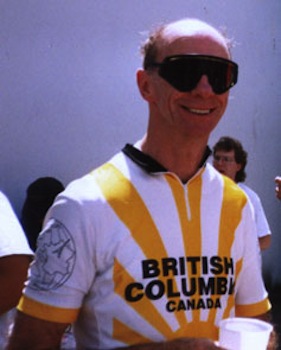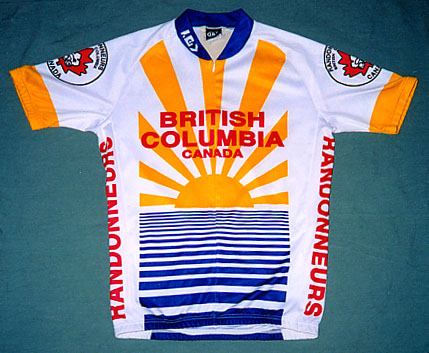 Norm Brodie modeling the 1991 club jersey, and the blue-water version used from 2000 to 2008.
_