Crashing the Charly Miller Society
by Luis Bernhardt

* After the first day of racing the August 17, 1901 New York Times reported, "The betting to-night is 3 to 1 against Lesna and 6 to 1 against Miller"

I find the legend of Charly Miller to be quite compelling. In the second Paris-Brest-Paris ever held, back in 1901, Charly entered the professional racers category. At that time, PBP was an actual race for the pro's as well as for a second group of "touriste-routiers," the randonneurs of those days. The race was held over a slightly shorter course, just under 1200 km, and on what was then the "main highway" between Paris and Brest, following today's N12, which in those days was largely dirt or cobblestone and more suitable for wagons and carriages pulled by horses, although not as hilly as the current route.

For the long distance professionals of those days, it was quite common to be "paced." So from the start at Parc-des-Prince, the rider would have a teammate ride ahead of him, over the bridge at Suresnes, and out to Versailles. At the top of the long climb, the first pace rider would pull off, and a second rider would take up pacing duties to the next relief point.

In addition, at each of the controles, the rider's support crew would hand up food and replace bidons, much like the supported riders in today's PBP. The crew would hop back in their car and drive to the next controle, and problems with the bicycles would be fixed by the mechanics on the crew.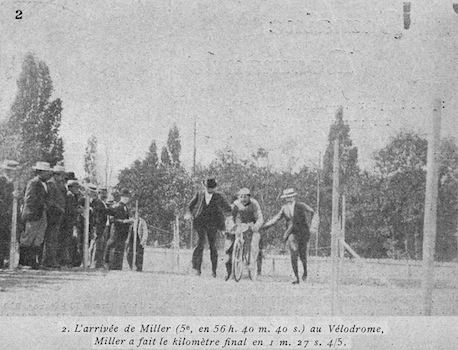 Charly Miller had none of this. He was a track endurance rider from Chicago, who reportedly didn't even speak French. God knows why he rode PBP in 1901, but he rode it completely unsupported (and reportedly underfunded). Despite not having pacers and not having support on the road, and despite suffering a number of punctures and having to replace his broken bicycle (he rode the final 350 km on a borrowed bike), he still managed to finish 5th, and against 112 of the top European professionals. To give you some idea, this particular PBP was won by Maurice Garin, who went on to win the inaugural Tour de France two years later. Miller's finishing time of 56 hours 40 minutes has been enshrined by Randonneurs USA: any RUSA member (I'm not sure if they need to be US citizens as well, but it's OK, I'm a dual citizen) who finishes inside this time becomes a member of the "Charly Miller Society."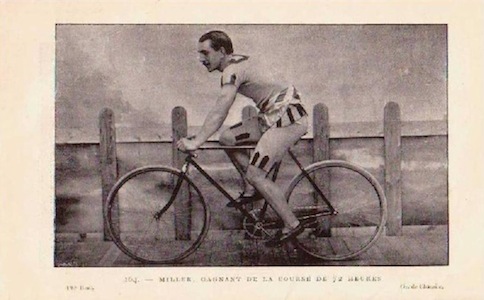 I find RUSA too lax in opening its membership to the Society to anyone finishing inside 56:40. To me, it denigrates the most heroic aspect of Miller's fine accomplishment: he did it completely unsupported. He had to stop and find his own food. He had to fill his own bottles. He had to carry all his own clothing and spares, and perform all his own repairs. In those days, assuming Miller was riding pneumatic tires, a punctured tire could take an hour to repair or replace.

I would have to think that Miller was quite the resourceful bike racer, so he must have had the presence of mind to sit on the wheel of supported, paced riders. Garin's finishing time of 52 hours shows that reasonable speeds (where drafting is possible) were possible on the dirt roads of the time.

A less influential factor was Miller's gearing. In those days, pro's would have been on a single gear, probably with a freewheel (invented for bicycles around 1899), maybe even fixed, as Miller was a trackie. I would say less influential, since there was far less climbing than in today's more rural PBP.

For these reasons, I am announcing my goal of doing a "real" Charly Miller in 2015: Inside 56:40, on a fixed gear bike, completely unsupported.

I finished the 2011 PBP in just under 65 hours on a fixed gear, but this was with the 84-hour group, starting at 5 am, riding until dark or later (I rode until about 11:30 pm the first day), getting several hours sleep plus sit-down dinner and breakfast, and departing between 4:30 and 5 the next morning. I had no drop bags and carried everything (pretty minimal – it all fit in my jersey pockets or I wore it), but I spent too much time at the controles trying to find food and supplies. I never got sleepy on the bike, though!

To set a good time, I think you need to start with the 80-hour group in the late afternoon. This ensures that you're fresh enough to ride the entire first night, and then all of the daylight hours the next day take care of themselves. The first stop for sleep would be at one of the controles on the way back from Brest, trying to complete 7- or 800 km as darkness sets in for the second night. Here, sleep would need to be limited to just one hour before the final 16 to 20-hour rush to the finish at SQY. That's the basic strategy.

Water bottles can be refilled at the controles, but for this ride I think it's a good idea to avoid obtaining food at the controles. The lineups are too long, or the dining areas are too far from the bikes or too difficult to find. I think it will be much faster just stopping at "convenience stores" along the route. I was also amazed at how much they charged at the controles for the "energy drinks" that were advertised during the ride! I'm sure I can do better at the epiceries.

There is a downside; in fact, there are a few. The main downside is that I will need to ride about 30 hours before the first sleep break. On a previous 1,000 km ride (geared road bike), I was able to nap about 30 minutes at the 30-hour mark, then finish in 45 hours. But on the Hoodoo 500 (fixed gear), I took a sleep break at about 21 hours, then needed another sleep break at about 25 hours, and then a couple more later. On both these rides, I started hallucinating. On the 1,000, it was after 47 hours, while on the drive home from the finish. At Hoodoo, the hallucinations started at night after about 40 hours. The hallucinations usually involve seeing an overpass above me, like riding on the lower deck of a bridge. The hallucinations are extremely realistic. After the Hoodoo ride, large grease stains in the parking lot turned into discarded umbrellas. I could even reach down with my hand to pick them up, and my fingers would just go through them, but the hallucinations remained!

In conjunction with the hallucinations, there is usually a reduced "will" to continue. On the 1,000, I was ready to quit at the 30-hour mark in Leavenworth, as I still had to get up Stevens Pass, out to Monroe and Snohomish, then up Highway 9 to the finish at Abbotsford. But I wouldn't be able to get a ride out until the next day, after the controle closed, so I decided that it would be quicker just to ride the bike back, so I finished the ride. And it was quicker than waiting for the car to take me. At Hoodoo, I spent too much time off the bike after the 21st hour. Having the support car right there was not a good thing; stops were too tempting. As well, once you're tired, you get disoriented, and that combined with the hallucinations makes you question whether or not you are even on the right route. This is where a very strong and sure crew chief becomes invaluable. Failing this, a working Garmin is the next best thing. For PBP, I'll have the external battery pack attached to the Garmin. The nice thing about the Garmin 500 is that it lights up when the external power is turned on, so I can read it at night while it's charging.

So, what do you get when you qualify for Le Societe Charly Miller? A medal? A certificate? No, you get nothing. Zip. Which is fine with me, because the highest accomplishments usually go unrewarded. Prizes are embarrassing; it's enough to just have done it. And it's not about me, it's about Charly Miller, an American about whom hardly any Americans know anything. He is even less well-known than Major Taylor, who would be in Paris the following year during his European tour, racing the best European track cyclists (he had become a World Sprint Champion in Montreal in 1899). But the legend of Charly Miller is an inspiration worth knowing.
---
December 18, 2014