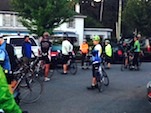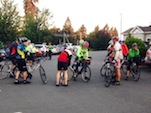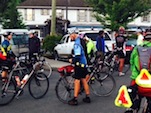 Three photos from the start
Photos from Kristy

Last Blast of Summer 200
Organizer's Report
Ride date: September 14, 2014, Tour of the Cowichan Valley route
by Kristy Lee Mighton

I could not have asked for a better day to ride and organize a 200km Randonneur ride. It was a good thing that I decided to ride because I found out very early on that in the pre- ride I had taken a wrong turn. Back on track I got with fellow riders that I had taken approximately 7km of course. I finally rode the proper route.
This ride was different, first of all I was lucky enough to have super family that was there at beginning, almost every control, and the end. Thanks Dad (Gerry) and his co-pilot Cleo (my dog). Also, being involved in riding and organizing allowed me to enjoy not only the beautiful scenery but I got to meet EVERY rider, actually interacting in one way or another with everyone.
Buddy, was the first interaction of the day, it was still dark and he was fueling up on the 'breakfast of champions', oatmeal. Next, I met Gary, who had a couple of pointers on a good time to start rides in the future. Although I believe he did appreciate the earlier time in the long run because it gave him some time to lick his wounds prior to heading back to the mainland. Then I had a brief interaction with Rick and every time I see him I envy the size and power of his quads. This is the guy to draft on a windy ride! Michael Tilitzky, it was great to see him and have a short conversation, if it were not for the fact that I had to break from the group to relieve myself I would have been able to talk some more…next time. Mellissa, I rode with briefly and I believe we have her convinced to ride a 400km next year. We have planted the seed! Graham and I exchanged some PAC TOUR notes and he complimented my blue bike. I rode with Ken for a little while and he gave me some super pointers and hints to tackle a marathon I am running next month. I rode with the 'Vancouver pack' (Cheryl, Susan and Nigel) for some time. Cheryl, sets a mean pace. Susan, I rode behind for over 45 minutes before I finally asked how to pronounce her jersey and Nigel, finally I met him. That man eats! Then there were the Marks' who are always a card and enjoying their ride. They shared with me how the stopped and had a chocolate shake at A&W; I have been craving one since. Michael Mann, it was super to meet you and find out you are a Nanaimoite; congratulations on your first 200km. David, I rode with almost all the way, if I was not pushing him he was pushing me. I give him credit because he still rides with me even after the last kilometers of a 600km. Craig, all I remember of him is his bare feet and Starbucks in the early morning. I did not see Craig otherwise. I heard he kept my dog entertained for some time. I finished up the day with Lorraine, which I absolutely enjoyed I still have pictures in my head of her flying by me on EVERY downhill, smiling from ear to ear. It was her first finish right before dark and mine too.

All in all the weather was great, not to windy, not to hot and not to cool in the morning. From what I heard no mechanical problems, everyone was safe and there were no DNF's
Once again I thank all those who helped me with the organizing the ride, with out them it would not have been. I also thank everyone who rode the ride who made it a super wonderful experience for me.

---
Go to: Results
September 23, 2014