Last Blast of Summer 200
How I Spent My Summer Vacation
Ride date: September 14, 2014
by Lorraine Nygaard

I write this report for two reasons: I want to encourage folks who are new to randonneuring, have been away for a while, or are slow like me. I also want to share my rewards for swallowing pride and getting out there. Thank you to Kristy Lee and her father, Gerry for putting on the Cowichan Valley Explorer.
I'd been busy with my B & B all summer, and as I had just one guest that weekend, I looked forward to taking part in the brevet: it would be my summer holiday! Training was limited to a couple 50k rides in the weeks leading up to the big day. Many last-minute guests showed up on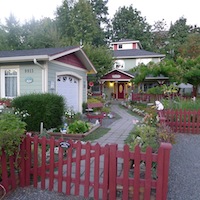 Saturday evening, so I didn't arrive in Chemainus till 11:30 p.m. Thank you to friends, Rick and Michaela, owners of A Scented Garden B & B, who created a wonderful haven for my much-needed rest.
I woke at 5:30 and, in a first since my introductory brevet in 2011, started on time with the other riders! After just a few gentle rolling hills however, it was just me and the road. "Good morning cows", "Hello pulp mill", "Good morning pajama-clad men getting the Sunday paper". Though born and raised on this island, the route provided beauty and wonder that I never knew existed. Teeny-tiny towns, deep dark beautiful forests, farms and fields that are just beyond the hustle and bustle of the island highway, and lapping waters of the lakeshores filled me with wellness and joy. Some areas provided flashbacks from my youth: I hadn't seen downtown Cowichan Bay since a high school field trip to the marine centre; nor Shawnigan Lake since being at a friends' family cabin there in grade 12.
Challenges are always present in a brevet. In packing late, I missed one water bottle and I became desperate for another. Seeing a Health Centre at the Lakeside Village Centre, I took a detour, but they sold nothing that would work in a bottle cage. I got a chuckle from seeing someone on a spin bike in a gym on a Sunday morning, when the world was waiting in all its glory just outside the door. Chuckle aside, I wasted some precious minutes.
There were wonderful human moments. I was passed by a young man within the first 20 kilometres, only to realize that he was one of my spin class participants. He and his new bride had moved to Crofton 2 weeks previously, and it was funny to bump into such a random acquaintance on a quiet Sunday morning. I appreciated Gerry's encouragement at the cafe at Shawnigan Lake, and was grateful that he didn't mind giving up his precious Sunday for a bunch of strangers that happen to like riding bikes. Had he not been there, my ride would not have received a morale boost. At Glenora, the store clerk was one of the prettiest girls I have ever seen, and, as I was on time for meeting my goal of under 12 hours, I stocked up on some weird food that I would never eat at home, and chatted with her. She was doing school homework on her laptop, because this was her grade 12 year. Though the teacher's strike was unsettling, she wanted to make sure she'd have a life after grad. In the few minutes that I had, I encouraged her. I also felt very grateful for a bottle would fit in my bottle cage, and whatever it is that they put in pink Gatorade.
I thought that taking in nutrients would make me faster from Glenora, but then, I started getting slow and tired. It was hot, there was a steady ascent up North Cowichan Road, and my hot foot started activating. The fast people started coming at me from the other direction. Ken said "Hi Lorraine!", Graham said "Lorraaaaiiine!", Melissa said "Go Lorraine!", Mark Ford said "Don't Give Up! Keep Going! Good Luck!", and shortly thereafter, I lost it. I wondered what in the world I was doing on my summer vacation. The last few weeks had seen me with a tight chest which I knew was from a stressful workload. Why wasn't I laying in the backyard reading a book? People who do not train regularly should not be on a ride I told myself. Why don't I give up this tomfoolery and go home.? Stopping to rub my stockinged foot at the side of the road, Cheryl, Nigel and Sue came toward me to check in. "Are you okay?" "You're famous" "Don't worry, hot foot is normal" and so on. Best of all they said "Kristy is waiting for you at the last control". I replied "What? Why?", and Sue said "She wants to ride with you. She wants to sing with you on the way in". I didn't realize it at the time, but it was an extremely kind and inventive way of saying that someone feels that you could do with some moral support and a friend to ride with.
I got back on the bike and carried on. Not investigating the route sheet before the ride, I had no idea that I'd be passing my aunt and uncle's place on Cowichan Lake. I asked myself, "Do I go down and say hello when Kristy Lee is waiting? That would be rude to make her wait" My other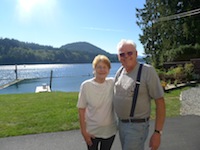 self answered, "Norris and Phyllis hosted the Nygaard reunion every summer of your life, and you had swum and water-skied and loved it. You have a mountain of good memories, and they deserve a visit."
Sorry Kristy Lee. I ditched my bike, took off my hot-foot-inducing shoes, and ran down the steep vertical driveway. After tapping on the door, I knew my decision was the right one. I saw a big smile from Norris...."Whaddya doin' here?" "Well, I'm in the middle of a ride, and I have no time, but I wanted to say hello, and thank you for the nice summers, and we need to take pictures quickly." Phyllis noticed my empty Gatorade bottle and filled it up with ice cubes and water. We took turns posing on the porch, and a few hugs later, I ran back up the hill to get on the bike. I was refreshed, and my pace picked up. Kristy Lee was waiting.
At the 150km.control, there she was, the hostess with the mostest. I feared being berated for being slow, or having her say "Come on then, I've been waiting, let's go!" as some people would do, but Kristy Lee was very kind and caring. We got acquainted, I re-fuelled, and we hopped on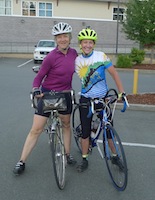 the bikes and made our way. Looking back at this a week later, I chuckle when I think of her patience; almost motherly. She can ride as fast as fast can be, but she'd put herself just ahead of me on a hill, and watch to see that I was keeping up. She wouldn't go so fast as to lose me, but she wasn't letting me drag down either. On the downhills, I'd coast by her and she put up with that with a smile. I knew I was being a brat, but it was the only opportunity I had for going fast. And so it went. She assured me that the pace was a nice one for enjoying a ride and conversation, and she offered many training tips. About 8 kilometres to finish, the cold set in, and she didn't mind that I had to stop for a sweater. Eventually, we pulled into the Best Western Parking Lot, where Gerry was waiting with good cheer. We enjoyed a bit more conversation, but there was no pressure to do anything for them. I was free to get in my truck and make my way home. I shaved a bit of time off past rides, and it was a first for me to be done a 200 before dark.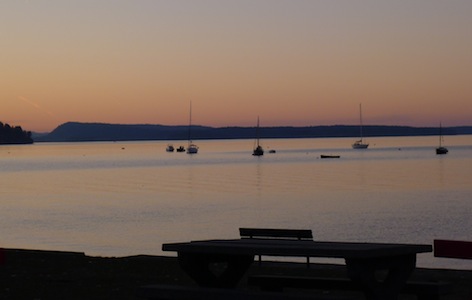 Chemainus
(Photos courtesy of Lorraine)

---
Go to: Results
September 23, 2014