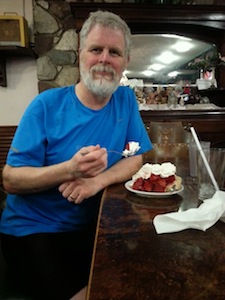 Ron enjoying his day 1 recovery
Photo: Cheryl Lynch
Randos Go Touring - Ron's Story
3 x 200 km
Ride dates: June 28-30, 2014
by Ron Stewart
I have been trying to collect my thoughts about the 550 km I rode last weekend. We were to ride three 200-km randonnees in three days. I learned plenty.
Day 1: Vancouver to Boston Bar
Seven of us started out from Commercial Drive at 8:00 on Saturday, June 28. I took my usual position at the rear, but kept pace with the pelaton until Doug got a flat 10 km in, and I carried on. We passed through a few showers, but not enough to warrant rain gear. Thanks to a tailwind, the first 100 km of the day were the fastest I have ever ridden, even given too many restroom stops. Sigi and Michael caught me briefly at the Burnaby/Coquitlam border, where they stopped to take off their outerwear.
I had never been the first rider on a randonnee, and found it quite fun for the 80 km before Sigi passed me near Agassiz. I stopped for a rest break, which is when I think that Susan, Susan, Cheryl and Doug passed me. They had been delayed by a mechanical failure.
Once I passed Agassiz, I was riding on roads that I had driven, but had never ridden before. I loved the stretch of Lougheed Highway from Agassiz to Highway 1. Broad, well maintained shoulders, and light traffic.
Lesson: Wearing too many clothes leads to too much sweating which leads to chafing. How I wish that I had followed Michael and Sigi's example!
Lesson: Tights are bulky. Buy knee-warmers.
Lesson: Manage your water. I ran out, with the possibility of needing a detour to Hope, but was able to fill up at a staffed truck scale.
Lesson: Electrolytes are not just marketing hype. I was cramping on every climb more than 30 m, and was popping a lot of Shot Bloks to keep going.
Sigi powered on through to the finish, but the rest of us stopped for snacks at the recently-reopened Dogwood Valley restaurant. The waitress and cook were overburdened, and I would probably have been better off riding on. That is when Michael caught and passed me, leaving me in my usual last-place position.
I was troubled by my inability to change front gears. I thought that something was wrong with the hardware, but the real problem was that my left hand was weakening.
The first real climb of the weekend was up to the Hell's Gate Tunnel. Mercifully, the last 15 km of the official ride was mostly downhill. Most of the other riders will still at the final control when I arrived. Most of us stayed at the Alpine hotel, where we ate dinner together.
Lesson: Carry a bit of paper towel on long rides. You place it on sensitive areas of your skin, particularly in unmentionable areas. Sigi told me that this is a well-known treatment for chafing. Fortunately, the hotel provided premium-grade toilet paper that worked splendidly on Sunday and Monday.
Lesson: Carry a pouch of baby powder.
Day 2: Boston Bar to Pemberton
I was not mentally prepared for Day 2, and I had known it for days. There are reasons and excuses why I did not finish, but it was the sense that the ride would be too much for me that had me running late with 50 km to go. My great worry was the climbs, but I stopped the ride short because of the descents. Now that I understand the route, I know that I could manage it.
Lessons: Your preride bike check should include brake pads, and you should keep some spare brake pads at home. Susan Allen mentioned brake wear at dinner on Day 1, and I found that my pads were well-worn. In my defence, I had never before ridden a bike enough to wear out pads, and had never ridden on a mountain highway. These pads had about 3000 km on them, and would worry me for the rest of the weekend.
As expected, the other six riders were out of sight within five minutes of the start. No problem, since I figured that if I could maintain 20 km/h to Lillooet, I'd be okay. I did make 20 km/h to Lytton, but at Lillooet, I was down to 17.4, and knew that I was done. I had climbed more than I expected, and had descended too slowly. Then, I dallied too long in Lillooet, turning back at one point to buy sunscreen.
Lesson: Don't forget sunscreen.
So now it was time for the dreaded Duffy Lake Road. About 100 m up the first climb I had to decide that, yes, I was going to try to finish this. I climbed, and climbed, and climbed. No cramps! This is because several riders told me that I needed to stay hydrated and keep my electrolytes up. I consumed more than two litres of Gatorade on Sunday.
At the top of the big three climbs out of Lillooet, I had ridden for nine hours, and had only traveled 125 km. Two more hours of struggling up a moderate grade only gained me another 25 km. My arm and hand strength was much reduced. I was done. It was 7:00 and I still had more than an hour of climbing ahead. Then I had to drop 1000 m with several switchbacks and 13% parts, in fading light with worn brake pads. Frankly, that frightened me.
It was time to cut my losses. I stuck my thumb out at the first pickup truck, and the fellow stopped for me.
Sigi and I had failed to communicate about where we were staying. There is an upscale/casual restaurant in Pemberton called The Pony, where I found Susan Barr, Cheryl and Michael. They told me where to find Sigi. He did not want to eat at The Pony, so we went to the much cheaper Centennial Café. The food was serviceable, and I would go there again. We stayed in The Pemberton Hotel, which was cheap, but not great value. Too noisy with the rail line and the Greyhound platform and thin interior walls.
Day 3: Pemberton to Vancouver
Monday dawned beautiful in Pemberton. Unfortunately, Susan Allen took a spill before the ride start, so she and Doug pulled out. The remaining five set out northward for 20 km to get the ride distance up to 200 km, then turned back. The start was a bit stuttered because of people pulling off to get their baggage and electronics organised. I was quickly dropped, but had a splendid excursion in the perfectly flat Pemberton Meadows. The turnaround was the last I saw of Sigi and Cheryl. After I passed through Pemberton southbound, I pulled off at a park for nutrition, and caught my last glimpse of Susan B and Michael.
Now it was time to redeem myself. I put pressure on my pedals, and started the climb to Whistler. My goal was to finish in 13 hours. I was not going to push too hard – I was going to qualify. As long as my computer was telling me that my average pace was better than 15.5 km/h, I was happy.
There were dozens of triathletes buzzing up and down the hills between Pemberton and Whistler. Most were quite friendly, but a couple of times their greetings as they passed me startled me.
I saw a black bear cub on that stretch. Obviously, I kept riding.
My water stop at a convenience store in Whistler went quickly, then it was off the highway for an information control, then back to Highway 99. I do not care for that stretch of road. I need to learn how to descend on a highway. I was grateful that the route went off the highway at Brackendale (where I had another quick water stop) and did not return until after Squamish.
The ride along Howe Sound is was spectacular. It took me 2:40 to cover it, and I was tense the whole time because of the traffic and the descents. At the bottom of the Furry Creek descent, one of the queen's cowboys was unnecessarily blocking the whole shoulder, and I was lucky to have a motorist open space for me. I stopped a few times at hill crests just to relax and enjoy the scenery.
A construction detour sent me along Marine Drive to the Lions Gate Bridge, and I was thrilled to be done with the highway. The smells of Canada Day Eve barbeques and restaurants in West Vancouver kept my spirits up. Nice ride through Stanley Park. My GPS tells me that I climbed 125 m in downtown Vancouver – obviously an artifact from the tall buildings. Then along the Dunsmuir and Adanac bike routes to Commercial Drive and the finish. Fifteen minutes ahead of my goal. Thanks to Kevin for waiting for me!
Reflection
I really like the concept of the rando tour, and hope that we have more. I would have liked to have had bag drops, but fully understand why we didn't this time.
Three days later, and I am still struggling with arm strength and dexterity. I can't squeeze an eye-drop bottle. Legs are fine.
I performed a bit better than I had expected on the daunting climb out of Lillooet, but much worse than expected on the rolling parts and the extended moderate climbs.
My long descents were at about 35 km/h. I definitely threw away minutes there. I have much to learn about that part of the sport, including bike setup. A few moments were particularly frightening when the handlebars started to shimmy.
I have been wondering for years why people would pay $250 for the GranFondo, but now I totally get it. That road is a great cycling challenge and utterly beautiful. $250 for the privilege of not sharing the road with cars, trucks and motorcycles is probably a fair deal.
What a difference between the spandex and carbon fibre of the triathletes at Whistler and the hemp and steel of the East Side bike route denizens!
Many thanks to Susan and to her volunteers. This was a good ride, and I am glad I took it.
---
Go to: Results
Go to: Photos
Go to: Routes
July 3, 2014