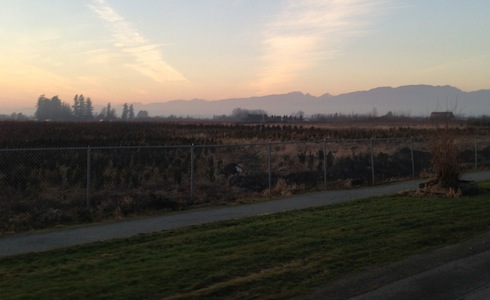 Wheee! First ride of 2014
by Étienne Hossack

Étienne Hossack
David Mackay
Tom Bancroft
Ben Auxier

Route #81 - Rambling Elephant, 200 km
January 26th, 2014
11:36
...The last one was at the start of December and it certainly felt like eons ago!
The plan was to go out and ride a speedy ride, but we ended up doing a slow careful meander through the route due to heavy fog and general laziness - ended up being longer than my super slow ride after breaking my arm!
The beginning of the day could have been more cheerful: pitch black, and I didn't leave enough time to rummage through my closet for warmer clothing - forcing me to eat breakfast at home and miss out on the exciting foreplanned breakfast of french toast at the Knight and Day (inspired by Nigel's report).

We left the Knight and Day slightly late, and down two members due to sickness. The roads were covered in pea-soup fog which made for an eerie riding experience; which was really cool when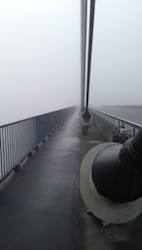 we broke the fog on top of New West, but terrible going over the bridge to Delta. Seriously, that was not fun.
The ride into Tsawwassen was a decent, but not amazing as my glasses kept fogging up and I slipped in a pile of mud and ended up half brown :(
Everyone else had a relatively neutral experience.
Once in Tsawwassen, we stopped briefly to sign our cards in the convenience store next to the now gone Hilltop Cafe (D:) before proceeding just down the road to a coffee/brownie stop at my mother's :) [Advantage of being young, mothers still happy to make some food for you!].
From there to Crescent beach was a similarly foggy ride, with a nice section on the gravel Boundary Bay dyke. With the new South Fraser Perimeter Road we did have to grab our bikes and hop the highway, so will have to update that route at some point!
The beach itself was sopped in, so we popped into a cafe to get our cards signed, but nothing more.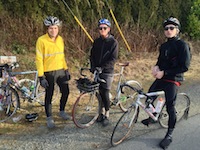 Thankfully, once we rolled onto Marine Drive, all of Whiterock-> Langley-> Port Moody was clear! Even sun *gasp* during the day! Certainly a far-removed world from the sopped-in Vancouver.
Riding to Fort Langley was then most pleasant, and upon reaching town, we decided to brave Wendels's line and eat a mini meal since were all fairly famished. Then it was back into the cold - and we seriously noticed the cold after the warm stop - as we rode to Coquitlam.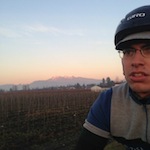 On the Ford detour we witnessed a gorgeous sunset over Golden Ears which put our jaunt through Coquitlam sadly in the dark - though we did get to sample the fancy new paved bike paths as we rode south to Guildford!
We took a forced stop just before the Barnet Highway so I could adjust my lights and wipe-down my glasses (which certainly made everyone aware of how long the day had been) before cautiously cycling the highway and then the Union bike route.
We eventually made our way back to the Knight and Day where Ben and I stayed to eat and I finally got that french toast!
It was well worth it.
Next month will be faster :P
Time Left Home: 6:36am
Time of Permanent Start: 7:35am
Time of Permanent Completion: 6:59pm
Returned Home: 8:22
Total Saddle Time: 10:03
Étienne's Up-dated GPS Map
---
Go to: Permanent Results
February 14, 2014