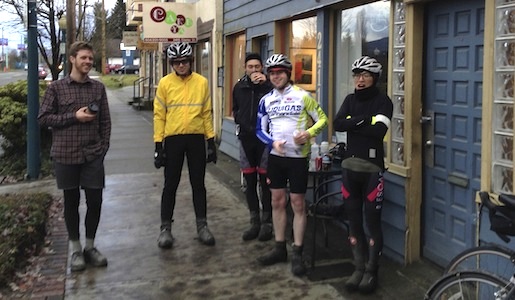 Six on #78
Six Riders on Permanent #78 "Dunbar to Deroche 200", December 1, 2013
by Étienne Hossack
Results:
Permanent # 78 - Dunbar to Derouche 200k
December 1st, 2013
10:32
Ben Auxier
Tom Bancroft
Pete Fung (fixed gear)
Patrick Gillin
Étienne Hossack
David Mackay
One's lonely, two's company, three's a party... four is more, five is pretty alive, six is a ... posse?
At least that was Tracy's response when I said I was going out this time with a total of FIVE other people!
That was actually super exciting, to not being doing a solo permanent for once.
There were 2 riders who had done a 200 before with me, the rest I dragged along for the ride and seemingly had fun :)
It wasn't very rainy nor very miserable at all during the ride so there really wasn't much to complain about!
We met at 7 at Elysian as an improvised start point that was more central, and because it was one of the few places open that early. Unfortunately in a dazed stupor I told one of the riders the wrong location (he apparently didn't check the control card I sent him) so we actually left at 7:30 or so.

There was certainly an interesting variety in our bikes though - that was cool!
--> Cannondale CAAD 9 racing frame.
--> De Bernardi Campy 90s racer.
--> Older large steel Trek Frame with Dynamo, fat tyre setup
--> Soma Cross bike with road/mtb parts mix
--> An 80s downtube shifting replaced-his-bike-as-it-was-stolen-days-before ride
--> A fixed gear Fondriest Frame (with no brakes or front fender....)
Dunbar to Deroche is... not hard to navigate. An easy, fairly straightforward route. We rolled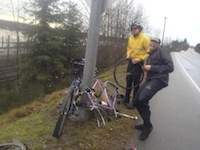 down Broadway and then the Lougheed at a casual pace, conversing between the bunch of us (some people knew each other, some did not) for a ways until we got to United.
Then there was an attempt at picking up the pace, but with our organisation, we missed a couple turns and that didn't work out toooo well. But after a ways we made it over the Pitt River bridge into Maple Ridge, stopping to put on rain jackets and acquire water at Harris Road McDonalds.
Apart from a flat tyre outside of Whonnock, the ride out was nice weather (i.e. not rainy) and easy going. The tailwind out to Deroche is always deceptive and pretty soon our group was broken up as some of us flew along at high speed and decided to waste some energy with sprints (still not sure why we did that... hehe).
We had a nice long un-rando-like stop at the Deroche General Store, munching on "Mojos", their fancy term for their potato chips and gobbling our snacks. The return was amusing to say the least.

The wind of course was a headwind so we quickly realised that this would be the time to get a good paceline going. Unfortunately we couldn't really rotate properly as not everyone was well-practised in the formation so for a while there were two groups on the road: four of us rotating and constantly catching up to the other group, two riders single file ahead. The group of four would catch the group of two, then we'd all try one rotation, and the two would accelerate too rapidly and it would all fall apart, the four would drop back as the two pressed on at a faster speed.
Needless to say it was rather amusing as this happened 5 or 6 times. Eventually we had a reason to stop and talked over the dynamics of rotating and for at least 3 or 4 good sections had a nice rotating paceline back on the last stretch to Mission.
From Mission through Silverdale to Whonnock we mostly managed to keep together and chat, though super Pete Fung on his fixed gear barrelled ahead at one point and we didn't see him and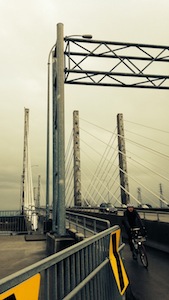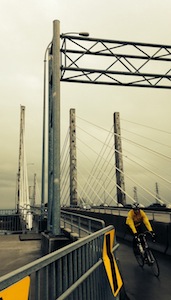 David until the Hayward/Silvermere Lake gas station.
Back from Whonnock to Coquitlam was very straightforward and with one small bathroom break we then navigated our way through Port Coquitlam to reach Port Moody.

Unfortunately as we reached Port Moody the De Bernardi's front-derailleur decided to call it quits and bladders were bursting so we made quick speed to the Gallery Bistro for some eats.

Of course we got there 10 minutes before close so it was mostly a rapid coffee downing stop with some saddle adjustment and cable guide cleaning - solving the problem of the broken shifting.
It was a really messy day - I took a couple hours just wiping down my bike the next day!
The return via Barnet & Adenac was fairly uneventful, the group splitting up as Pete attacked every hill at an aggressive speed with his fixed gear.

Once we were on the Francis-Union route, a couple of blocks in we were most surprised to meet Tobin Henderson in his BC Randonneurs Jersey as well going the opposite direction (Tobin's yellow helmet is very recognisable). Tobin of course had declined to come along this time due to "other commitments" (apparently hanging out with your fiancée is supposed to be important or something).
Amused, he joined us for the remaining 30k of our route which was a ride along 10th, then down Cypress/Angus in the dark (its still weird to watch it get dark earlier than 4:30) and stopping at a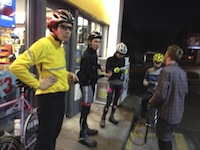 Gas Station at 41st and Dunbar the official route start. On the return, we opted to ride on 8th, one block off Broadway for safety's sake - simply due to the time of day and traffic on Broadway (Guido's original route started early so traffic would not have been an issue, as it was not for us when we started).

The last couple of blocks we lost Pete and Tobin as they sprinted ahead in a frenzy leaving the rest of us behind (we later learned that it was because his Garmin was going to die and he really wanted the Strava data.....)

We arrived back at Elysian at around 6 before tipping our ... helmets? ... to each other and heading home for dinner. (Or in Pete and Tobin's case, out to drink beer)
If you're reading this and feel like you're missing out on the fun - feel free to come out on next month's ride :)

---
Go to: Permanent Results
December 6, 2013
---