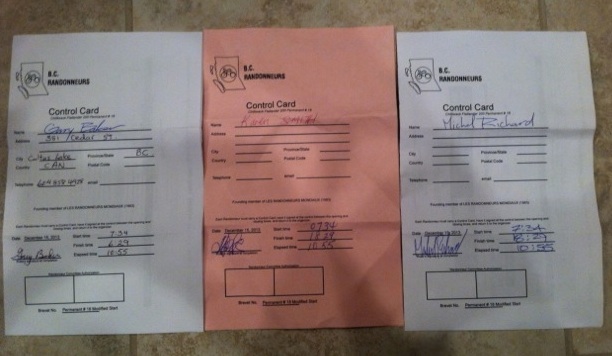 Three on #18
Three Riders on Permanent #18 "Chilliwack Flatlander", December 15, 2013
by Michel Richard
Gary Baker, Michel Richard and Karen Smith completed Permanent #18, 10h55.
We started at 7:34 at a reasonable 5C. The winds were from the southwest all day, at times powerful. On the Sumas Prairie heading east we saw our speeds drop to 10km/h with our bikes tilted sideways to maintain balance! Luckily for us that didn't last too long and overall we made good progress. We encounterd a few sprinkles around the same time, but that was it for the day. Less than 1mm overall, better than forecast.
Heading north towards Fort Langley the winds were helpful and we made quick work of that normally challenging stretch. Our warm food stop at Lee's Market, mac and cheese and mojos washed down with Coke, revitalized us for the next hilly section. The combination of hills, occasional sunshine and double digit temperatures had us overheating, forcing us to remove our jackets. How often does that happen in December? We weren't the only energetic animals along this stretch, twice we had groups of horses go at a full gallop beside us as we went by.
And then after crossing through Abbotsford we were in the Sumas Prairie again, this time with a tail wind. We flew to our next stop, the Yellow Barn, at speeds between 33-37km/h, more than 10km/h faster than our usual cruising speed. That has never happened in December. Sandwich and chocolate milk this time. Stepping out after the stop we had cooled down and so had the outside air. On the jackets went. The winds were much calmer now and we rolled along at more normal speeds the rest of the way.
One benefit of doing a ride at this time of year is seeing all the Christmas lighting once the sun sets. The highlights for me were Brian Minter's Garden Store with several thousand lights. And the houses along Camp and Hope River roads with the lights reflecting off the still water of the slough.
Karen and I are very familiar with this route. We ride it almost every month of the year. We both remarked that after the sun went down, that we had never encountered so many barking dogs. This is especially stressful when you can't see whether they are fenced in.
For December this was a perfect ride. Warmish, calmish and no mechanical or biological problems. And to top it off we had a friend for company.
Merry Holidays.
Michel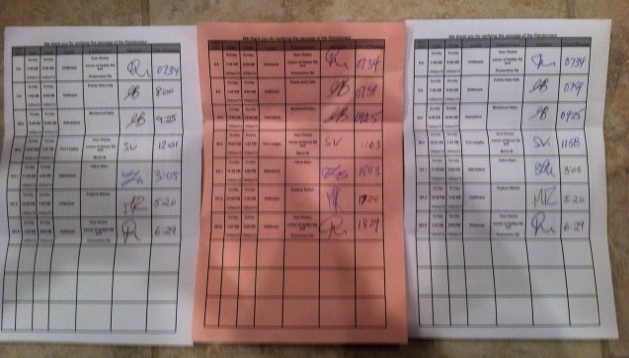 ---
Go to: Permanent Results
December 22, 2013