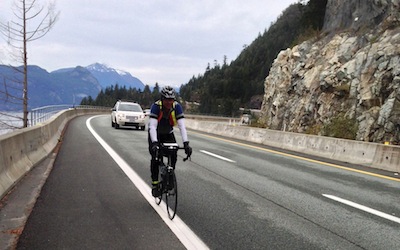 Photos: Étienne
11th Hour 200
by Étienne Hossack

I had been looking forward to this ride with quite some anticipation as it's always more fun to ride in a group.
The only people from Escape Velocity whom I could get to commit this time were Khaled and Tobin Henderson - but they showed up and rode as a group the entire way. It was fun :D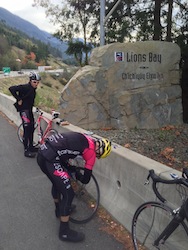 (I also heard that there were two UBC folk riding today, one of whom slept in, but I got to meet at Wreck Beach. As a UBC student, it's always nice to meet fellow cyclists on campus).
The weather held up well all day - it was super nice.
The group we rode with to the first control was a great group - and it was fun to meet Luis on a geared bicycle :P
After a slackidaisical muffin-munch, we headed off on the return journey, only to have Tobin encounter a flat just as we reached Lions Bay.
He apparently was on his winter bike, and had the world's heaviest, stiffest tires that had not had tubes changed in... who knows how long. So we spent a good 15-20 minutes trying to fix that (it actually took a fair amount of force just to separate the tube from the tire!!) before heading back on the road.
Sadly Tobin's legs weren't their usual super-self (I blame all the road training he's been doing) so we had a milder pace for the rest of the day.
There was a secret control. Cookiessssss. Fooodd. Mufffinnnssss. Coookkkeee!!! Best stop ever. (well so was the second to last control...)
The rest of the ride was reasonably uneventful. At the Wreck Beach control the three of us chatted a bit with Jaques and the UBC duo before heading back on the road towards Iona (and even got to hammer a bit on the Marine Drive downward slope! - okay maybe that was just me pulling hard but it was fun!!).
Iona had the super-soup-er stop, where butternut squash soup and homemade cookies once again delivered salvation.
Lastly was a fun run up Cambie/Ontario - in which neither of my two riding mates seemed overly enthused - before returning over the bridge to the last control (moved into the restaurant). We enjoyed the beer and food there though :)
Yeehaww. I have too much left over energy!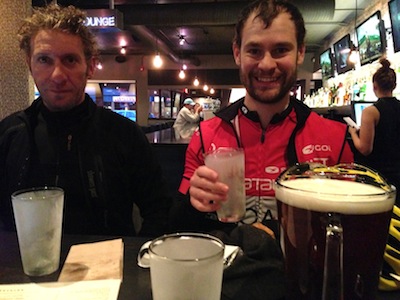 ---
Go to: Results
Go to: Photos
November 13, 2013