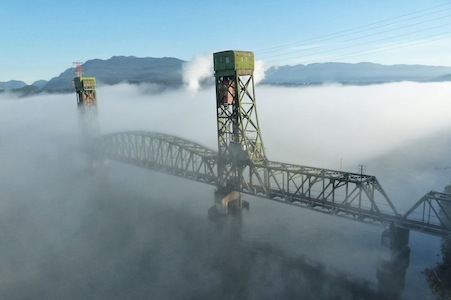 Bob's "Buntzen Burner"
Permanent #114, 202 km, October 24, 2013
Bob Koen

Bob sent in a brief message about his ride along with his photo link. He has agreed to let me put it in the newsletter. Also... best route name ever.
Bob's Photos (16 Images, Picasa)
I did this ride yesterday. It's essentially the Bridges to Buntzen ride with a start in PoCo. Beautiful day. Sunny away from the water. It was really neat to ride in and out of the fog all day. When I was riding along the Fraser near Steveston there was this really big RoRo car carrier heading toward a fog bank and blowing its horn. Then there was an answering horn blowing from inside the fog bank. Then the first ship would blow its horn for longer. Then the second ship would blow its horn for longer still. I really should have stopped and waited to see what happened in the end.
I will post a route sheet and control card to the database for this soon. It's a good ride that I am sure I will do again.
Permanent #114 "Buntzen Burner"
202 km
Oct 24, 2013
11h26

---
Go to: Permanent Results
Go to: Permanent Photos Galleries Hub
October 30, 2013